Opening a coffee shop can be a great way to turn your passion for coffee into a profitable business. Get inspired with the best coffee shop names.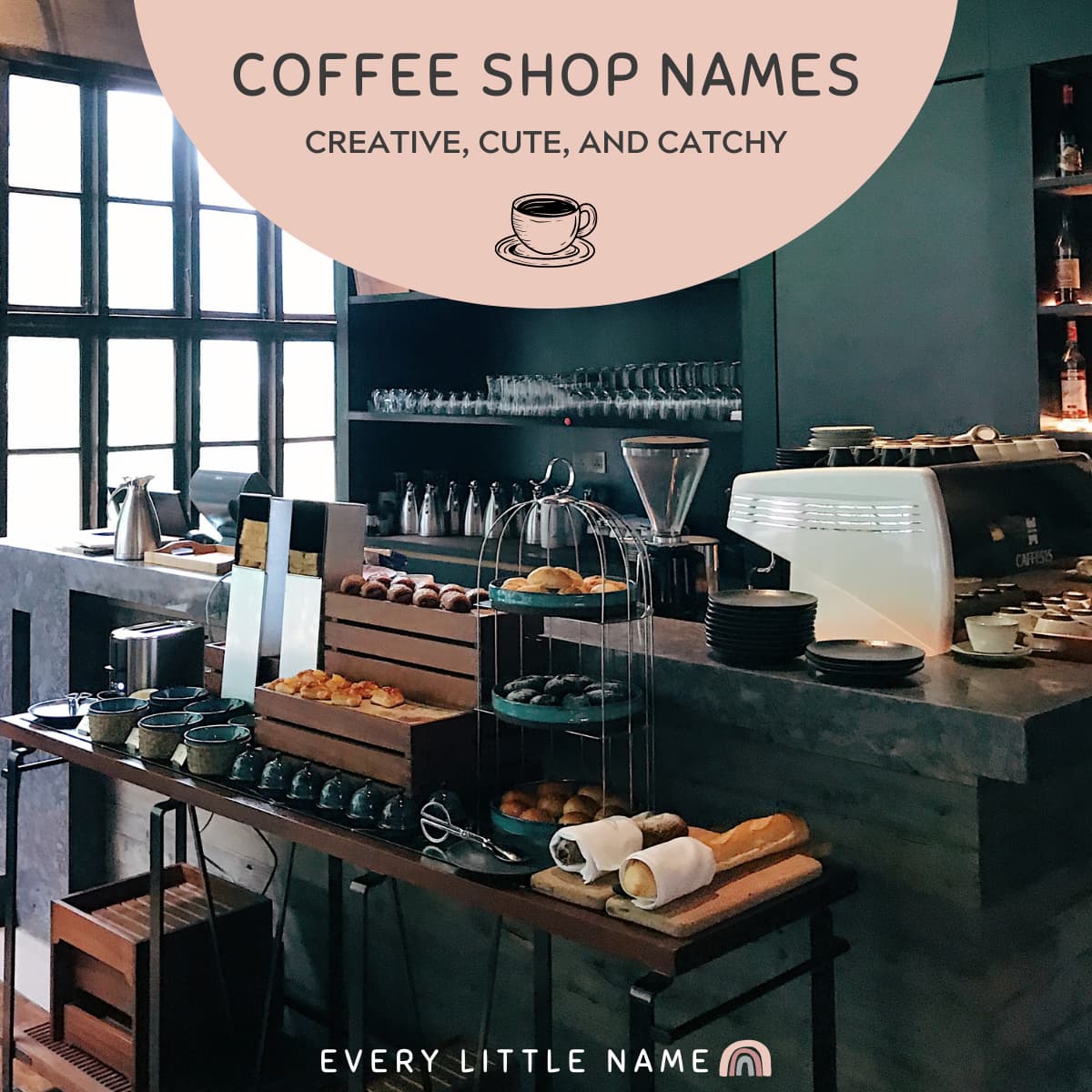 The coffee industry provides opportunities for entrepreneurs to start and grow successful businesses. Most adults in the United States consume coffee, enjoying at least one cup daily.
Starting a coffee shop can be a fulfilling career if you're passionate about coffee. A coffee shop has the potential to generate revenue and become a profitable business.
Additionally, a coffee shop can serve as a social hub for your local community. Your coffee shop can have a welcoming and relaxed atmosphere that customers enjoy. It can be a great place to meet friends, work, or spend time alone.
Make a memorable first impression with a catchy business name. The following are examples of creative coffee shop names to help you find the perfect one.
Related: Ice Cream Shop Names
Table of Contents
Classic coffee shop names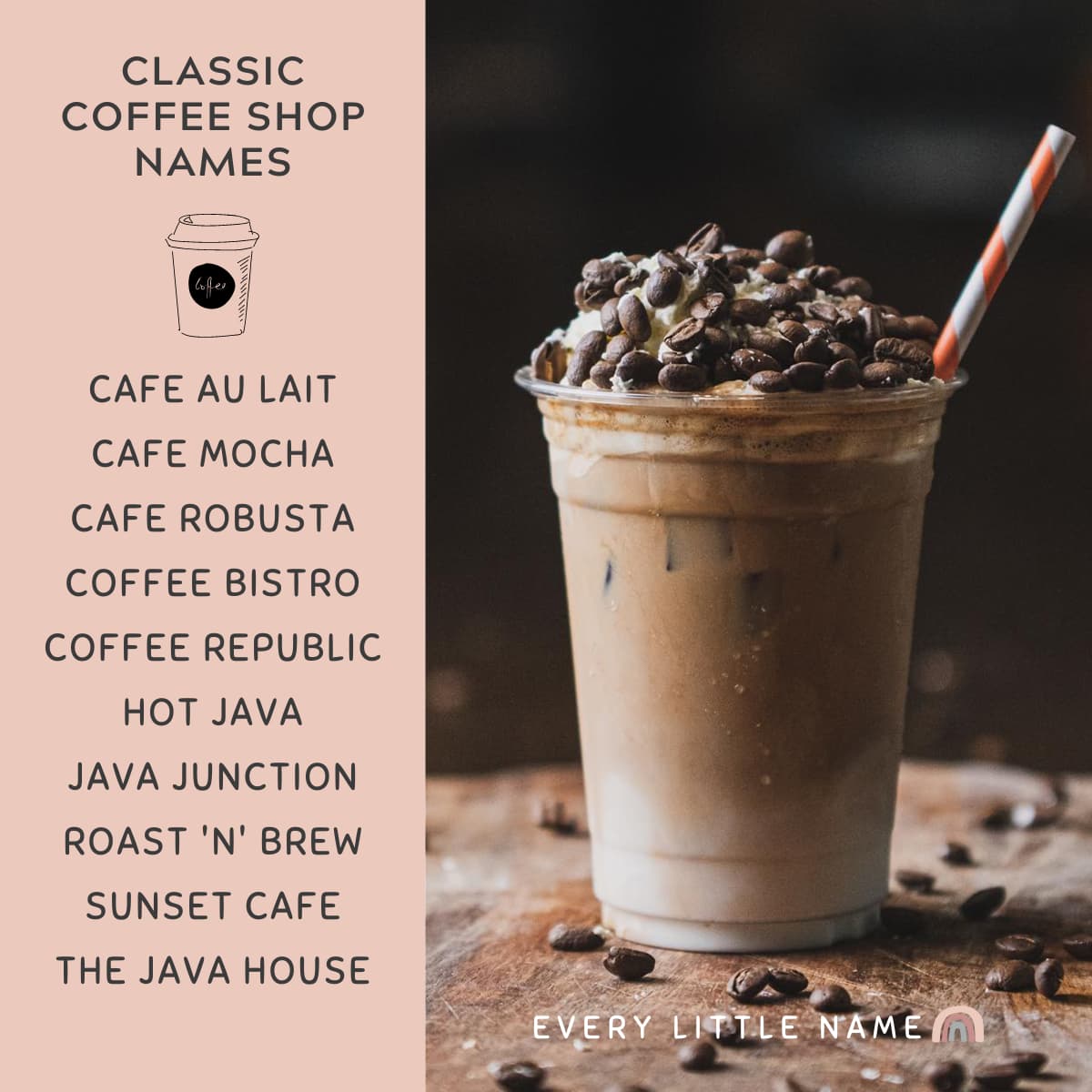 The following are classic name ideas for your coffee shop.
1. Bean Buzz Cafe
2. Boston Barista
3. Brew Bazaar
4. Brew House
5. Cafe Au Lait
6. Cafe Mocha
7. Cafe Mojo
8. Cafe Robusta
9. Cedar Lane Roasters
10. Club Coffee
11. Coffee & Lattes
12. Coffee Bistro
13. Coffee Republic
14. Hot Java
15. Java Junction
16. Java Stop
17. Mocha Maven
18. Morning Mocha
19. Old Town Roastery
20. Perk Up Cafe
21. Roast 'n' Brew
22. Sunset Cafe
23. The Brew House
24. The Classic Cup
25. The Daily Roast
26. The Java House
27. The Latte Lounge
28. The Roasted Bean
29. Timeless Cafe
30. Trilogy Cafe
Hipster coffee shop name ideas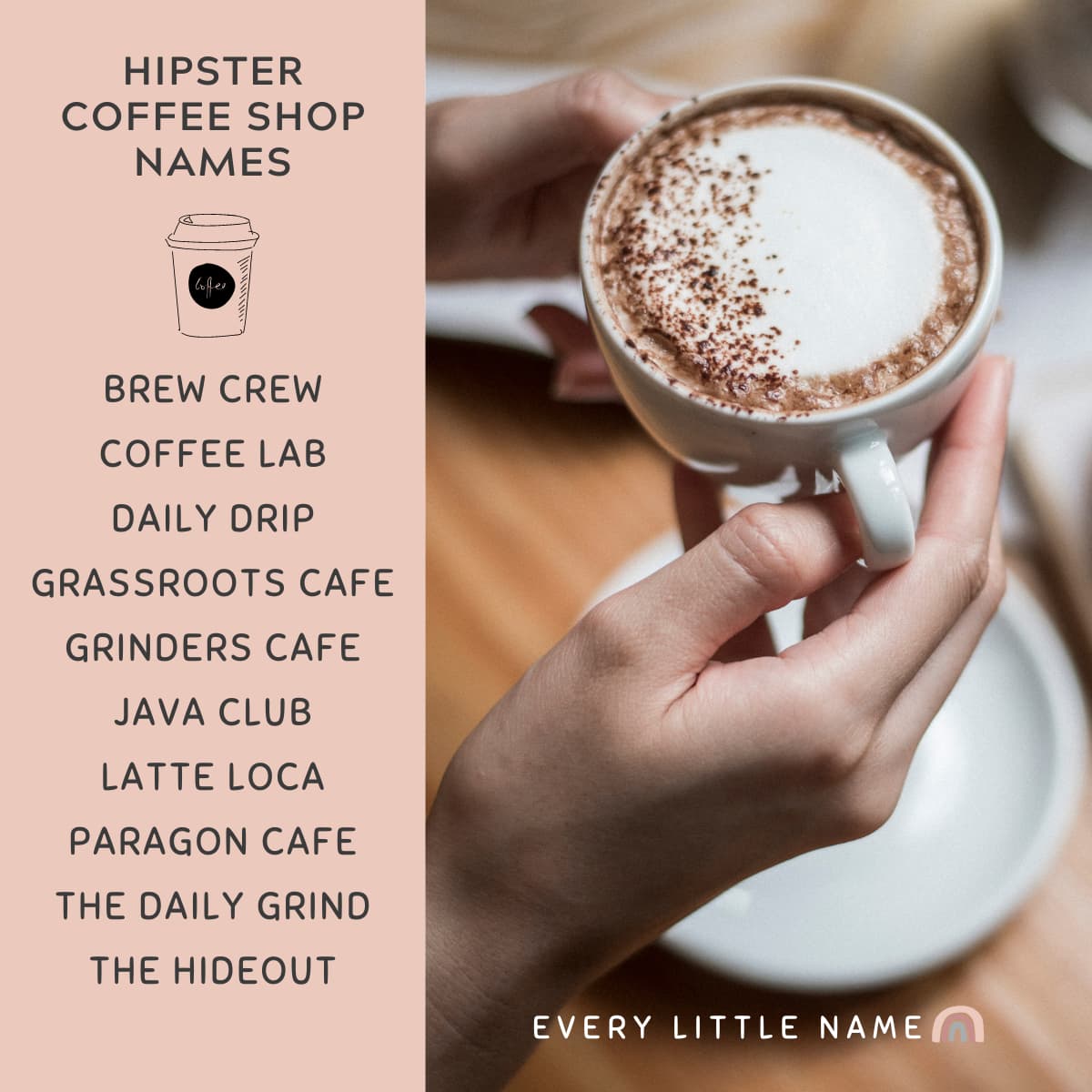 Hipster names reflect a trendy, contemporary atmosphere and appeal to a younger demographic.
If your coffee shop will have a unique and quirky atmosphere, give it a hipster name.
1. Bean Scene
2. Brew Crew
3. Buzz Stop
4. Cafe Culture
5. Caffeine Company
6. Caffeine Fix
7. City Pour
8. Coffee Lab
9. Cool Beans Cafe
10. Espresso Lab
11. Daily Dose Café
12. Daily Drip
13. Dreamy Moose
14. Grassroots Cafe
15. Green Coffee Cafe
16. Grinders Cafe
17. Hot Grind
18. Java Club
19. Latte Loca
20. Main Street Roasters
21. Paragon Cafe
22. Roast Room
23. Steamy Brew
24. Steamy Cup
25. Tall Grass Roasters
26. The Coffee Cartel
27. The Daily Grind
28. The Hideout
29. Topped Off
30. Urban Latte
Cute coffee shop names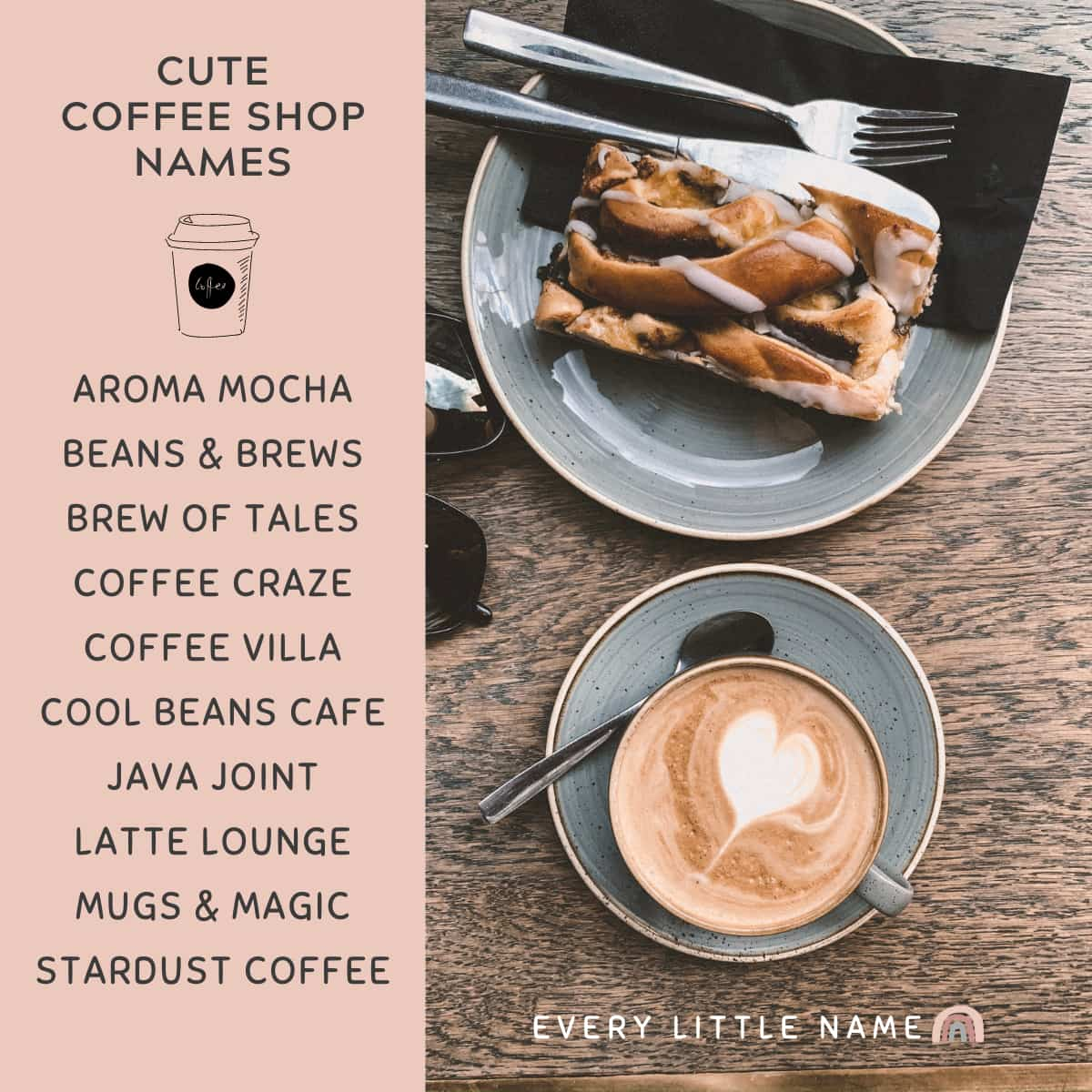 Cute coffee shop names aim to evoke a feeling of warmth, comfort, and happiness. They reflect an inviting, friendly atmosphere and appeal to a wide range of customers
1. Aroma Mocha
2. Beans & Brews
3. Brew Box
4. Brew of Tales
5. Cafe Confection
6. Coffee Craze
7. Coffee for Two
8. Coffee Turtle
9. Coffee Villa
10. Cool Beans Cafe
11. Cream & Sugar Co.
12. Cuppa Coffee
13. Grind Magic
14. Java Joint
15. Latte Lounge
16. Mocha Madness
17. Mugs & Magic
18. Mugs & Muffins
19. Peach Coffee
20. Singing Beans
21. Sipping Bear
22. Stardust Coffee
23. Steaming Mugs
24. Sugar Cubes
25. The Caffeine Express
26. The Coffee Cupboard
27. The Happy Beans
28. The Steamy Cup
29. Wake Me Up
30. Wired Puppy
Funny coffee shop name ideas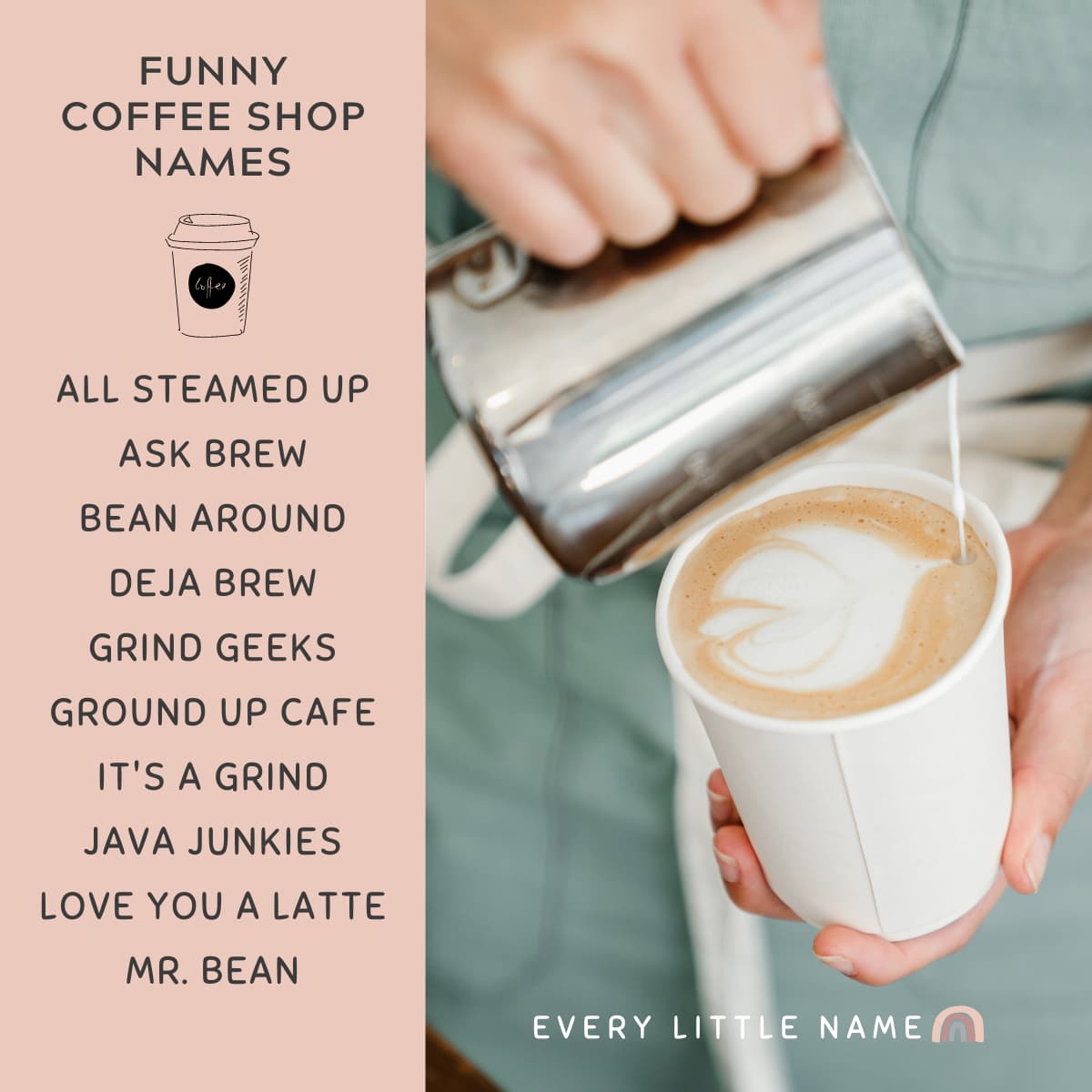 Funny coffee shop names aim to bring a smile to people's faces. They often have witty and quirky connotations and use a play on words.
1. Alice in Brewland
2. All About That Bean
3. All Steamed Up
4. Ancient Grounds
5. Ask Brew
6. Bean Around
7. Bean There Done That
8. Coffee Hackers
9. Deja Brew
10. Espresso Experience
11. Espresso Yourself
12. Grind Geeks
13. Grind On
14. Ground Up Cafe
15. Hungry Beans
16. It's a Grind
17. Java Junkies
18. Jumpstart Coffee Shop
19. Kiss the Bean
20. Love You a Latte
21. Morning Liquor
22. Mr. Bean
23. Please Add Coffee
24. Proud Beans
25. Rise & Grind
26. Sacred Grounds
27. See You Latte
28. Thanks a Latte
29. The Busy Bean
30. The Wakey Bakey
Tips for naming your coffee shop
Your coffee shop name is important and can impact the success of your business. Take the time to choose a name that reflects your brand and resonates with your customers.
Here are some tips to help you come up with the perfect name:
1. Consider your brand identity. Your coffee shop name should reflect the atmosphere and brand you want to create.
2. Make it easy to remember. A name that's simple and memorable will help customers find and share your shop.
3. Consider the location. If your coffee shop is in a specific city, incorporate this into the name.
4. Be creative: Brainstorm words that will represent your shop's traits and personality.
5. Do research. Be sure your name isn't already used by another coffee shop.
6. Get feedback. Ask your family and friends for their feedback on different ideas.
We hope these tips help you find the perfect name for your coffee shop.
Related: Best Bakery Shop Names