Starting a book club can be a great way to connect with those who share your love of reading. Read the best book club names to choose your own.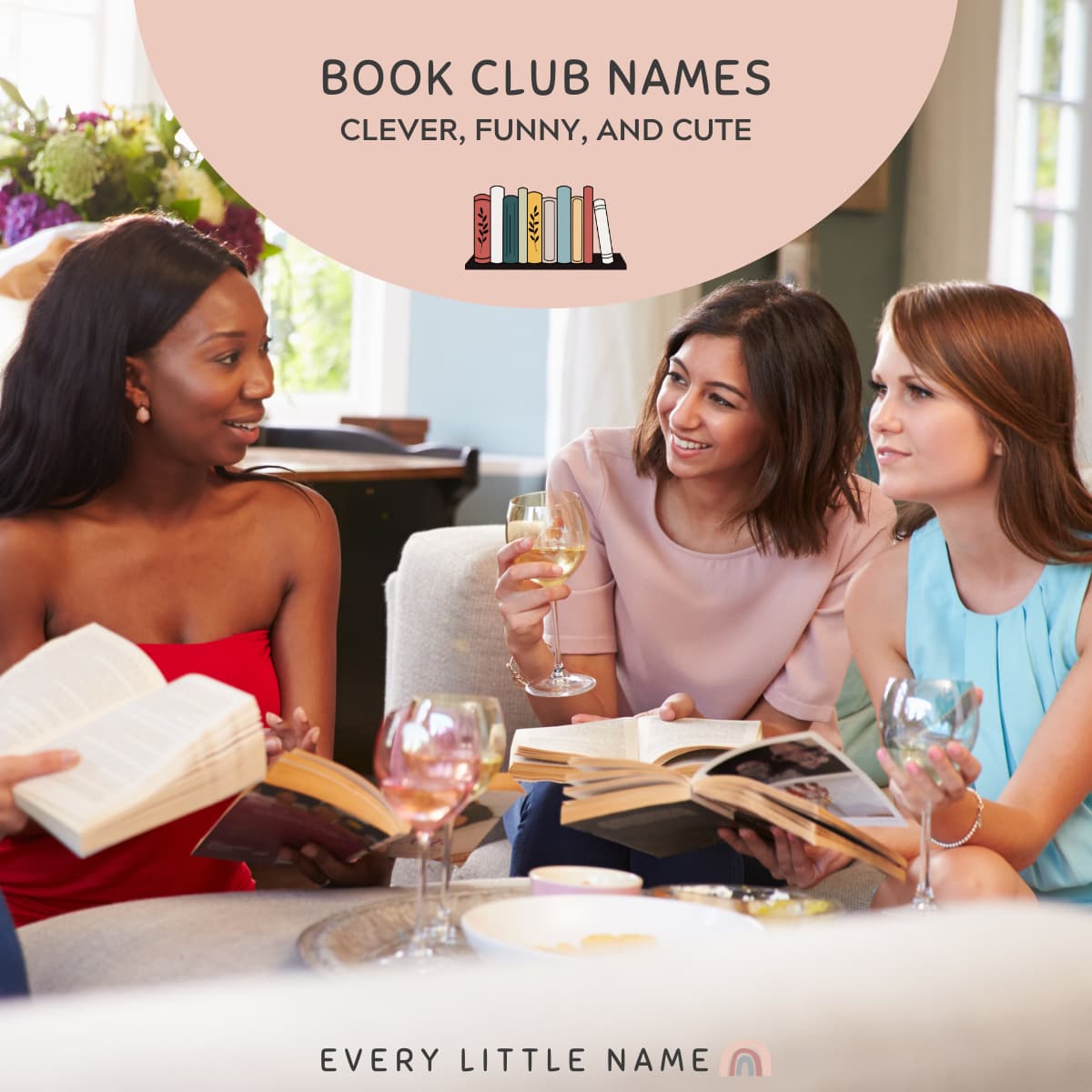 Starting a book club can have many benefits. Book clubs bring people together and can enrich your social and intellectual life. They're a great way to engage in meaningful discussions. 
Reading and discussing books can improve critical thinking skills. It can help you gain new perspectives and expand your knowledge.
Once you decide to start a book club, choose how often you'll meet and the theme for the types of books you'll be reading. This will help attract members with similar interests and guide your book selections.
Kick off your book club and make a great first impression with a memorable name. Get inspired by the following book club names that are clever, funny, and cute.
Table of Contents
Popular book club names
Check out these popular book club names to help you get started.
1. Best Book Club
2. Better Books
3. Book Club Bliss
4. Book War
5. Book Wizards
6. Books & Beans
7. Books & Beyond
8. Born to Read
9. Bucket List Books
10. Classic Ladies Book Club
11. Cover to Cover
12. Fiction Addiction
13. Mystery Mavens
14. No. 1 Ladies Book Club
15. On the Same Page
16. Page Turners
17. Paperback Riders
18. Plot Twists
19. Readers Dozen
20. Reading Queens
21. Reading Rainbows
22. Romance Readers Rule
23. Saga Surfers
24. Simply Books
25. The Cliffhangers
26. The Plot Thickens
27. The Urban Reader
28. Thrills & Chills
29. Wine About Books
30. Words of Wisdom
Clever book club names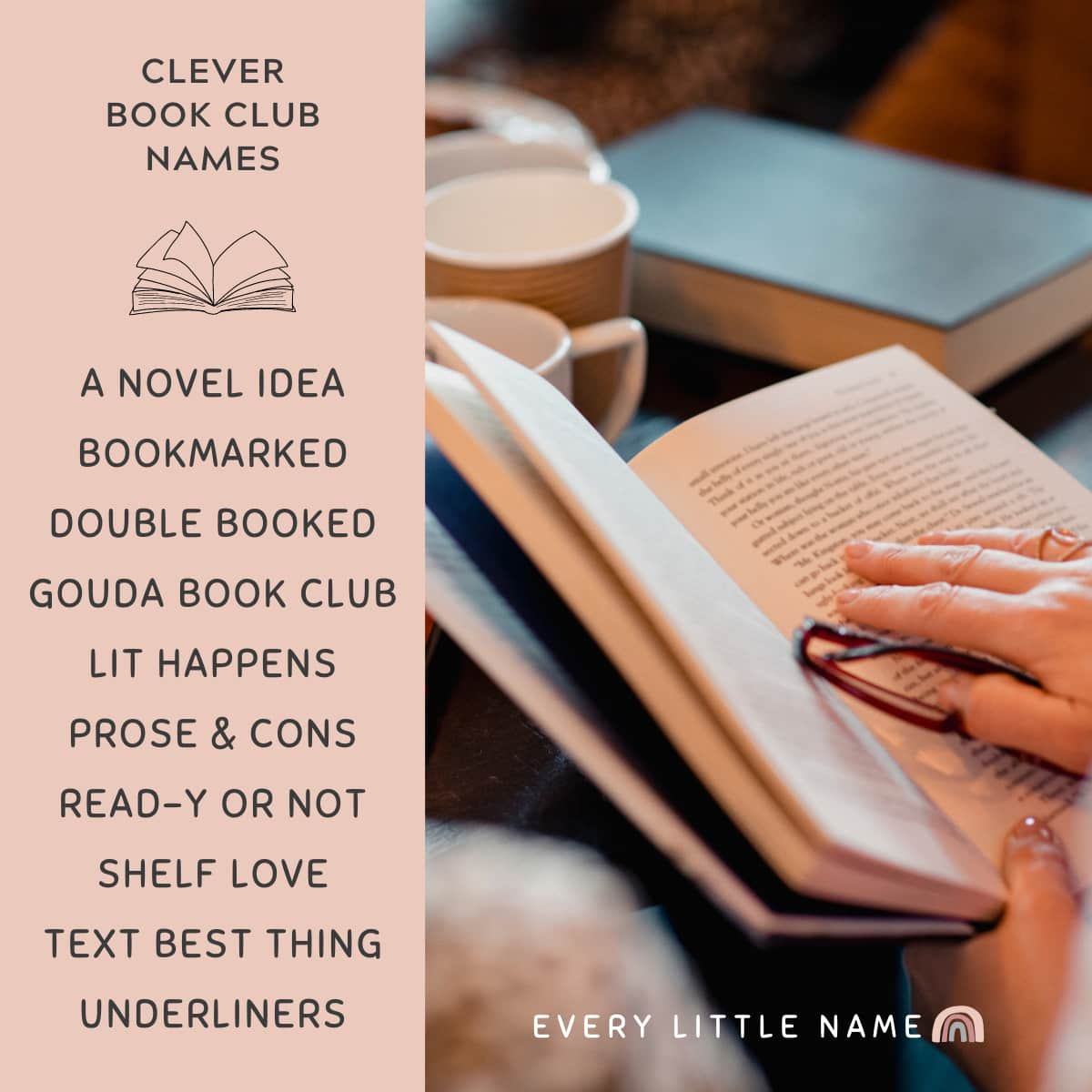 When choosing a name for your book club, consider a name that's clever and memorable.
1. A Novel Idea
2. As the Page Turns
3. Baby Got Books
4. Book Buffet
5. Bookmarked
6. Brandy New Book Club
7. Don't Stop Readin'
8. Double Booked
9. Gory Stories
10. Gouda Book Club
11. Ink & Insights
12. Library Libations
13. Lit Happens
14. Lit off the Page
15. Literally Amazing
16. Masters of Words
17. Plot Twists
18. Prose & Cons
19. RadioRead
20. Rather Be Reading
21. Read-y or Not
22. Shelf Love
23. Spine Crackers
24. Text Best Thing
25. The Bookshelf
26. Therapy Book Club
27. Top Shelf Book Club
28. Underliners
29. Well Read, Badly Behaved
30. Well Read Women
Funny book club names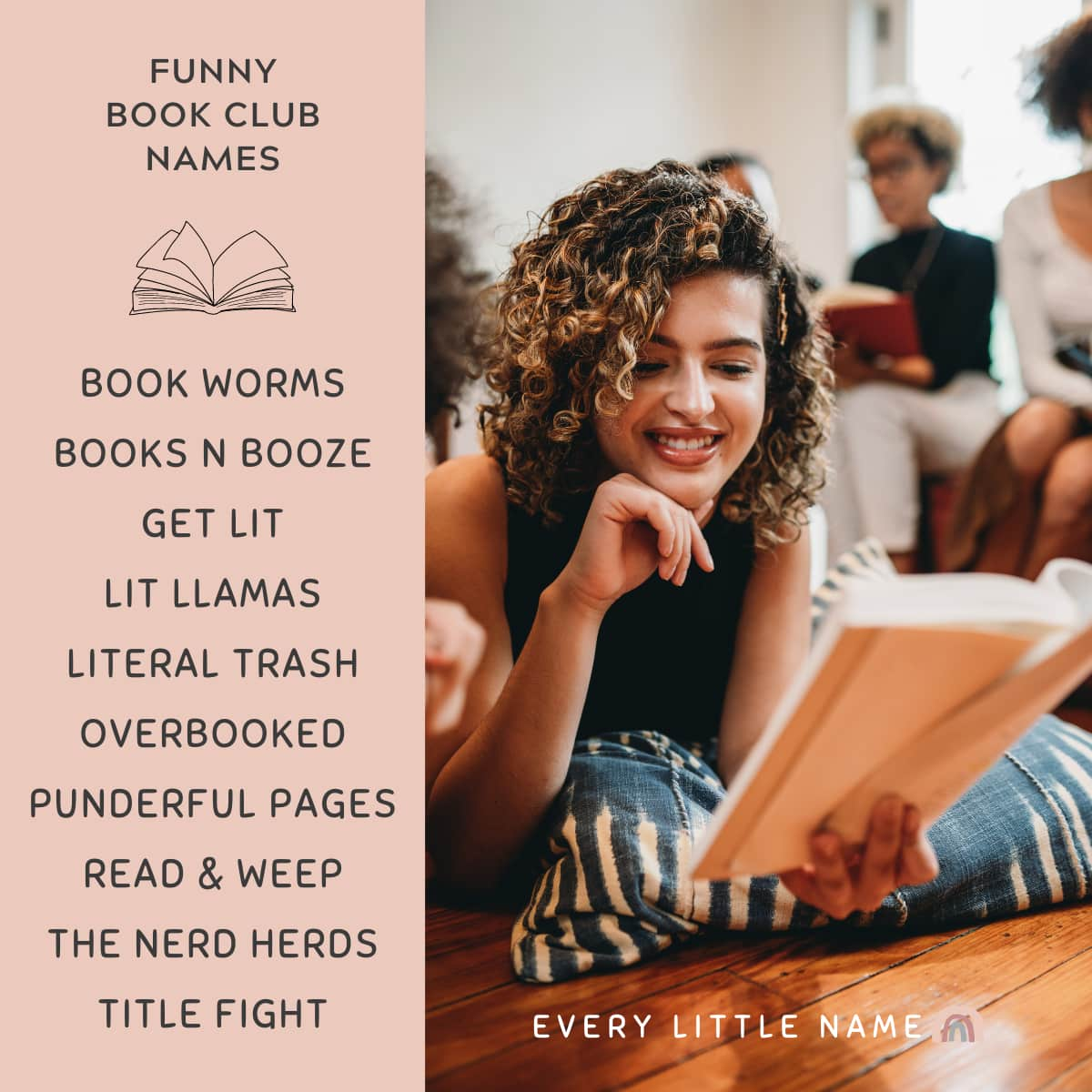 When choosing a book club name, consider rhymes or puns related to literature.
1. Better Read than Dead
2. Book Worms
3. Bookaholics
4. Books N Booze
5. Classics Beauties
6. Flashlight Readers
7. Get Lit
8. It's a Hardback Life
9. Lit Llamas
10. Literary Alliance
11. Literal Trash
12. Lost in a Tangent
13. More than a Book Club
14. Overbooked
15. Outrage Book Club
16. Page of Pages
17. Plot Twist Nail Biters
18. Prose before Bros
19. Punderful Pages
20. Raging Readers
21. Rather Be Reading
22. Read & Weep
23. Readers Rendezvous
24. Swirl, Smell, Sip, Read
25. Tequila Mockingbird
26. Textual Relations
27. The Book Was Better
28. The Nerd Herds
29. Title Fight
30. We like Big Books and We Cannot Lie
31. Wuthering Writes
32. You Can't Put Us Down
Cute book club names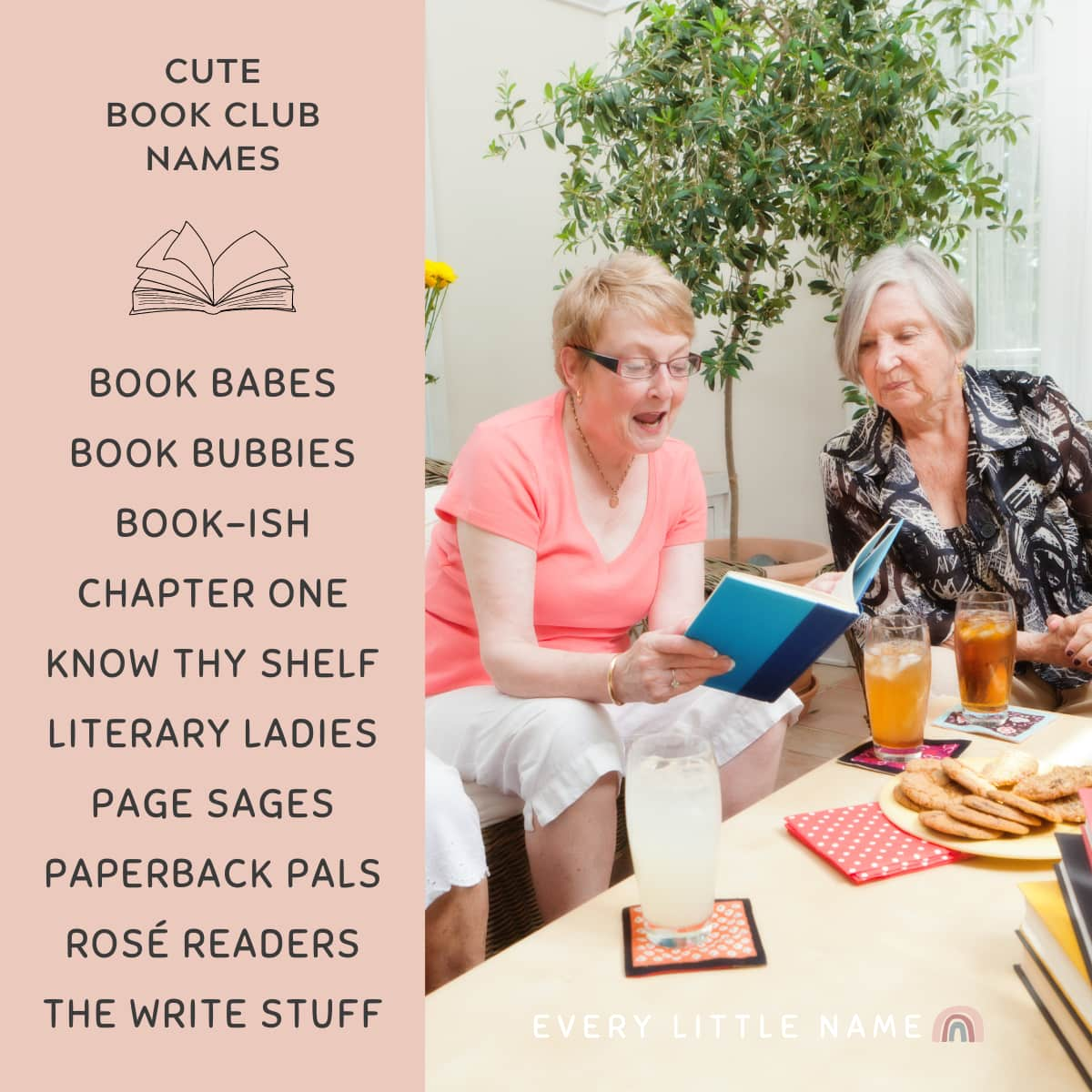 The following are examples of cute book club names.
1. Babes in Bookland
2. Between the Lines
3. Book Babes
4. Book Besties
5. Book Bubbies
6. Book Eyed Peas
7. Book-ish
8. Bound by Spines
9. Boundless Bookworms
10. Chapter Chat
11. Chapter One
12. ChickLits
13. Cool Girls Read
14. Know Thy Shelf
15. Leave It to the Prose
16. Literary Ladies
17. One More Chapter
18. Page Sages
19. Paperback Pals
20. Prosecco & Prose
21. Reading Crew
22. Rosé Readers
23. Shelf Indulgence
24. Spine Aligners
25. Talking Books
26. The Bookies
27. The Write Stuff
28. Whispering Wordsmiths
29. Wines & Spines
30. Wise Words
Related: Bookstore Names