Whether your beach house has a tropical or rustic vibe, choose a name that gives it personality. Read the most popular beach house names.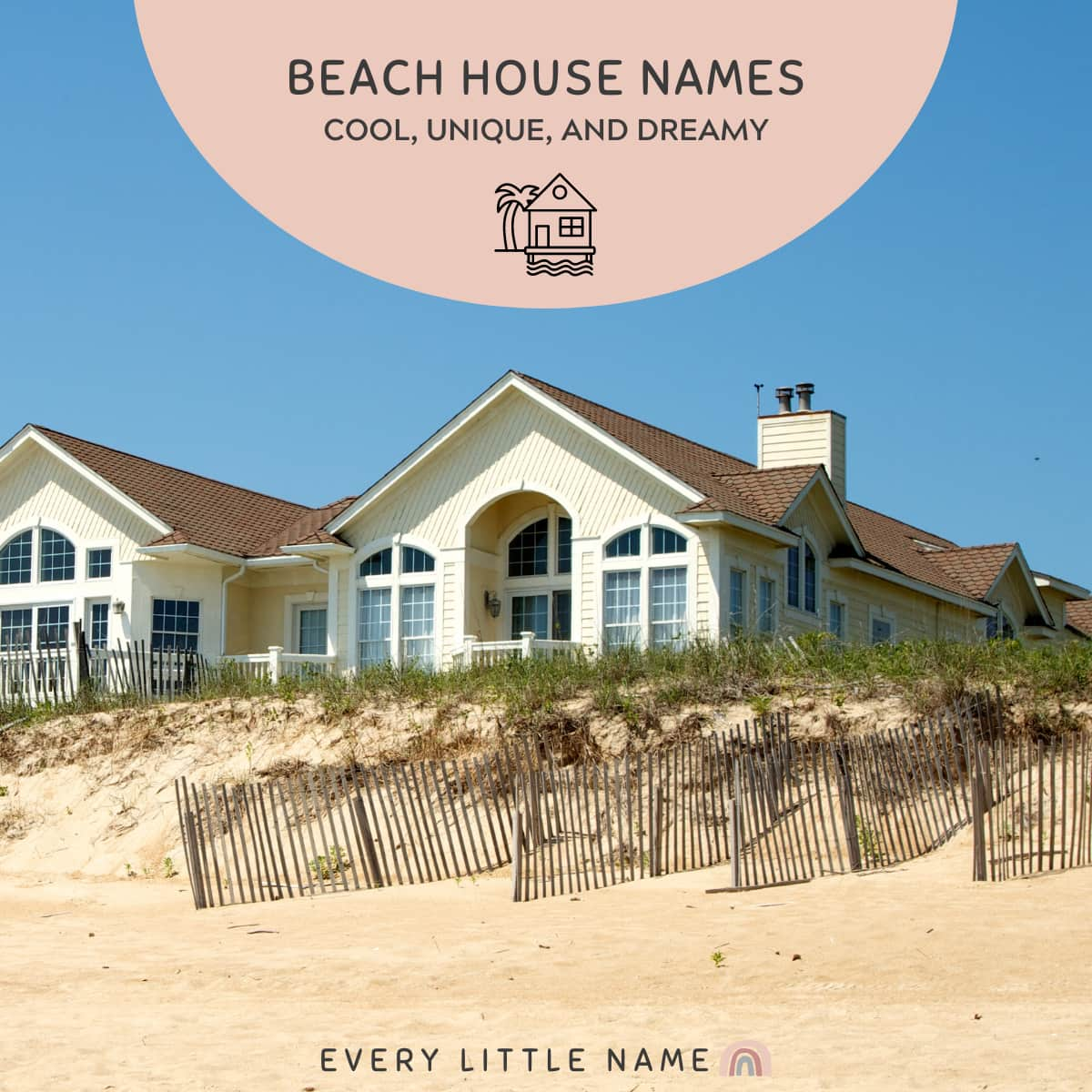 A beach house provides a peaceful getaway from the stressors of daily life. It can offer a sense of relaxation and be a place to make lasting memories with family and friends.
Additionally, a beach house can be an investment opportunity. Coastal properties can be rental properties, offering a source of passive income.
If you want to name your seaside getaway, choose a name that evokes a feeling of joy and relaxation. The following are the best beach house names, including dreamy and creation options.
Table of Contents
Popular beach house names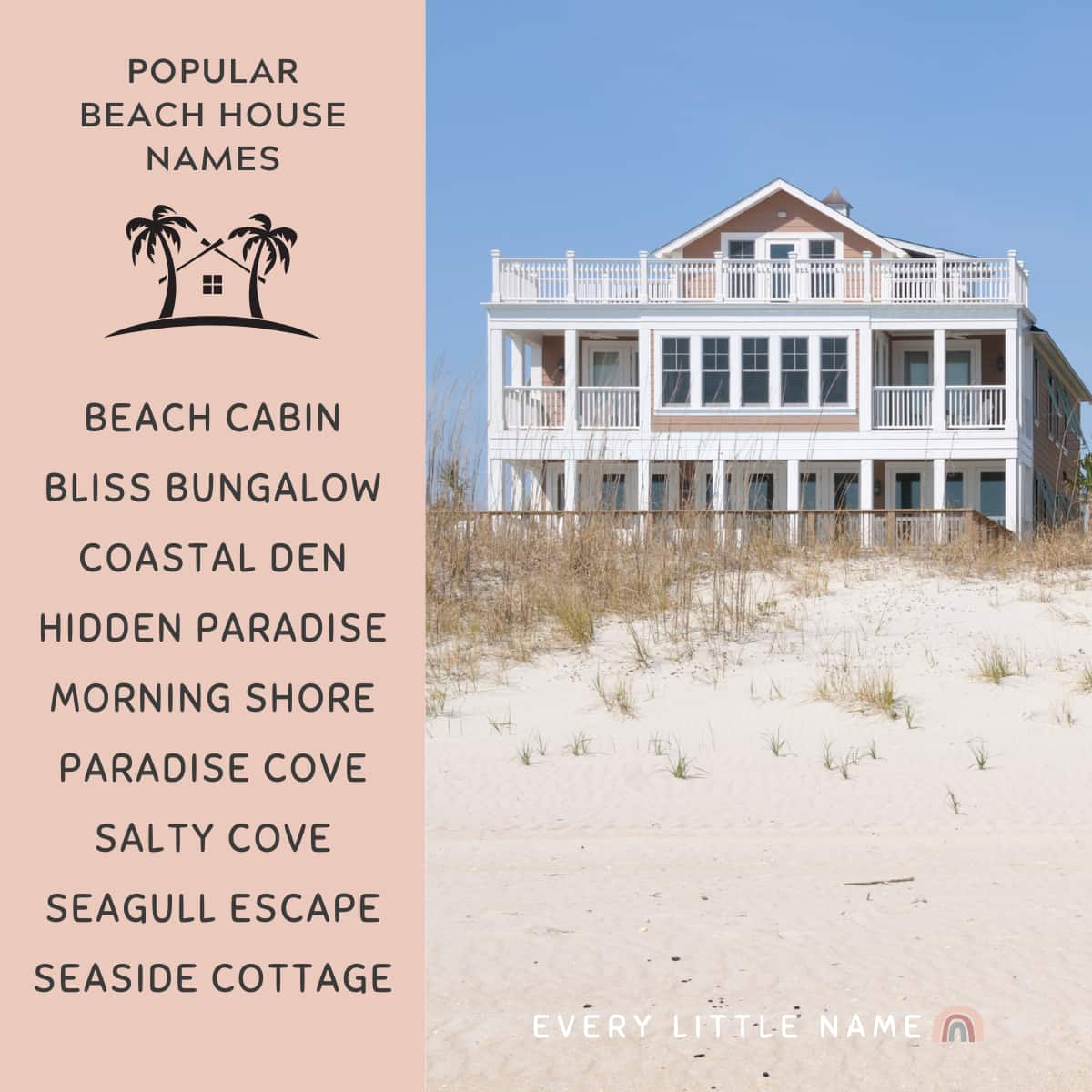 Choose a name that reflects your style and the vibe you want to create for your guests. It should be memorable and special.
The following are popular beach house names to help you get started.
1. Bayshore Cottage
2. Beach Cabin
3. Big Surf Bungalow
4. Bliss Bungalow
5. Blue Haven
6. Breezy Bungalow
7. Clear Water Cove
8. Coastal Den
9. Driftwood Beach House
10. Happy Beach Home
11. Hidden Paradise
12. Misty Beach House
13. Moonlight Bungalow
14. Morning Shore
15. Ocean Cove
16. Ocean View Bungalow
17. Palm Tree Bungalow
18. Paradise Cove
19. Peaceful Reef Cove
20. Saltwater Escape
21. Salty Cove
22. Sandcastle Bungalow
23. Sandy Shores Retreat
24. Sea Breeze Cottage
25. Seagull Escape
26. Seashell Nest
27. Seaside Cottage
28. Shoreline Dreams
29. Summer Days
30. Sunny Sand Beach House
31. Sunrise at the Beach
32. Sunset Shores House
33. Surfside Beach House
34. The Beach House
35. The Sunset House
36. Tranquility Beach House
Dreamy beach house names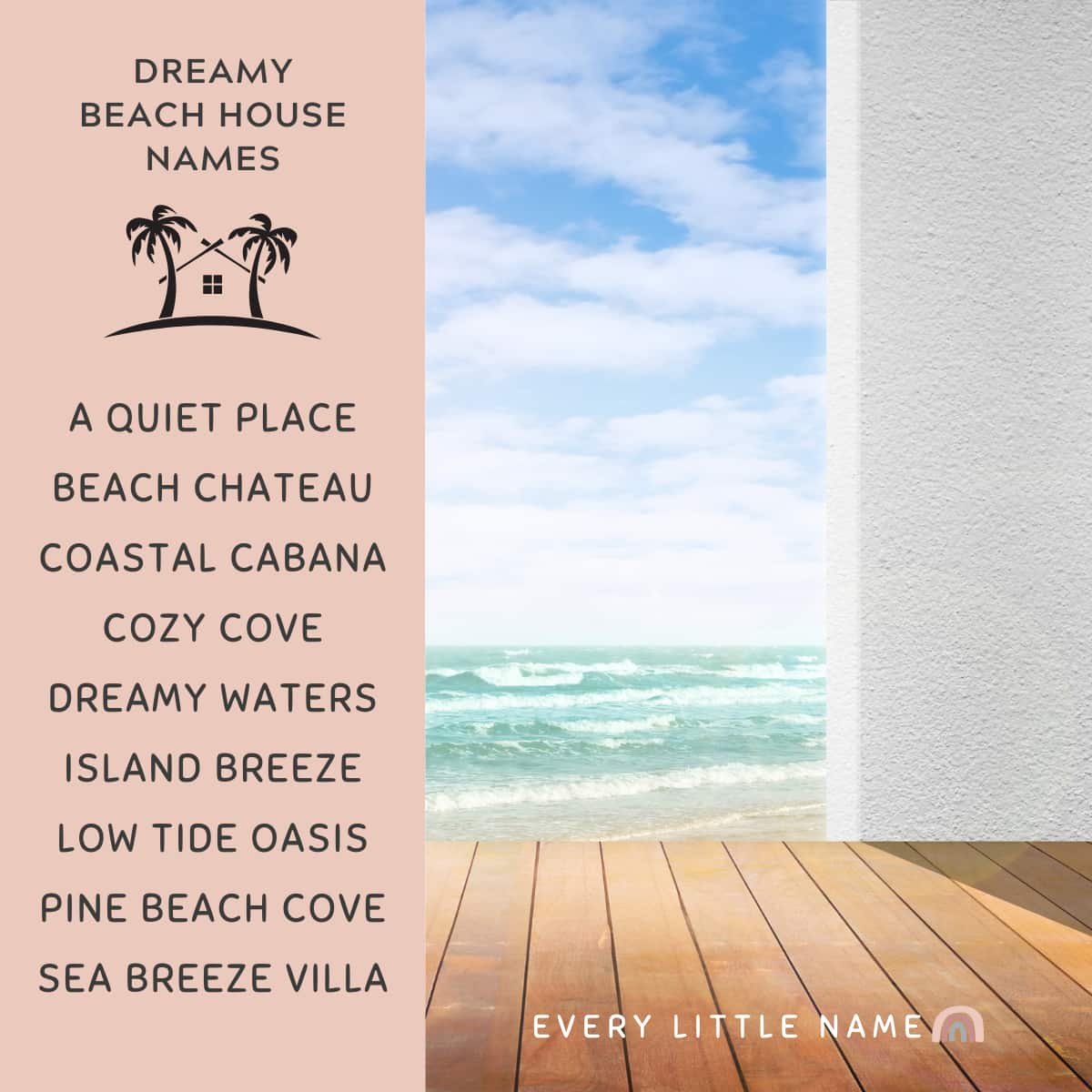 Choose a name that represents the beauty and tranquility of the beach atmosphere.
The following are cute and dreamy beach house name ideas.
1. A Quiet Place
2. Barefoot Dreams
3. Beach Chateau
4. Beachside Manor
5. Beyond the Sea Cove
6. Big Surf Beach House
7. Blue Horizon Hideaway
8. Coastal Beach House
9. Coastal Cabana
10. Cozy Cove
11. Dreamy Waters
12. Driftwood Dream
13. Edgewater Cottage
14. Island Breeze
15. Love Beach Cove
16. Low Tide Oasis
17. Mermaid Reef Retreat
18. Morning Mist Cove
19. Oceanfront Cove
20. Oceanview Oasis
21. Paradise Point Cove
22. Pine Beach Cove
23. Pleasant Beach House
24. Saltwater Hideaway
25. Sandy Shores Retreat
26. Sandy Toes Cottage
27. Sea Breeze Villa
28. Secret Bungalow
29. Seagull Cove
30. Seaside Haven
31. Seaside Solitude
32. Shoreline Retreat
33. Starfish Bungalow
34. Starlight Nest
35. Summer Waves
36. Sunflower Beach House
37. Sunrise Beach Home
38. Sunset Shack
39. The Cove
40. The Nesting Place
41. Tranquil Paradise
42. Tropical Oasis
43. Twilight Shack
44. Wishing Cove
Cool beach house names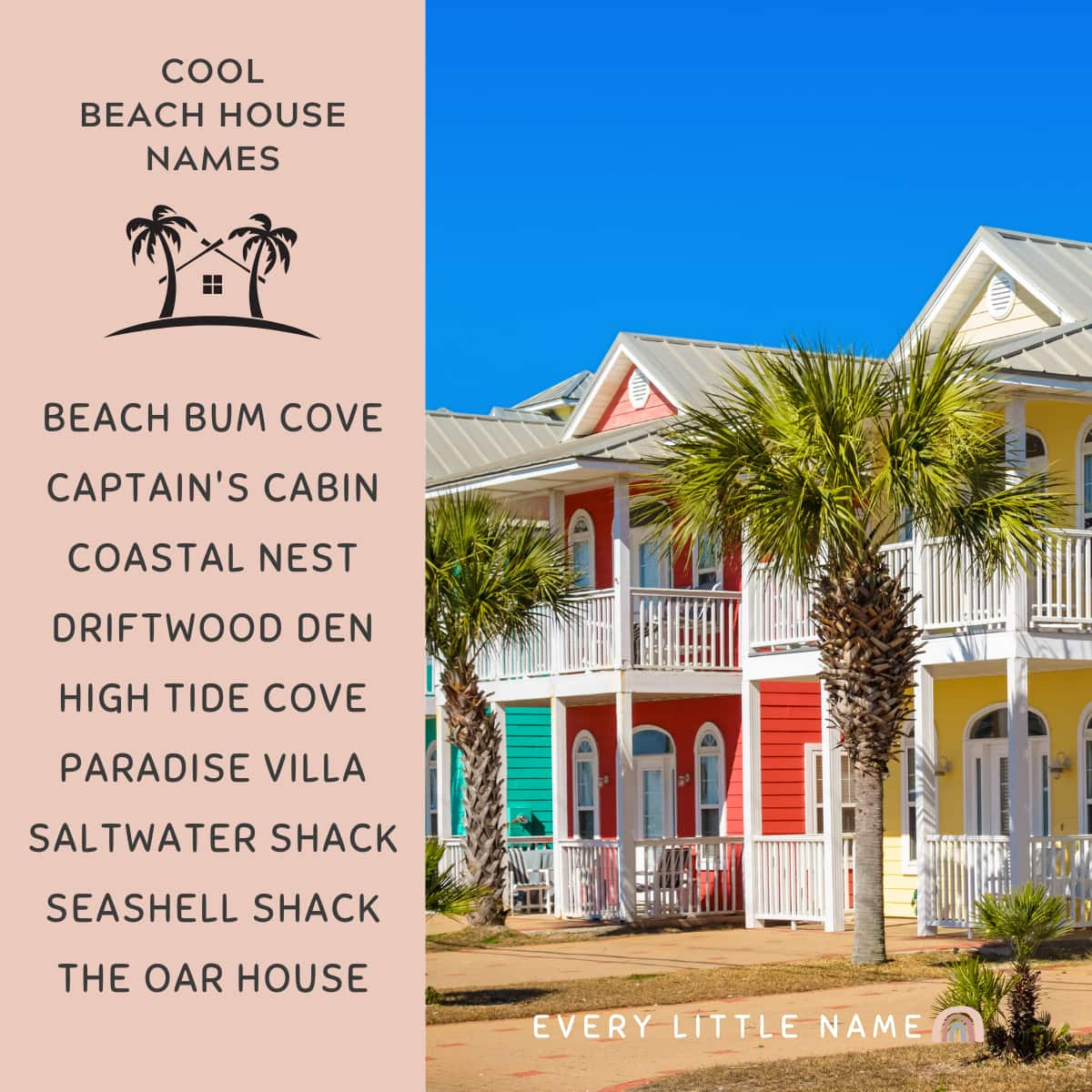 Whether you prefer a laid-back or sophisticated style, choose a name that's unique.
The following are cool and creative beach house names.
1. Backshore Cabin
2. Beach Bum Cove
3. Beachcomber
4. Beachside Shack
5. Captain's Cabin
6. Coastal Nest
7. Driftwood Den
8. Edgewater Retreat
9. High Tide Cove
10. Lily Pad Beach House
11. Mermaid's Cove
12. Ocean Breeze Nest
13. Ocean Cove
14. Paradise Villa
15. Salt Breeze Cabin
16. Saltwater Shack
17. Salty Smile Cove
18. Sand Dune Escape
19. Sandbar Cabin
20. Sandy Shore Cove
21. Sea Rock Cabin
22. Sea Star Cove
23. Seashell Shack
24. Seaside Escape
25. Shore Thing Cove
26. Spindrift Cabin
27. Starfish Pad
28. Sun & Surf House
29. Sunset Cottage
30. Surfs Up Beach House
31. Surfside Shack
32. The Beach Bungalow
33. The Oar House
34. The Sandcastle
35. The Surf Cottage
36. Tranquil Escape
37. White Sand Cove
38. Whitewater Escape
39. Wildflower Beach House
Funny beach house names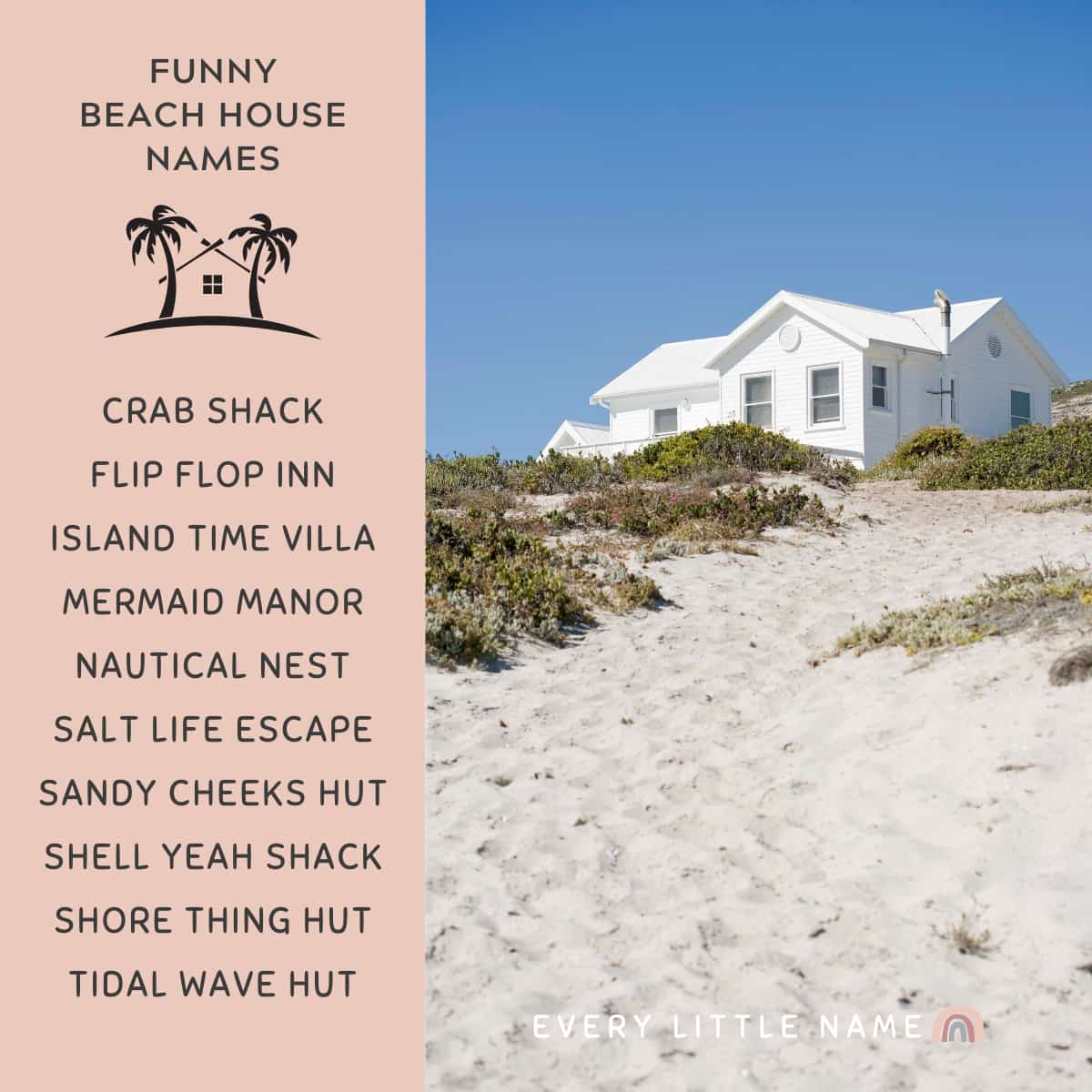 The following funny beach house names are sure to make you and your guests smile.
1. Beach House of Blues Pad
2. Beach House of Cards Bungalow
3. Beach House on the Moon
4. Beach Please Cabin
5. Beachcomber's Bliss Bungalow
6. Coastal Charm Cabin
7. Crab Shack
8. Flip Flop Inn
9. Island Time Villa
10. Mermaid Manor
11. Nautical Nest
12. Ocean's Eleven Bungalow
13. Reel Paradise Beach House
14. Salt Life Escape
15. Salty Seagull House
16. Sand Dollar Bungalow
17. Sand in My Shoes Beach House
18. Sandy Cheeks Hut
19. Sea La Vie Villa
20. Seas the Day Oasis
21. Seashell Shack
22. Shell Yeah Shack
23. Shore Thing Hut
24. Sun of a Beach Escape
25. Sunset Sanctuary House
26. The Beach Blanket Bungalow
27. The Saltwater Sanctuary
28. The Salty Dog Shack
29. The Sand Castle
30. The Tiki Hut
31. Tidal Wave Hut
Beach house names using your town's name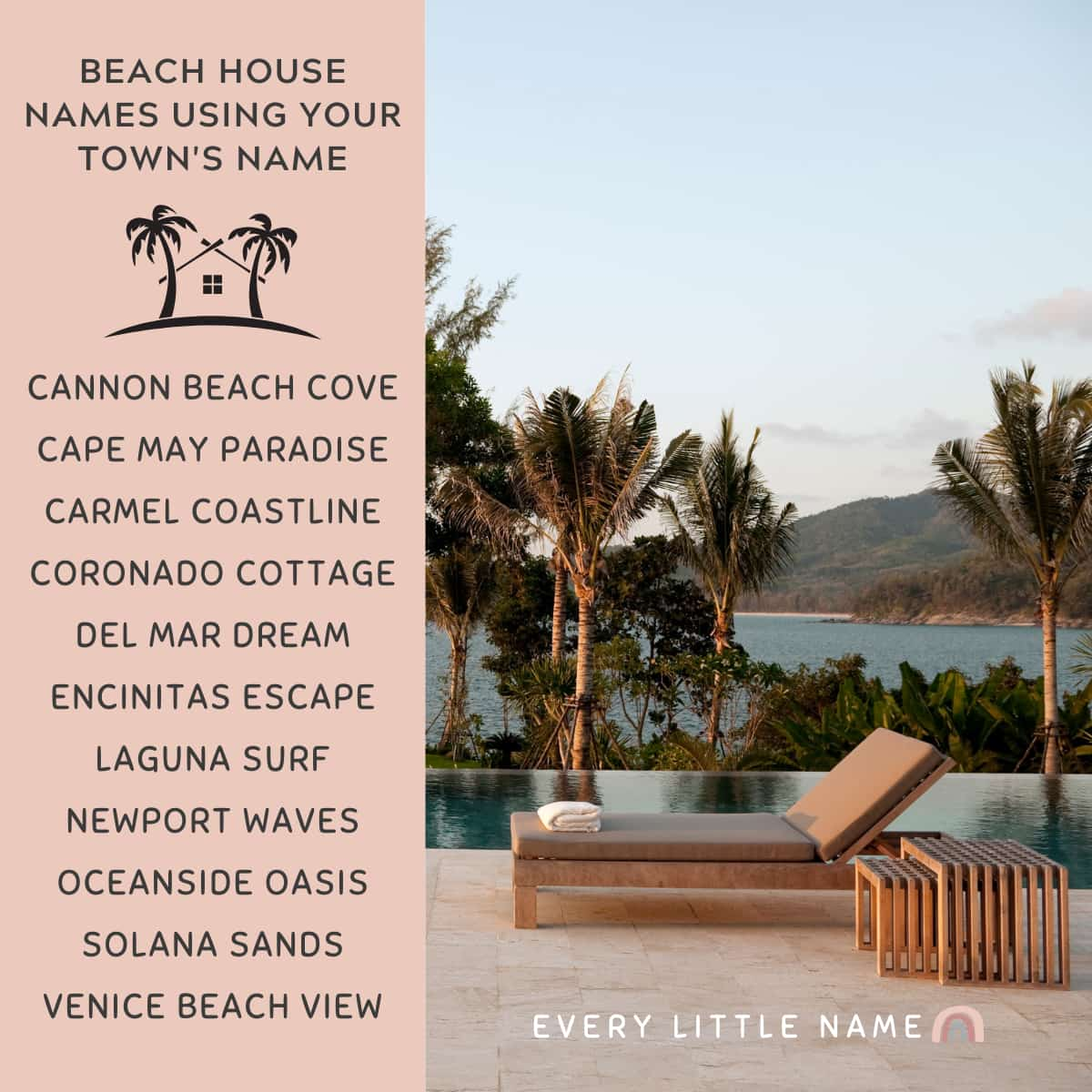 Consider incorporating the name of your town or the beach where your house is.
The following are examples of how to use your city's name when naming your beach house.
1. Cape May Paradise
2. Capitola Beach Cabin
3. Cannon Beach Cove
4. Carmel Coastline
5. Carpinteria Coastal Charm
6. Coronado Cottage
7. Del Mar Dream
8. Encinitas Escape
9. Friday Harbor Beach House
10. Huntington Hideaway
11. Laguna Surf
12. La Jolla Cove Cottage
13. Malibu Breeze Oasis
14. Manhattan Beach Retreat
15. Montauk Escape Villa
16. Morro Bay Bungalow
17. Myrtle Beach Shores
18. Newport Waves
19. Oceanside Oasis
20. Pacific Palisades Paradise
21. San Clemente Shoreline
22. San Diego Seaside Villa
23. Sanibel Island Cabin
24. Santa Barbara Sandcastle
25. Santa Monica Seaview House
26. Solana Sands
27. St. Augustine Beach Escape
28. St. Petersburg Coastal Paradise
29. Sullivan's Island Cove
30. Venice Beach View
Related: Best House Names