Opening a bookstore can be a great way to turn a passion for books into a profitable business. Get inspired with the best bookstore names.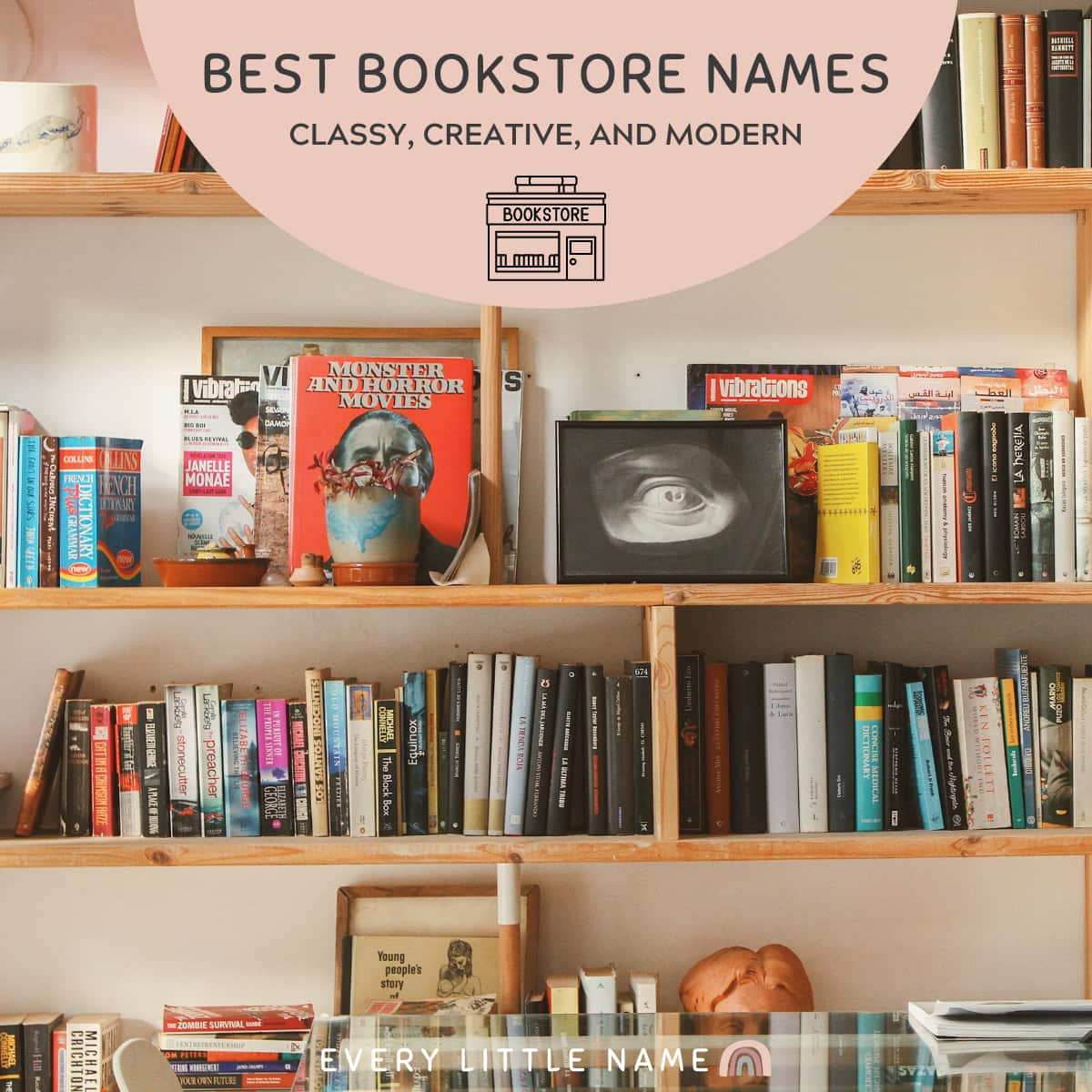 Opening a bookstore can be a rewarding way to make a living. Despite ebooks, there are still more bookstores than other types of retail businesses.
With good marketing, you can expand your business by opening more bookstores.
Additionally, a bookstore can serve as a social hub for your local community. You can host events and collaborate with other local businesses.
Kick off your business and make a great first impression with a memorable bookstore name. Get inspired by the following bookstore names that are classic, creative, and funny.
Related: Best Coffee Shop Names
Table of Contents
Classic bookstore names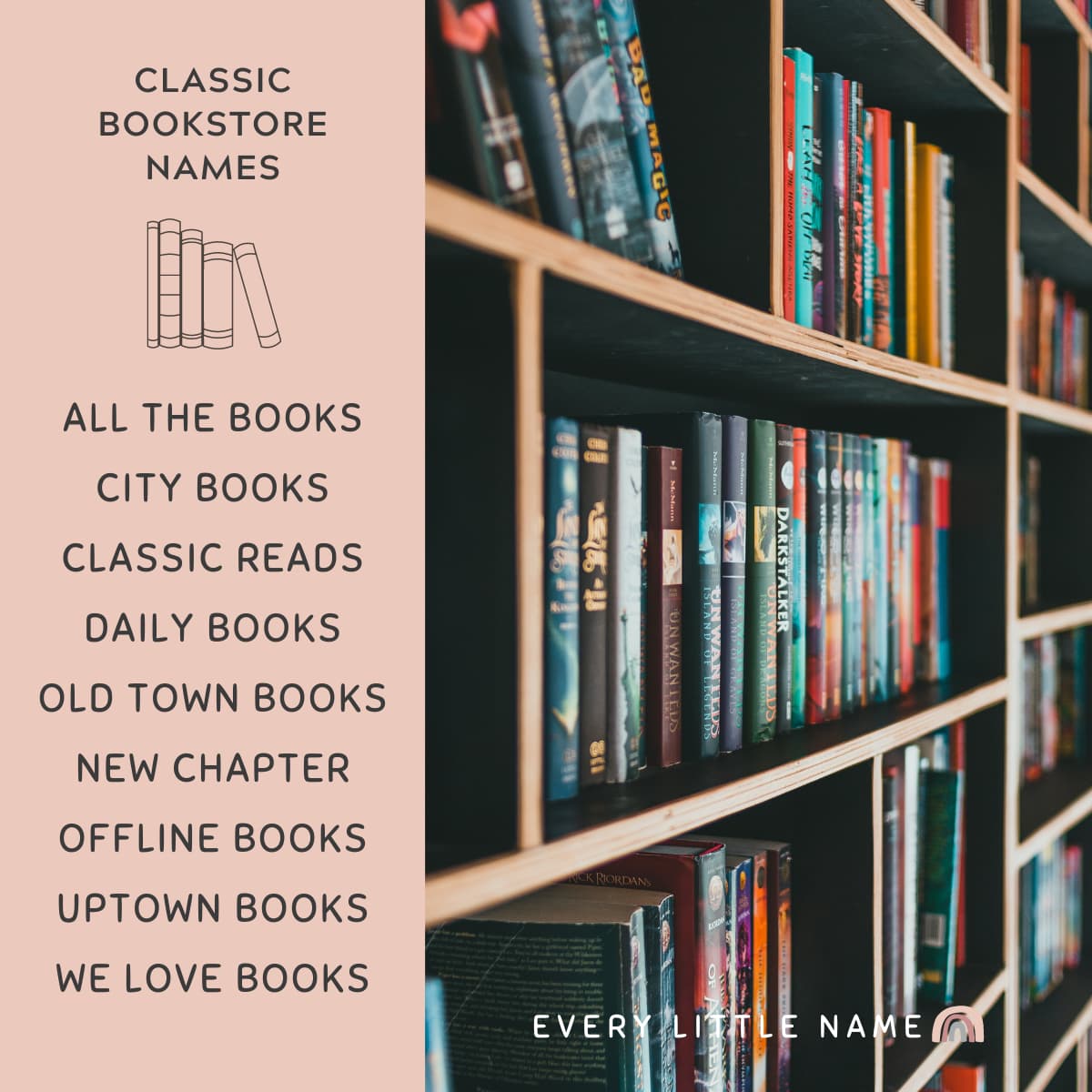 The following are classic name ideas for your bookstore. Their timeless appeal will attract customers of all ages.
1. All the Books
2. Book Exchange
3. City Books
4. Classic Bookstore
5. Classic Reads
6. Daily Books
7. Downtown Books
8. Everybody Bookstore
9. Great Books
10. Just Books
11. Landmark Books
12. Old Town Books
13. New Chapter
14. Offline Books
15. Page Turners
16. Paperback City
17. Pop's Country Bookstore
18. Secret Garden Boostore
19. Stories Unlimited
20. Uptown Books
21. We Love Books
Related: Best Flower Shop Names
Cute bookstore names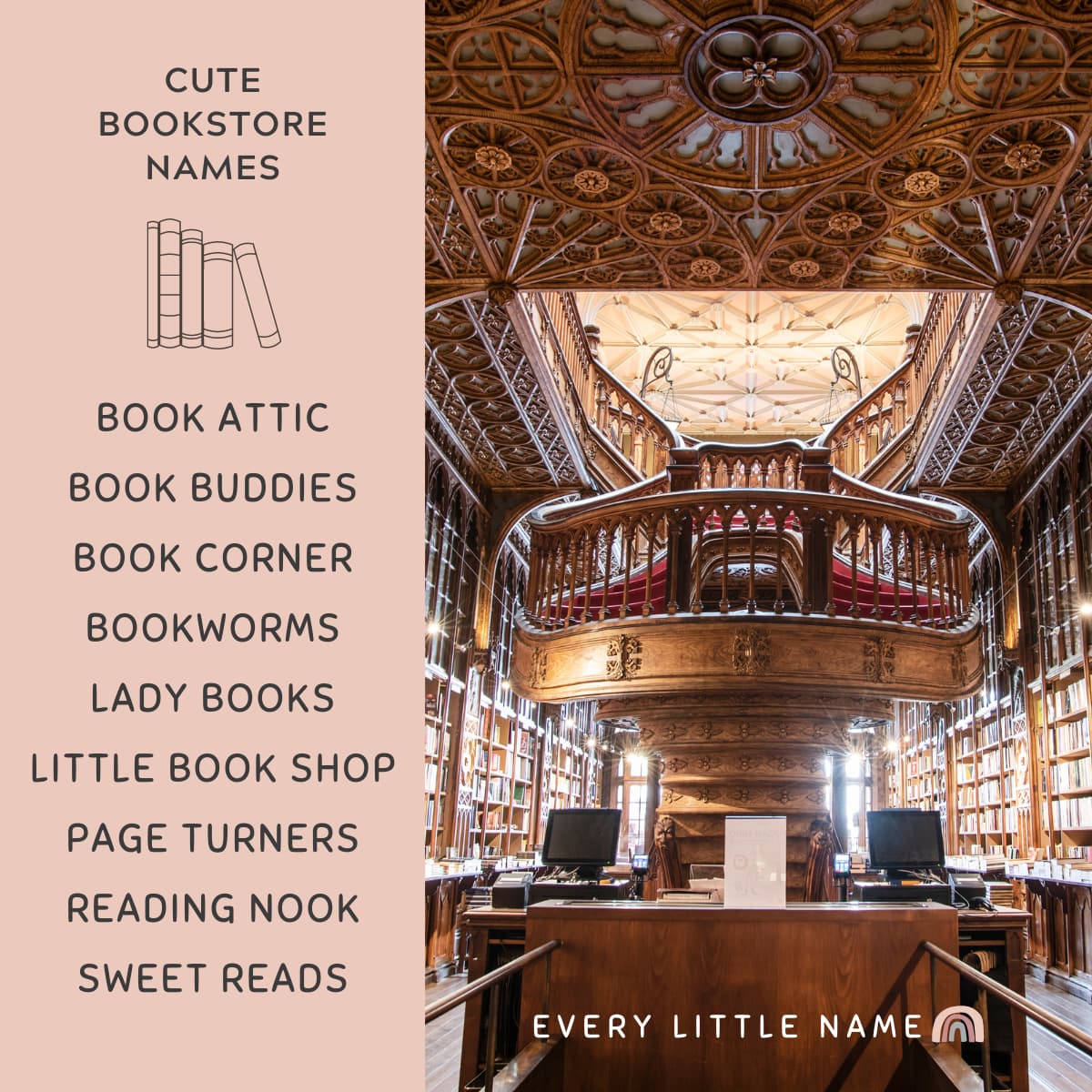 Cute bookstore names aim to evoke a feeling of learning in a comfortable atmosphere. The following are examples of adorable bookstore name ideas.
1. Alley Cat Bookstore
2. Book Attic
3. Book Buddies
4. Book Buzz
5. Book Corner
6. Book Fairy Shop
7. Book Market
8. Book Rack
9. Bookworms
10. Dancing Goat Bookstore
11. Friends Bookstore
12. Kids Reading Corner
13. Lady Books
14. Little Book Shop
15. Munchkin Bookstore
16. Page Turners
17. Reading Garden
18. Reading Nook
19. Reading Station
20. Small Books
21. Sweet Reads
22. The Book Shop
23. The Bookshelf
24. Twice Read
Related: Best Book Club Names
Creative bookstore names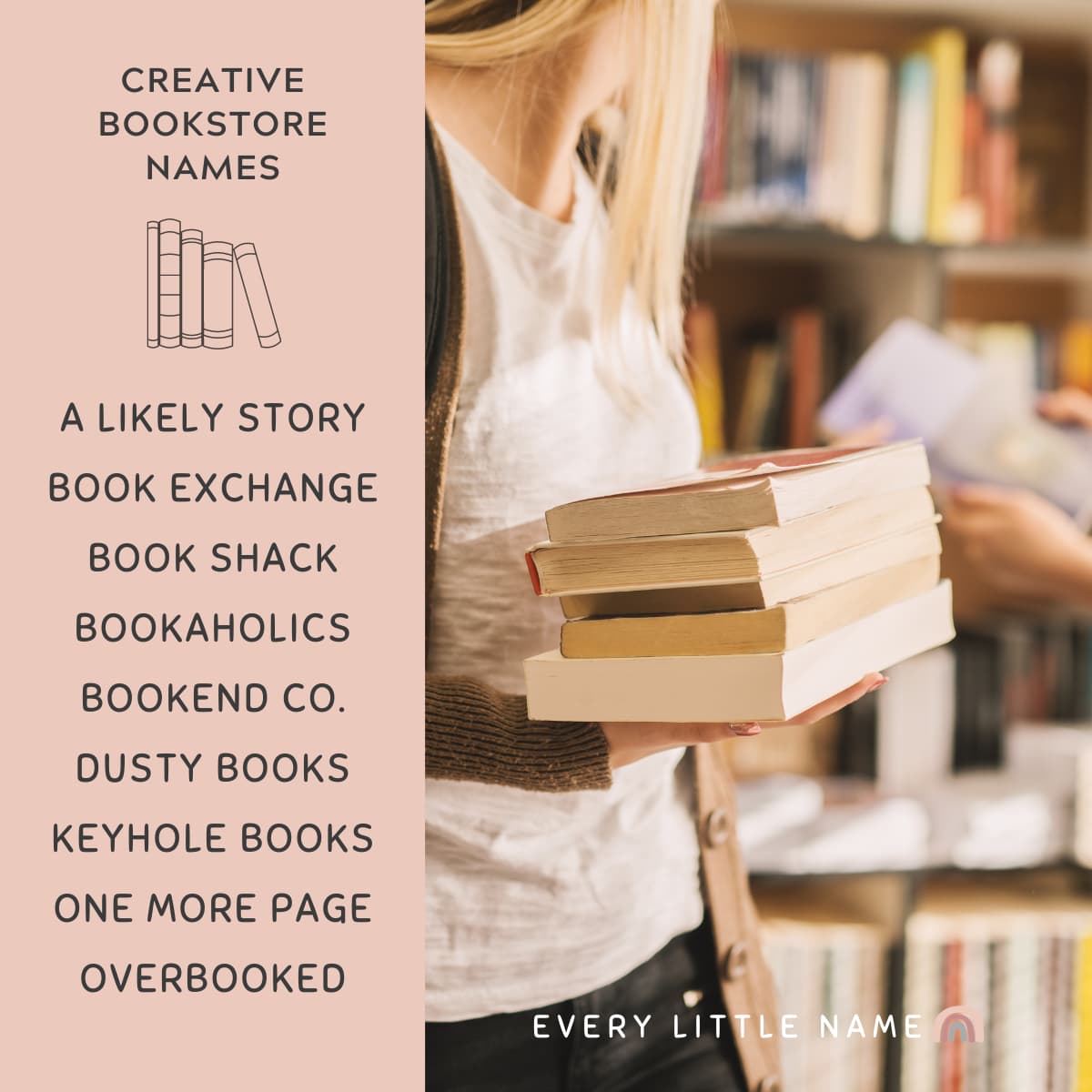 When choosing a name for your bookstore, consider a unique name that's memorable and easy to find. Keep in mind that the name should be easy to remember and pronounce.
The following are bookstore names that will catch your customers' attention.
1. A Likely Story
2. Alley Cat Bookstore
3. Between the Lines
4. Book Exchange
5. Book Holders
6. Book Shack
7. Book Truck
8. Bookaholics
9. Bookend Co.
10. Bookland
11. Bookly
12. Brainy Reads
13. Dusty Books
14. Endless Books
15. Hooked on Books
16. Keyhole Books
17. Literary Club
18. One More Chapter
19. One More Page
20. Overbooked
21. Reading Delight
22. Reading Warriors
23. Square Books
24. Story Corner
25. The Book Cabin
26. The Page-Turner
27. Twice Told Tales
28. Wise Words
29. Wonderful Books
Modern bookstore names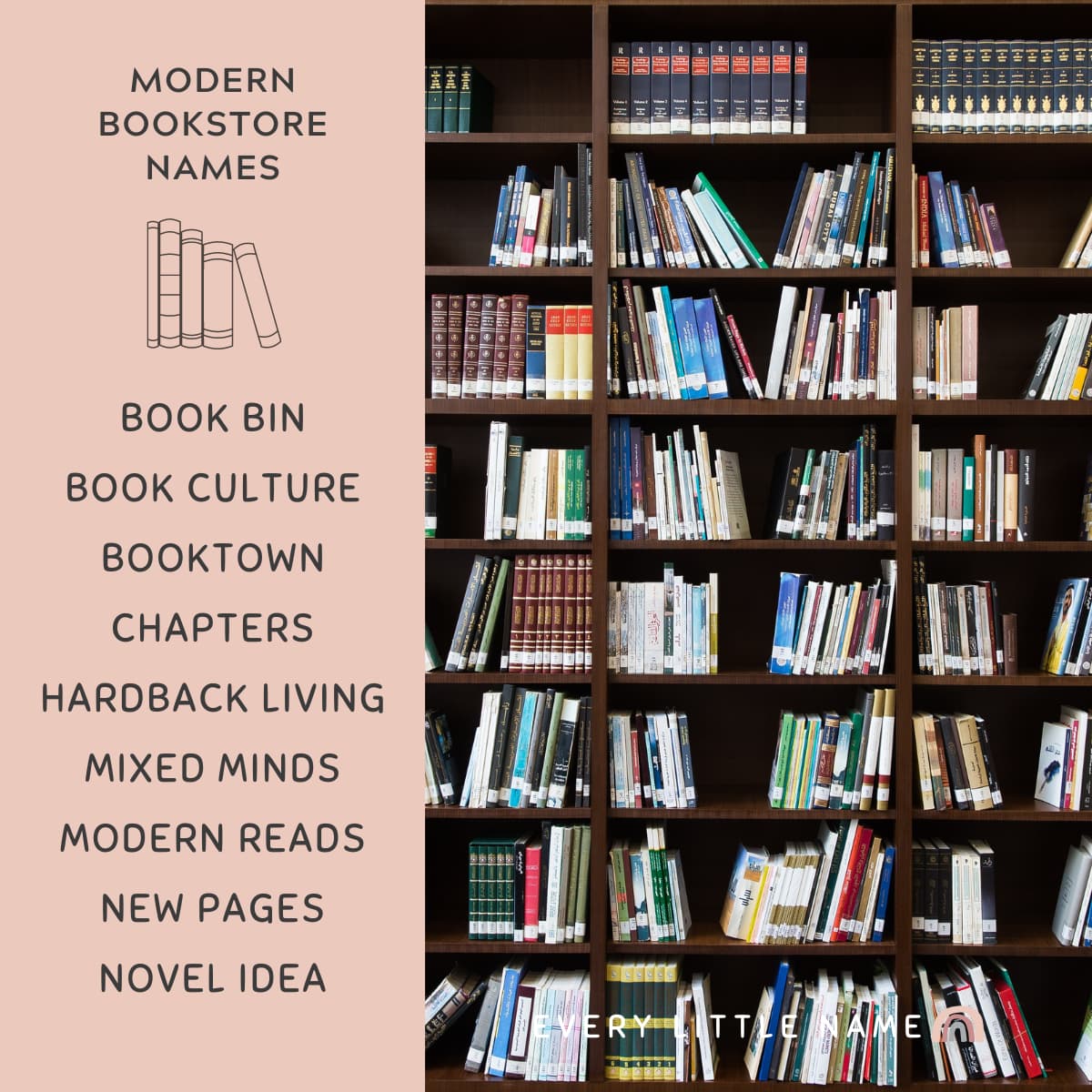 If your bookstore has a unique and quirky atmosphere, give it a modern and hip name.
Modern names reflect a trendy, contemporary atmosphere and appeal to a younger demographic. Consider using the city or neighborhood in the name.
1. Book Bin
2. Book Culture
3. Book People
4. Book Republic
5. Booktown
6. Chapters
7. Drama Corner
8. Hardback Living
9. Living Words
10. Mixed Minds
11. Modern Bookstore
12. Modern Reads
13. Mostly Books
14. New Light Books
15. New Pages
16. Next Chapter
17. Novel Idea
18. Offline Books
19. Paper Curls
20. Perfect Crime Bookstore
21. Rustic Reads
Funny bookstore names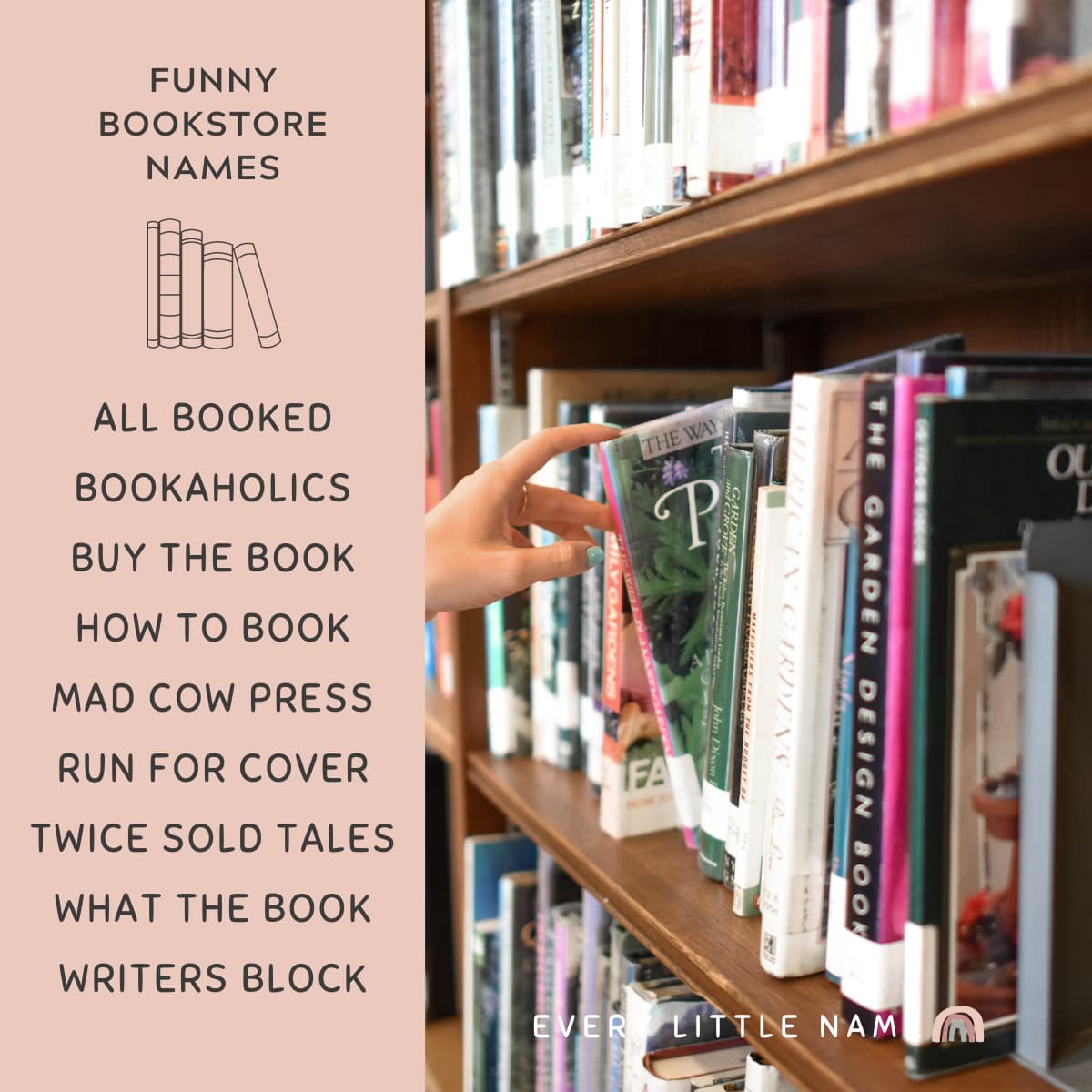 Funny bookstore names aim to bring a smile to people's faces. Consider using puns or clever play on words to make the name memorable.
1. All Booked
2. As the Book Worms
3. Bookaholics
4. Buy the Book
5. Fiction Addiction
6. How to Book
7. It's a Hardback Life
8. Mad Cow Press
9. Pick A Book
10. Read & Be Wise
11. Run for Cover
12. Shelf Care
13. Shelf Indulgence Books
14. To-Be-Read Bookstore
15. Twice Sold Tales
16. What the Book
17. Writers Block Bookstore
Related: Ice Cream Shop Names