Flowers are beautiful and make for excellent names. If you're looking for flower names for your baby, get the best ones with their meanings.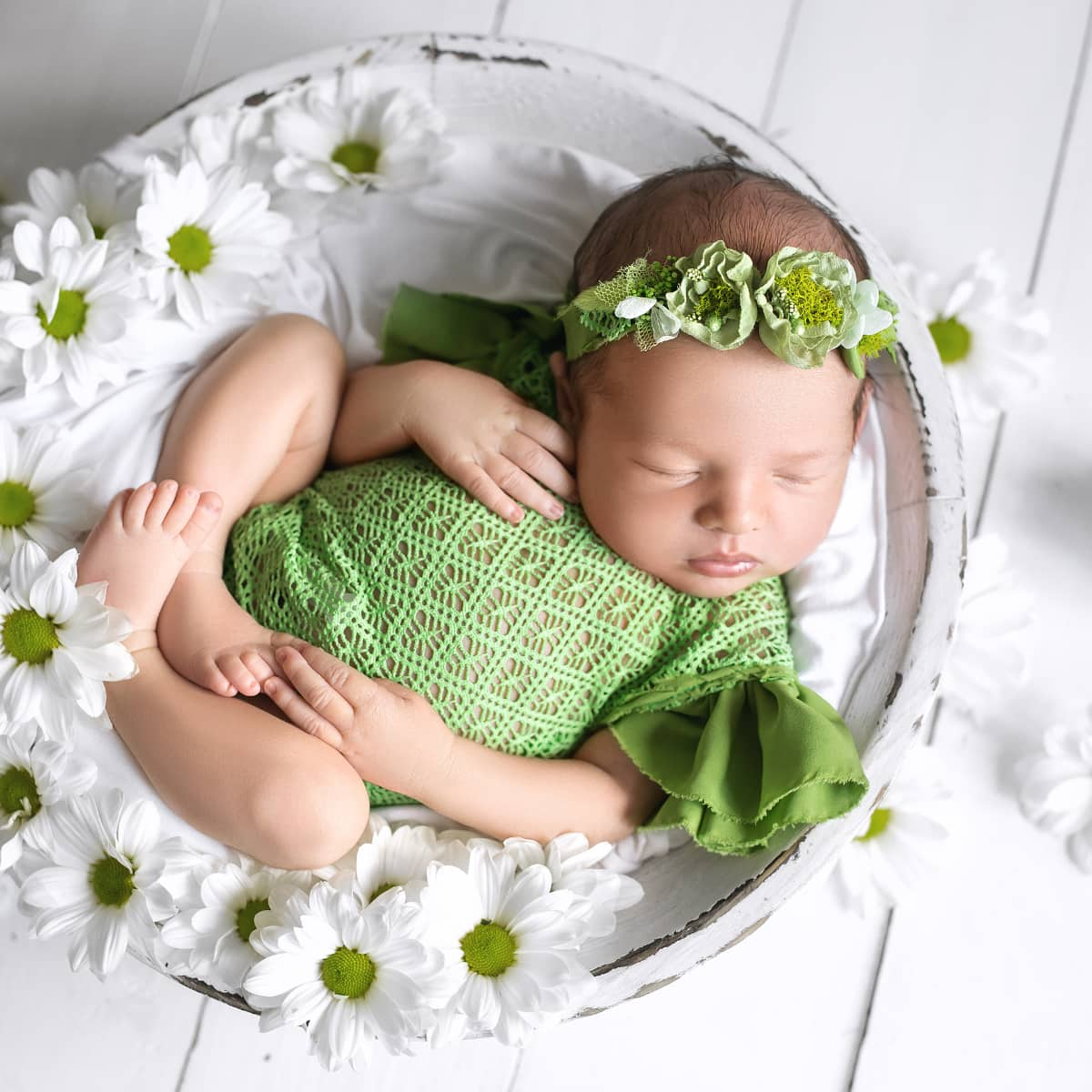 Flower names are some of the most beautiful and make a strong first impression.
Related: Baby Names That Mean Light
By giving your baby a name of a flower or one that means flower, you're preparing them to be strong and resilient.
For ideas, check out the following list of flower names. You'll find boy, girl, and gender-neutral options.
Related: Tree Names for Babies
Table of Contents
Gender-neutral flower names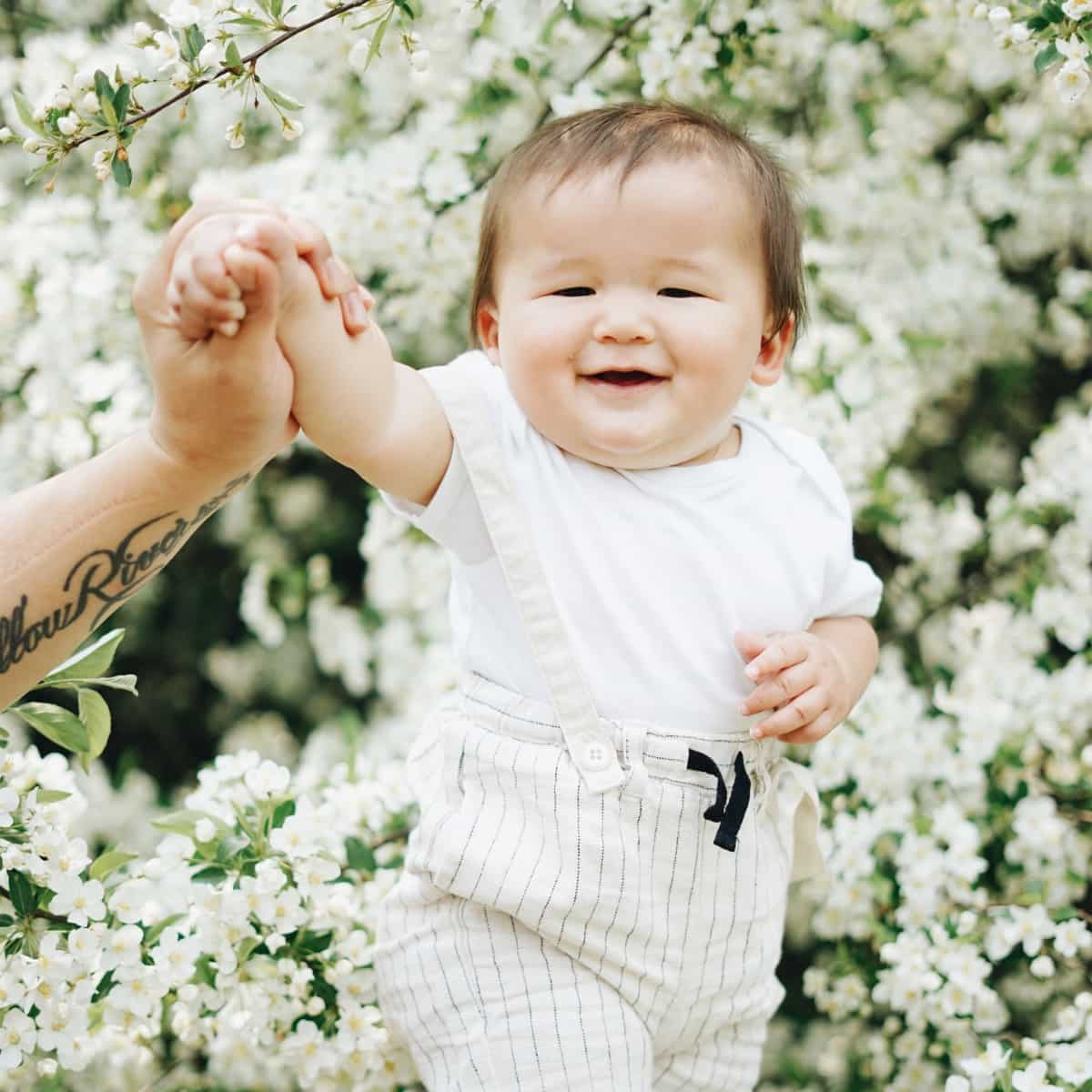 Aster: A Greek name meaning "star" or "flower." The aster flower is native to North America and has a star-shaped head, ranging from purple to white.
Clover: A name of English origin that means "meadow flower" or "key." It can also refer to the clover plant, which symbolizes good fortune and luck.
Cory: Cory is an Irish name meaning "hollow." But, you can also derive it from corydalis. It produces bright and colorful flowers. The plant is also used for medicines.
Floryn: A name with Latin origins meaning "flourishing" or "blooming flower."
Lotus: A Greek name meaning "lotus flower." The lotus flower is beautiful and symbolizes purity, rebirth, and strength. Its meaning is due to its ability to rise from the mud without stains.
Rayen: A Chilean name meaning "flower."
Ren: A name of Japanese origin meaning "water lily" and "lotus." It encourages your baby to blossom. It's an excellent name for boys and girls, as it's also easy to pronounce.
Rue: A hardy plant that flowers on new growth. It also has English and Greek origins meaning "herb" or "regret."
Senna: An Arabic name meaning "brightness." Senna is a bush that produces beautiful yellow flowers. It's also used to treat constipation. So, consider all aspects before giving the name to your baby.
Related: Best Medieval Baby Names
Flower names for girls
Alyssa: A name of Irish origin meaning "noble." Alyssa is also derived from alyssum, a flower with medicinal benefits.
Amaryllis: A winter-blooming flower native to South Africa. Its trumpet-shaped bulbs are stunning. Amaryllis is also an ancient Greek name meaning "sparkle" or "shine."
Angelica: A biennial and perennial herb that blooms flowers in its second year. It symbolizes inspiration, perseverance, and encouragement. Angelica also has Latin and Greek origins meaning "angel."
Ayana: A Swahili name meaning "beautiful flower." Ayana also has Japanese origins meaning "colorful."
Azalea: A flowering shrub with vibrant colors. As a name, Azalea has Greek origins meaning "dry."
Bloom: An American name meaning "to produce flowers." It can also mean "to change, grow, or develop." The name can be a reminder to keep growing.
Calla: The name is derived from the calla lily. In ancient Greek culture, it symbolized magnificent beauty.
Camellia: A flower found in eastern and southern Asia. Camellias symbolize purity, innocence, and perfection.
Celandine: A beautiful name that refers to the greater celandine, a flower in the poppy family.
Cliantha: A Greek name meaning "glory-flower."
Daisy: A bright and cheerful flower. You can't help but smile when you look at a daisy. The name also has Latin and English origins meaning "day's eye."
Dahlia: A gorgeous flower that's available in many colors and sizes. They symbolize beauty, commitment, and kindness.
Fleur: A French name meaning "flower."
Flora: A Scottish and Latin name meaning "flower." Flora's also the Roman goddess of flowers and the season of spring.
Forsythia: A low-maintenance and fast-growing flowering shrub. It symbolizes anticipation, hope, and renewal.
Fuchsia: A vivid flower with a purple and red color. It symbolizes grace, trust, and healing.
Gaura: A stunning and low-maintenance flower with a longer bloom time than most perennials. The name also has Indian origins meaning "fair skinned."
Heather: A name of British origin that means "evergreen flowering plant." Heather is a beautiful pink, purple, and white flower that bloom in late summer. Heather flowers symbolize good luck, protection, and admiration.
Holly: The name refers to the holly plant, which may bloom with white, pink, yellow, or green flowers. It's also closely tied to Christmas.
Iris: A tall and beautiful flower with some petals rising while others pointing down. Iris was also the Greek goddess of the rainbow. The name's also associated with wisdom, hope, and trust.
Ivy: A name that refers to the climbing evergreen plant. It flowers between September to November. Ivy symbolizes loyalty, faith, and eternity.
Jacilynn: A rarer name with Greek origins meaning "flower."
Jasmine: A flower with a strong and sweet fragrance. The name has Persian origins meaning "God's gift" or "fragrant flower."
Kaleah: A Hawaiian name meaning "flower wreath" and "beloved."
Kalene: A name with Polish and Slavic origins meaning "flower."
Kamala: A Sanskrit name meaning "lotus flower." Kamala is also another name for Lakshmi, the Hindu goddess of wealth and good fortune.
Leilani: A Hawaiian name meaning "heavenly flowers" or "heavenly child."
Lily: A name that refers to the lily flowers. Lily also signifies purity and innocence.
Lobelia: A plant with beautiful flowers that attract butterflies. The most common volors are violet and blue. Lobelias also symbolize love, luck, and prosperity.
Magnolia: A flower with glossy leaves and an elegant appearance. Magnolia has Latin origins meaning "a flower."
Marguerite: A French name meaning "daisy flower." It also has Latin and Greek ties meaning "pearl."
Marigold: A cheerful annual that symbolizes beauty, warmth, and creativity. The name has British origins meaning "golden flower."
Mirabilis: A plant that produces vibrant yellow, red, pink, white, and purple flowers. It also attracts hummingbirds. Mirabilis has Latin origins. It means "amazing," "wondrous," or "remarkable."
Peony: A fluffy and fragrant flower that's known to be resilient. Peony also has Greek and Latin origins meaning "healing." Peony flowers symbolize love, honor, happiness, and wealth.
Petunia: It refers to a flower with white or pink blossoms. Petunias are sensitive flowers with dual meanings. They can resemble anger or comfort.
Poppy: A Latin name meaning "red flower." They're colorful and delicate flowers. Also, poppy flowers are a symbol of remembrance of World War I.
Primrose: A Latin name meaning "first rose." Primrose is also the name of Katniss's younger sister in The Hunger Games.
Raisa: A Russian and Hebrew name meaning "rose" or "easy-going."
Rose: A flower that's known as the epitome of femininity. Roses are symbolic of romance, love, beauty, and courage.
Shoshana or Susannah: A name with Hebrew origins meaning "lily."
Tulip: Gorgeous spring-blooming flowers. Tulips symbolize perfect love and royalty.
Varda: A Hebrew name meaning "pink rose."
Violet: An English name that refers to purple flowers. It's also derived from "viola," which is purple in Latin.
Virginia: A name you can derive from Virginia bluebells. They're beautiful wildflowers with striking deep blue and purple foliage.
Wisteria: A long-lived plant with blue, pink, or purple flowers. Wisterias symbolize romance, luck, longevity, and success.
Xochitl: A Native American name meaning "flower." It also has various pronunciations, such as soh-chee, so-chee-tl, and sho-cheel.
Yasmin: A name of Persian origin meaning "jasmine flower."
Yolanda: A Spanish and Greek name meaning "violet flower."
Zahra: The Arabic variation means "blooming flower," while the Hebrew version means "princess." Both versions make Zarah a beautiful and meaningful name.
Zainab: An Arabic name meaning "beautiful plant" or "fragrant flower."
Zinnia: A name with German and Latin origin meaning "Zinn's flower." Zinnias are annuals that are fast-growing and cheerful.
Related: Best Nicknames for Short People
Flower names for boys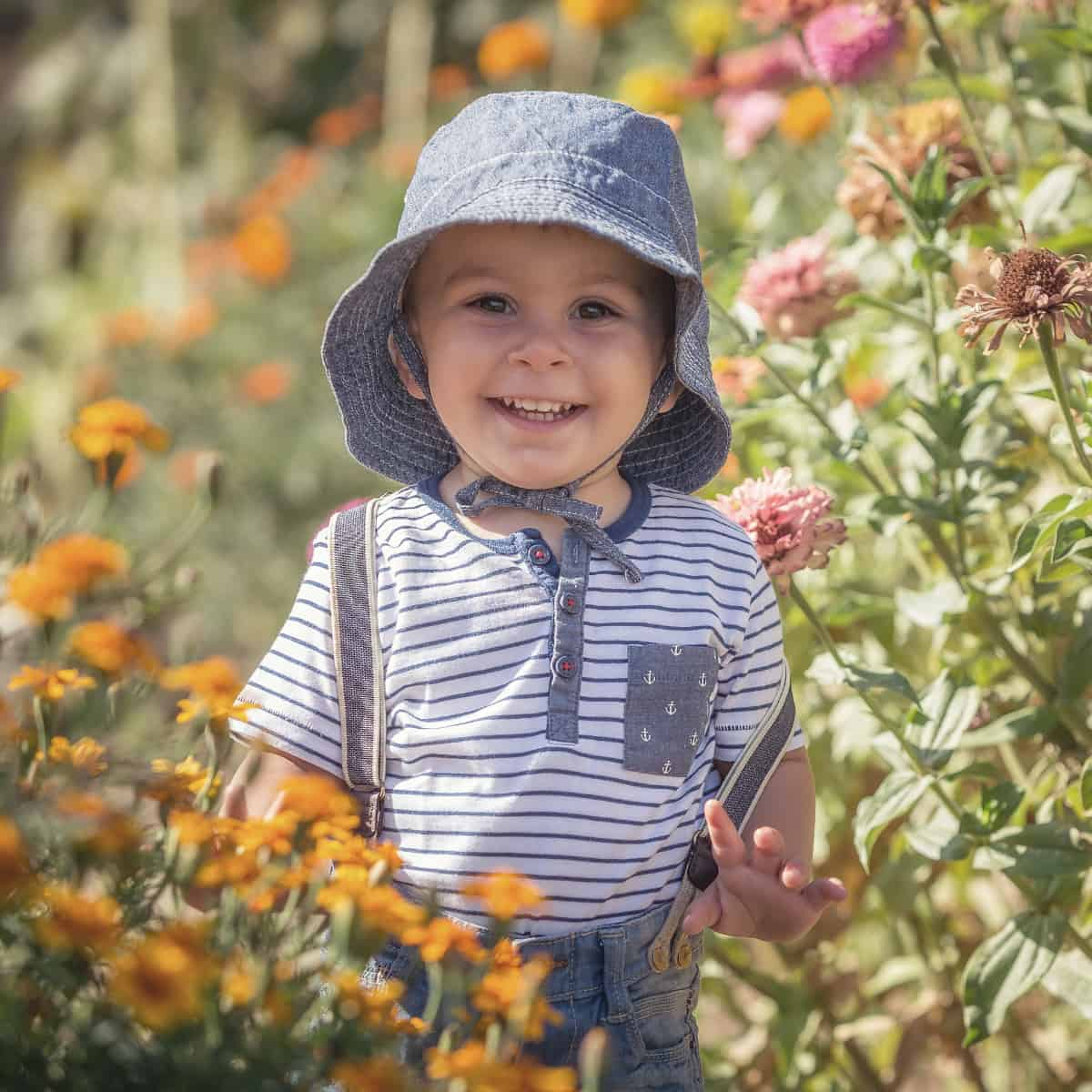 Antonio: A name derived from the Greek word, anthos, meaning "flower."
Blathma: An Irish name meaning "flower."
Florian: A name derived from the ancient Roman name, Florianus. It means "flowering."
Jacob: A name derived from the Jacob's ladder flower. The leaves going up the stem resemble a ladder. Jacob also has Hebrew origins meaning "to follow" or "supplant."
Jared: A Hebrew name meaning "rose" or "descending."
Kairav: A name with Hindi origins meaning "white lotus" or "born of water."
Kunal: A name of Sanskrit origin meaning "lotus." The lotus flower symbolizes strength and rebirth.
Oleander: A name with Greek origins meaning "rose tree" or "evergreen tree."
Watson: A name derived from the Watsonia flower. They're grand flowers with sword-like leaves.
William: The name refers to the Sweet William, a flowering plant native to Europe and Asia. It's a timeless name with English origins meaning "strong-willed warrior" or "determined."
Flower names aren't only for girls. There are gender-neutral and masculine choices.
Now that you've gone through a comprehensive list, which name did you choose and why?
Remember, a flower name conveys how precious your baby is to you. It also pays tribute to the natural world.
Related: The Funniest WiFi Name Ideas