Opening a candy store can be a great way to turn your passion for sweets into a profitable business. Read the best candy company names.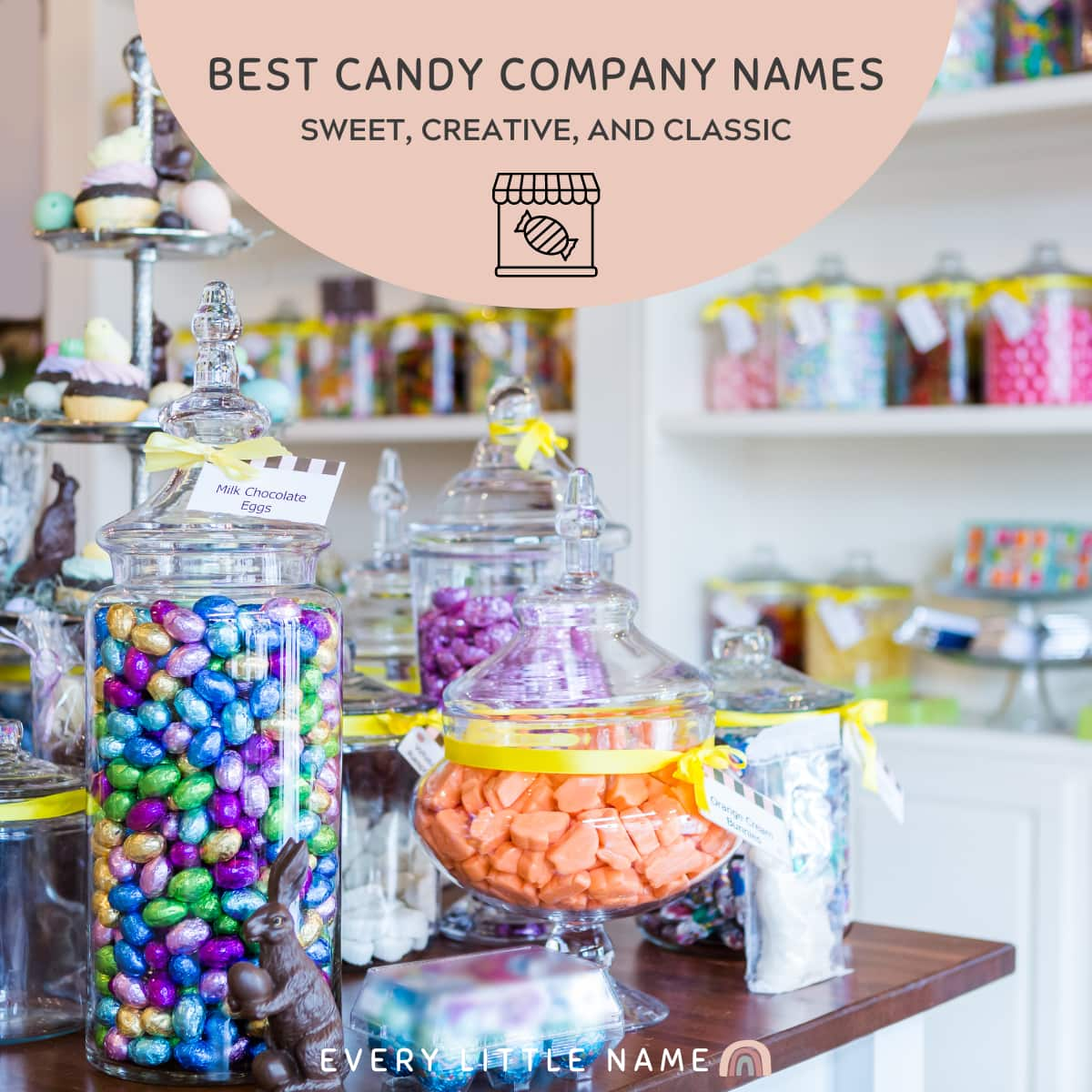 Candy isn't just for kids and Halloween. It comes in all types, shapes, and sizes and is a good gift idea for all occasions and cravings.
A candy store is like a paradise for all ages and demographics. Starting a candy company can be a profitable way to make a living and make countless people happy.
The global confectionery market was worth $190 billion in 2020. It's forecasted to expand to $240 billion by 2028. This growth offers an enticing opportunity for entrepreneurs passionate about sweets.
Kick off your business and make a great first impression with a memorable business name. Get inspiration from the complete list of top candy company names.
Related: Ice Cream Shop Names
Table of Contents
Cute and sweet candy company names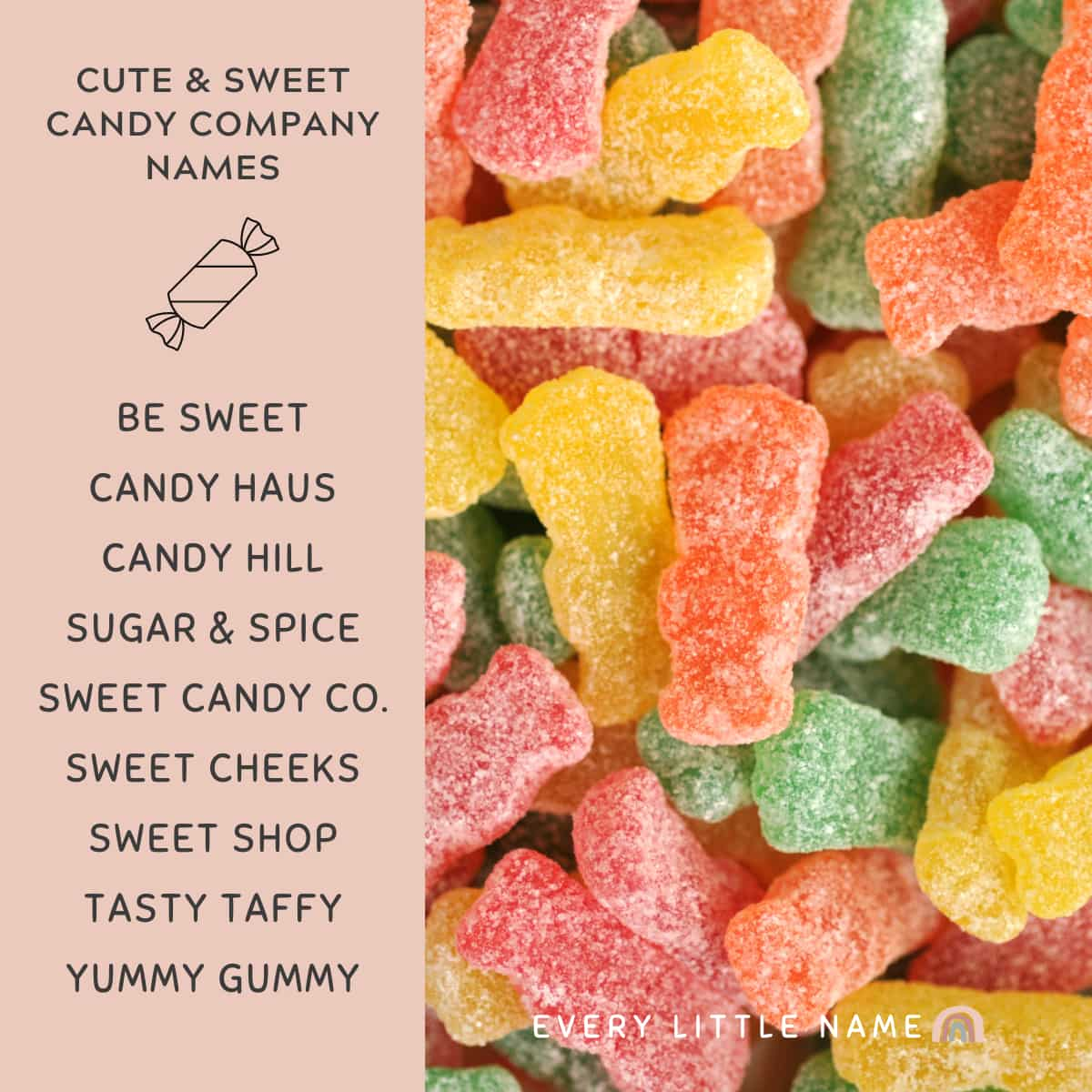 Choosing a cute candy store name can help make a lasting impression on your customers. It can appear more tasty and inviting, which can help you get more customers.
The following are examples of adorable candy company names.
1. Be Sweet
2. Candy Box
3. Candy Corner
4. Candy Haus
5. Candy Hive
6. Candy Rush
7. Candy Hill
8. Candy Point
9. Chocolate Studio
10. City Sweets
11. Cozy Candy Corner
12. Just Sweet
13. Lolly World
14. Simply Sweet
15. Sugar & Spice
16. Sugar Babies
17. Sugar Plum Fairy
18. Sweet Candy Co.
19. Sweet Cheeks
20. Sweet Retreat
21. Sweet Shop
22. Sweet Tooth Cafe
23. Tasty Taffy
24. The Sweet Spot
25. Yummy Gummy
Related: Best Bookstore Names
Unique candy shop names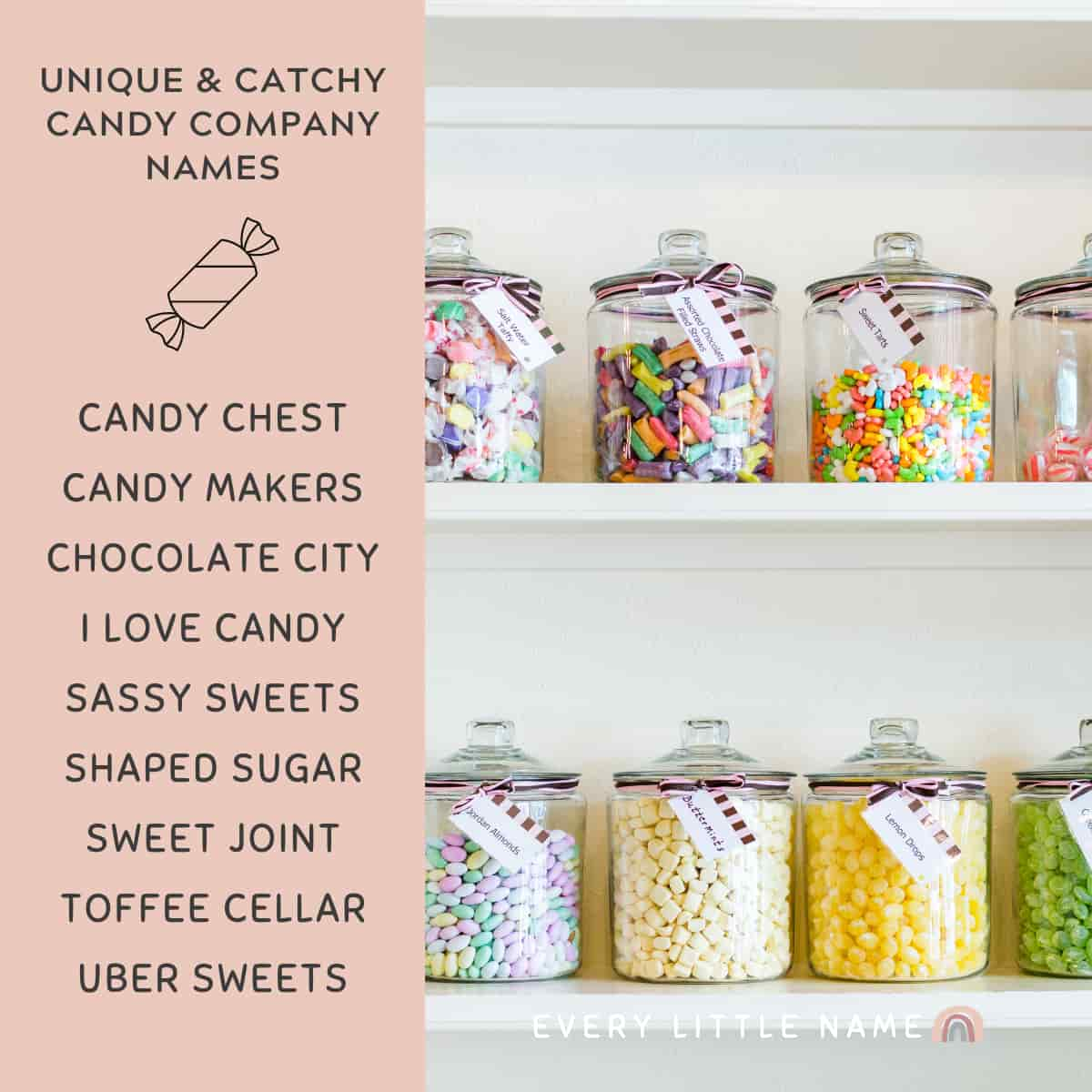 When choosing a name for your candy company, consider a unique name that's memorable and easy to find. The following candy shop names will leave a lasting impression.
1. Candy Atlas
2. Candy Cave
3. Candy Chest
4. Candy Cube
5. Candy Factory
6. Candy Makers
7. Candy Mountain
8. Chew Chew
9. Chocolate City
10. Chocolate on Main
11. I Love Candy
12. Jolly Chews
13. Kickin' Candy
14. Lady Sweet
15. Sassy Sweets
16. Shaped Sugar
17. Sour Spot
18. Sticky Sweets
19. Sweet & Sour Candy Co.
20. Sweet Delight
21. Sweet Energy Co.
22. Sweet Joint
23. Sweet Saga
24. Sweet Tooth Cafe
25. Sweetie Jar
26. The Candy Express
27. The Chocolate Shop
28. Toffee Cellar
29. Uber Sweets
30. Yummy Sweets
Related: Best Flower Shop Names
Funny candy store names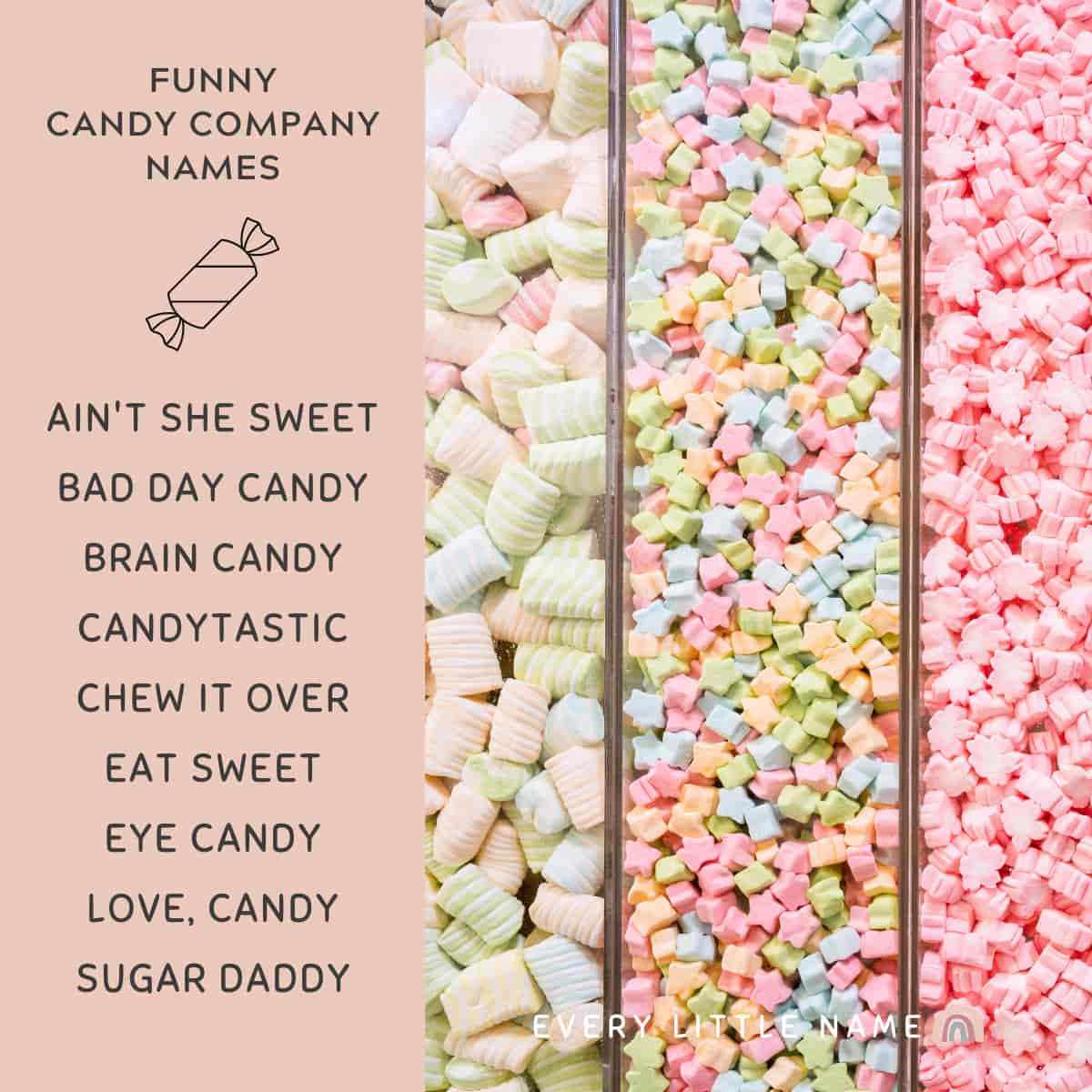 Humor is a great way to make your candy company stand out. If you want to draw people in and make them laugh, use rhymes or puns related to sweets and candy.
The following are examples of candy shop names.
1. Adrenaline Rush
2. Ain't She Sweet
3. Bad Day Candy
4. Brain Candy
5. Candy Breaker
6. Candy-Pedia
7. Candy-Tastic
8. Chew it Over
9. Death by Chocolate
10. Eat Sweet
11. Eye Candy
12. Feel Butter Soon
13. Grow a Jelly Belly
14. How Sweet It Is
15. Lollipop Daddy
16. Love, Candy
17. Never Sugar High Again
18. Revenge is Sweet
19. Spun Candy
20. Sugar Coasted
21. Sugar Daddy
22. Sweet Reward
23. Sweet Revenge
24. Sugar Rush
25. Sugar Station
26. Sugar Sugar
27. Sweet Nothings
28. Sweet Talk
29. Sweets for My Sweet
30. Tooth Ache
Related: Best Candle Company Names
Retro candy company names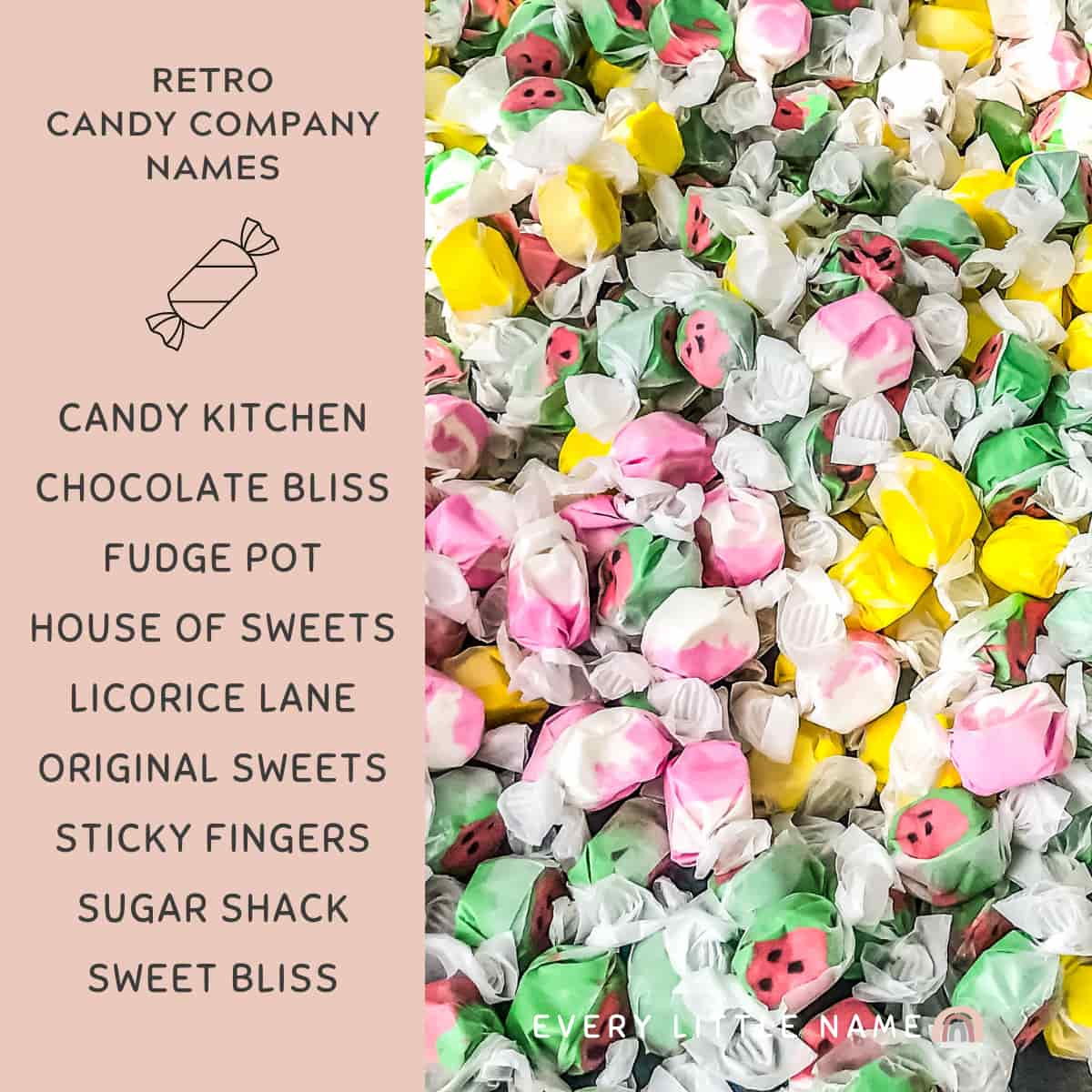 Choosing a retro candy shop name could attract customers who appreciate the nostalgia.
A retro name may be perfect if you offer unique sweets that customers may not find in other stores.
1. Candy Boulevard
2. Candy Kitchen
3. Candy Man
4. Chocolate Bliss
5. Chocolate Castle
6. Chocolate World
7. Fudge Pot
8. House of Sweets
9. Licorice Lane
10. Old Fashioned Candy
11. Original Sweets
12. Pop's Candy Shop
13. Sticky Fingers
14. Sugar Shack
15. Sweet & Delicious
16. Sweet Bliss
17. Sweet Temptations
18. Sweet Tooth Cafe
19. The Candy House
20. The Candy Jar
21. The Candy Shop
22. The Sweet Shoppe
23. Vintage Sweets
Tips on naming your candy company
The following are suggestions to help you come up with the perfect name for your new candy business:
1. Keep it sweet and simple. It should be memorable and easy to spell.
2. Use a play on words. Use rhymes or puns related to sweets and candy.
3. Search online for existing candy shop names. It will help you avoid duplication and potential trademark issues.
4. Brainstorm with friends and family. They may have fun and creative ideas you wouldn't have considered otherwise.
Now that you've read through the candy store name ideas, what did you decide to name your new business?
Related: Creative Coffee Shop Names