Once you decide to open a pet shop, you need a memorable name. Get inspired with the best pet store names that are cute and creative.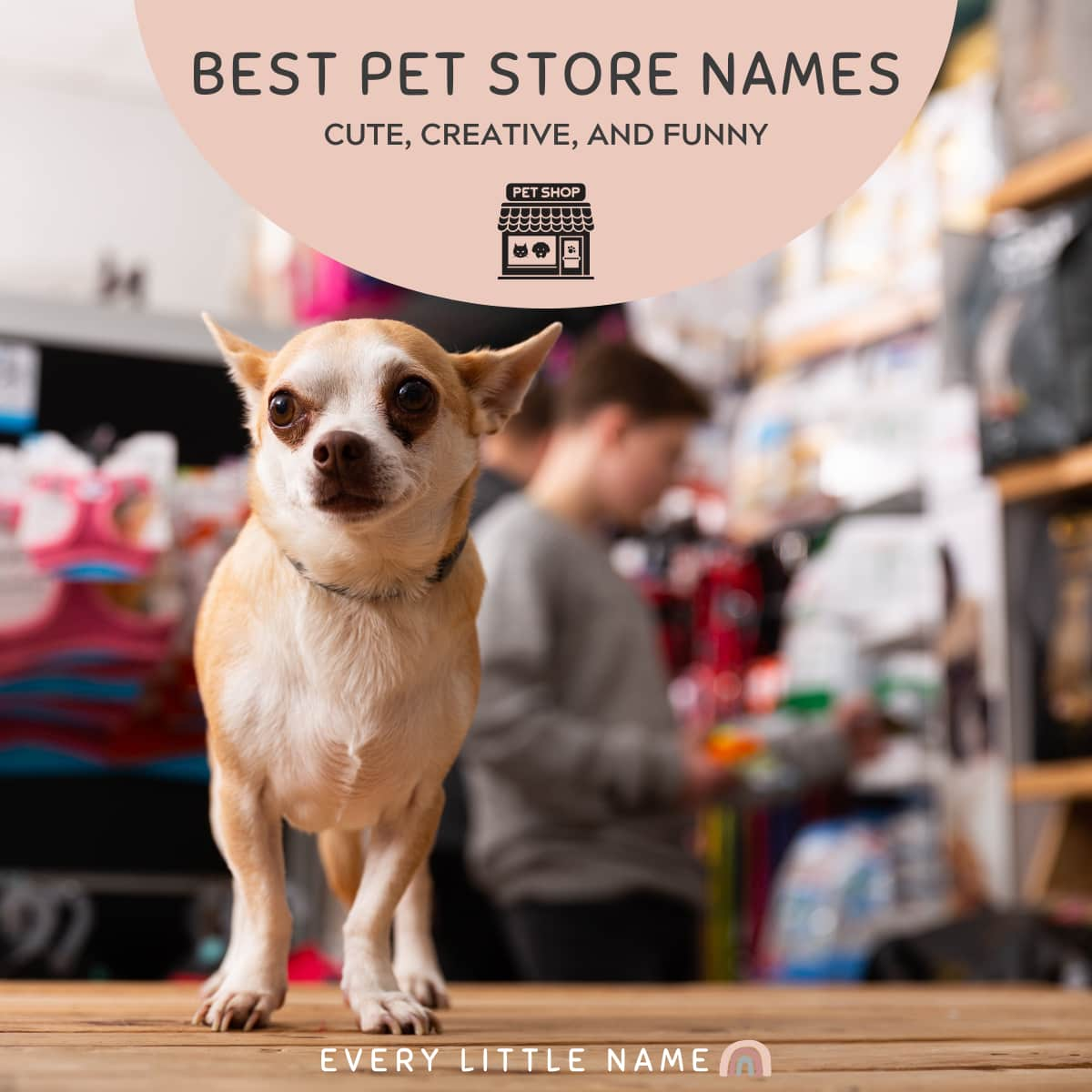 Opening a pet store can be a fulfilling and rewarding career if you are passionate about animals.
Half of American households own pets. A pet shop provides a convenient location for pet owners to buy necessary supplies.
A pet shop can generate revenue through pet-related services and product sales. Additionally, you can work with animals and contribute to their welfare.
Choosing a memorable pet store name is the first step towards creating a brand trusted by pet owners.
The following are examples of pet shop names to help you choose the perfect one.
Related: Best Farm Names
Table of Contents
Cute pet store name ideas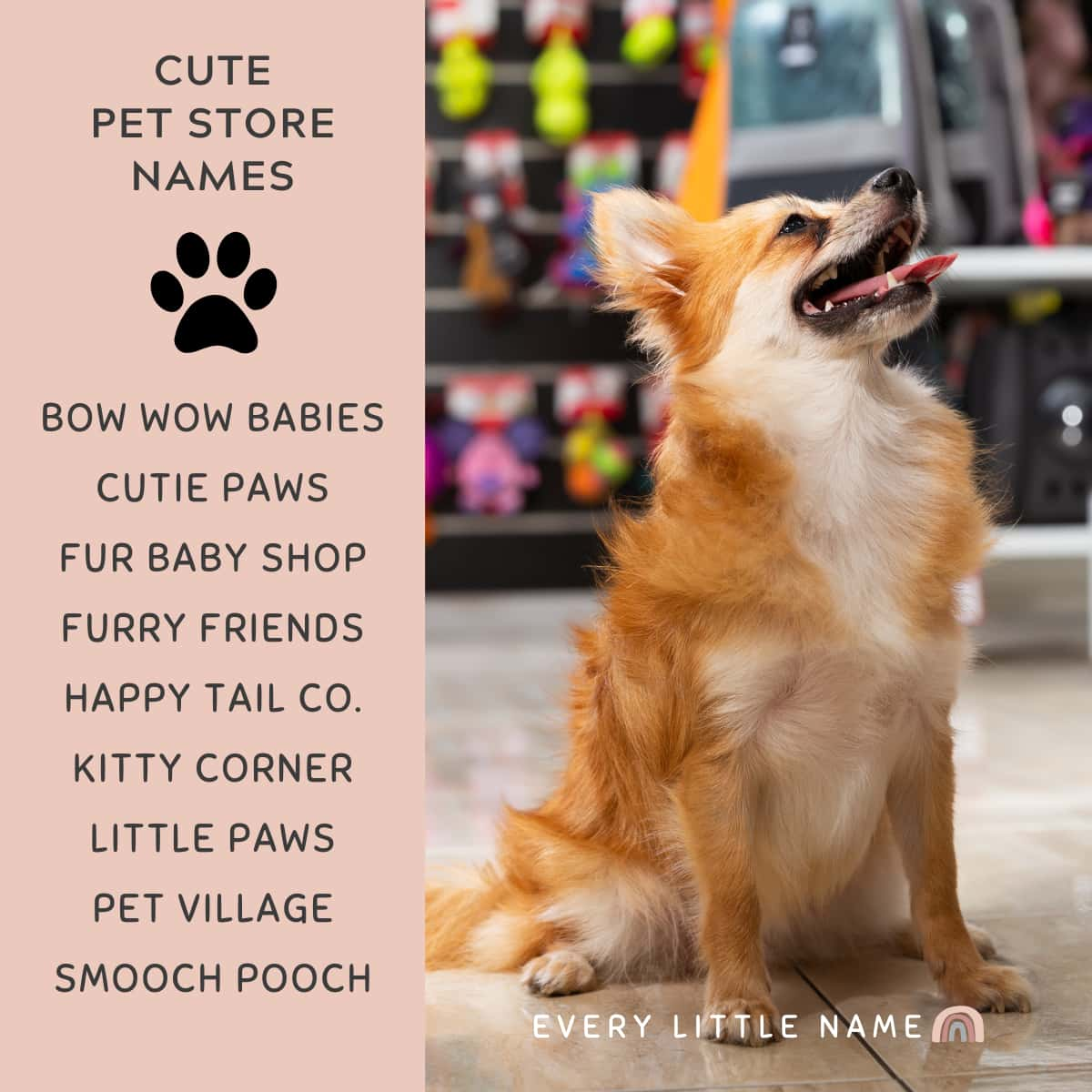 Choosing a cute pet shop name can help make a great first impression on pet owners. It can create a more inviting and friendly atmosphere, which can help you get more customers.
The following are examples of adorable pet store names.
1. Amazing Pets
2. Bed Buddies
3. Bow Wow Babies
4. City Pets
5. Cuddle Love Pets
6. Cuddle with Love
7. Cutie Paws
8. Free Paws
9. Fur Baby Shop
10. Furbabies
11. Furry Friends
12. Fuzzy House
13. Happy Paws
14. Happy Tail Co.
15. Kitty Corner
16. Little Paws
17. Love Paws
18. Nap Time Pet Shop
19. Paw Pets
20. Paw Shop
21. Paws Pet Store
22. Pet Corner
23. Pet Valley
24. Pet Village
25. Pooch Squad
26. Puppy Love
27. Puppy Paws Pets
28. Puppy Powder
29. Puppy Stuff
30. Puppy World
31. Purr Central
32. Simply Paws
33. Smooch Pooch
34. Stars & Cats
35. The Puppy Patch
36. Wag & Purr
37. Whiskers
38. Wiggle Waggle Pet Store
Catchy and creative pet shop names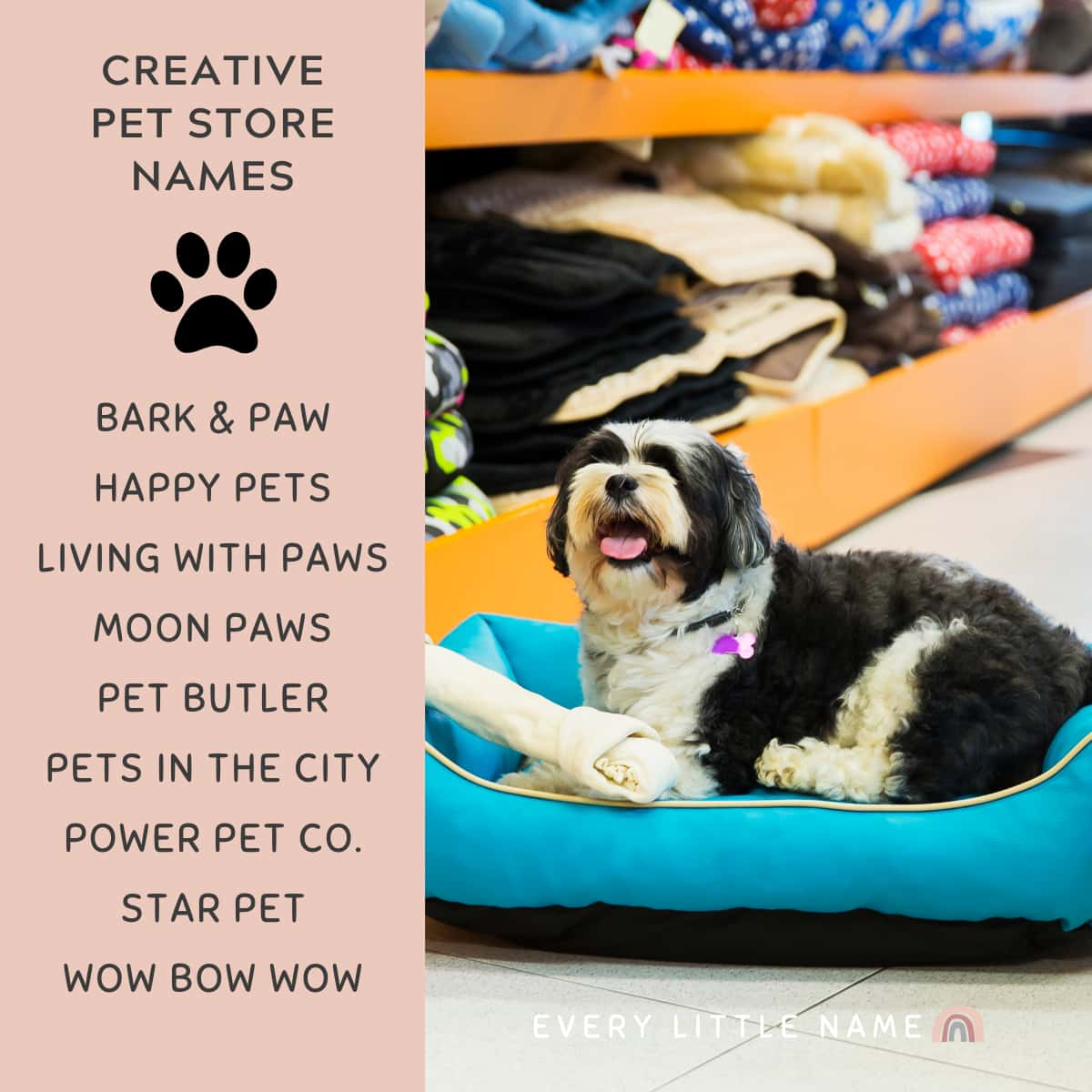 When choosing a name for your new pet store, consider a memorable name.
The following are shop names that will catch your customers' attention.
1. All for Pets
2. All Your Pet Needs
3. Alley Cat Pet Shop
4. Bark & Paw
5. Bark in the Park
6. Barks & Meows
7. Best for Pets
8. Bird Paradise
9. Blessed Barks
10. Boundless Leaps
11. City Pups
12. Clippin' Paws
13. Earth Wind & Purrs
14. Earthy Paws
15. Dirty Paws
16. Fresh Pawsters
17. Fur Central
18. Furry Boutique
19. Furry Family Pets
20. Furry Feline Friends
21. Great Fangs
22. Happy Pets
23. Happy Purrs
24. Just Pets
25. Living with Paws
26. Made for Paws
27. Man's Best Friend
28. Meow Power
29. Meowing Innocence
30. Moon Paws
31. Muddy Paws
32. Paw Dreamland
33. Paw Happy Place
34. Pet Boutique
35. Pet Butler
36. Pet Depot
37. Pet Dreams
38. Pet Kingdom
39. Pets Essentials
40. Pet Fever
41. Pet Haven
42. Pet Paradise
43. Pets in the City
44. Power Pet Co.
45. Puppy Time
46. Star Pets
47. The Fuzz Room
48. Tiny Tails Pet Shop
49. Trusted Pet Supply Co.
50. Wow Bow Wow
Funny pet store names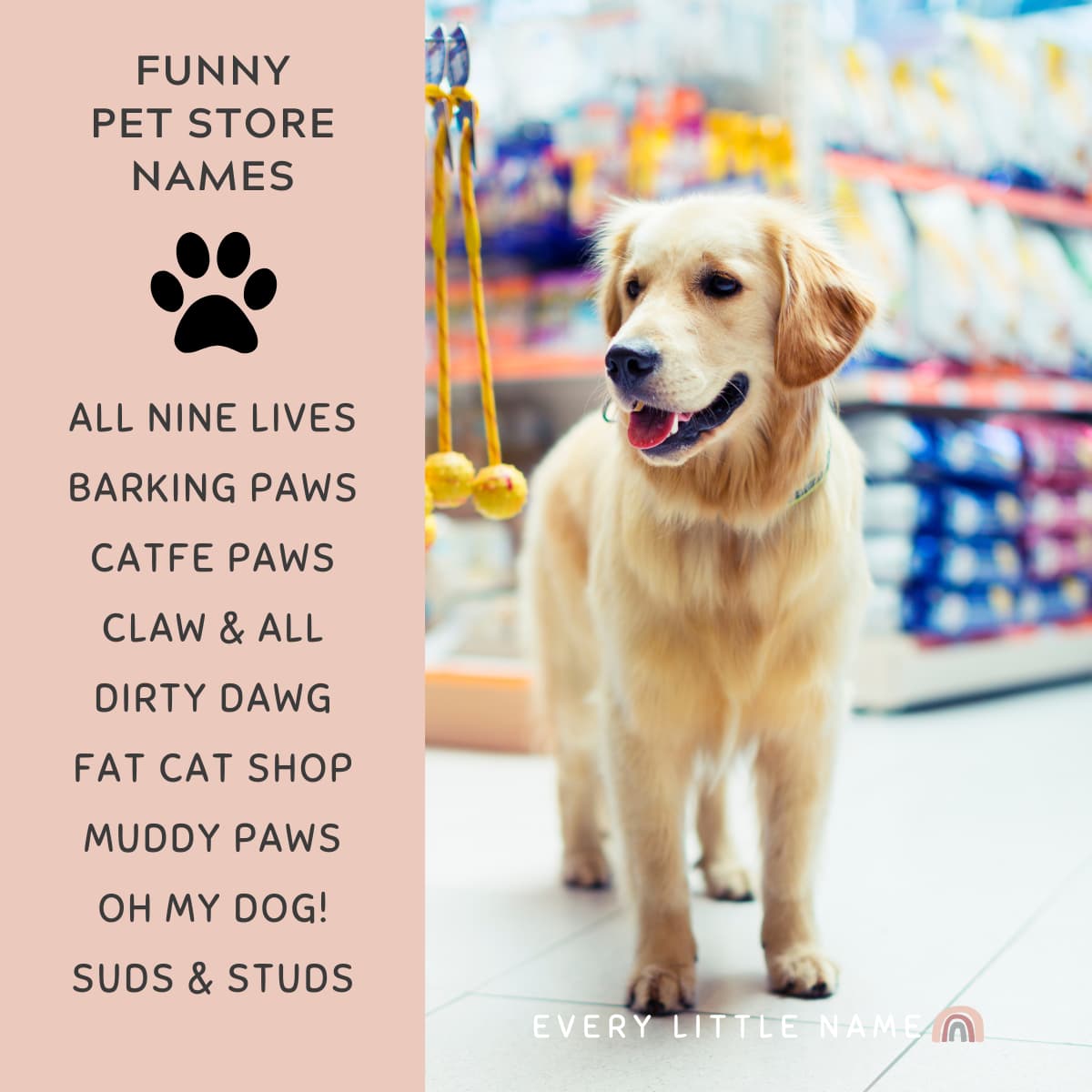 Humor is a great way to make your pet store stand out. Make your customers laugh by choosing a funny name or play on words.
The following are examples of funny pet store names.
1. All Nine Lives
2. Bark at Ya
3. Barking Paws
4. Barking Sensation
5. Catfé Paws
6. Claws & All
7. Dirty Claws
8. Dirty Dawg
9. Fat Cat Shop
10. Fishing For Details
11. Furry Coach
12. Heads-to-Tails Pet Shop
13. Keeping It Pawfect
14. Muddy Paws
15. Oh My Dog!
16. Paw & Order
17. Pawtastic Place
18. Purrfect Place
19. Purrfeinated
20. Right Meow Pet Shop
21. Suds & Studs
22. Tails For Life
23. The Time is Meow
24. Treats For Tricks
25. Tweeting Freedom
Modern pet store names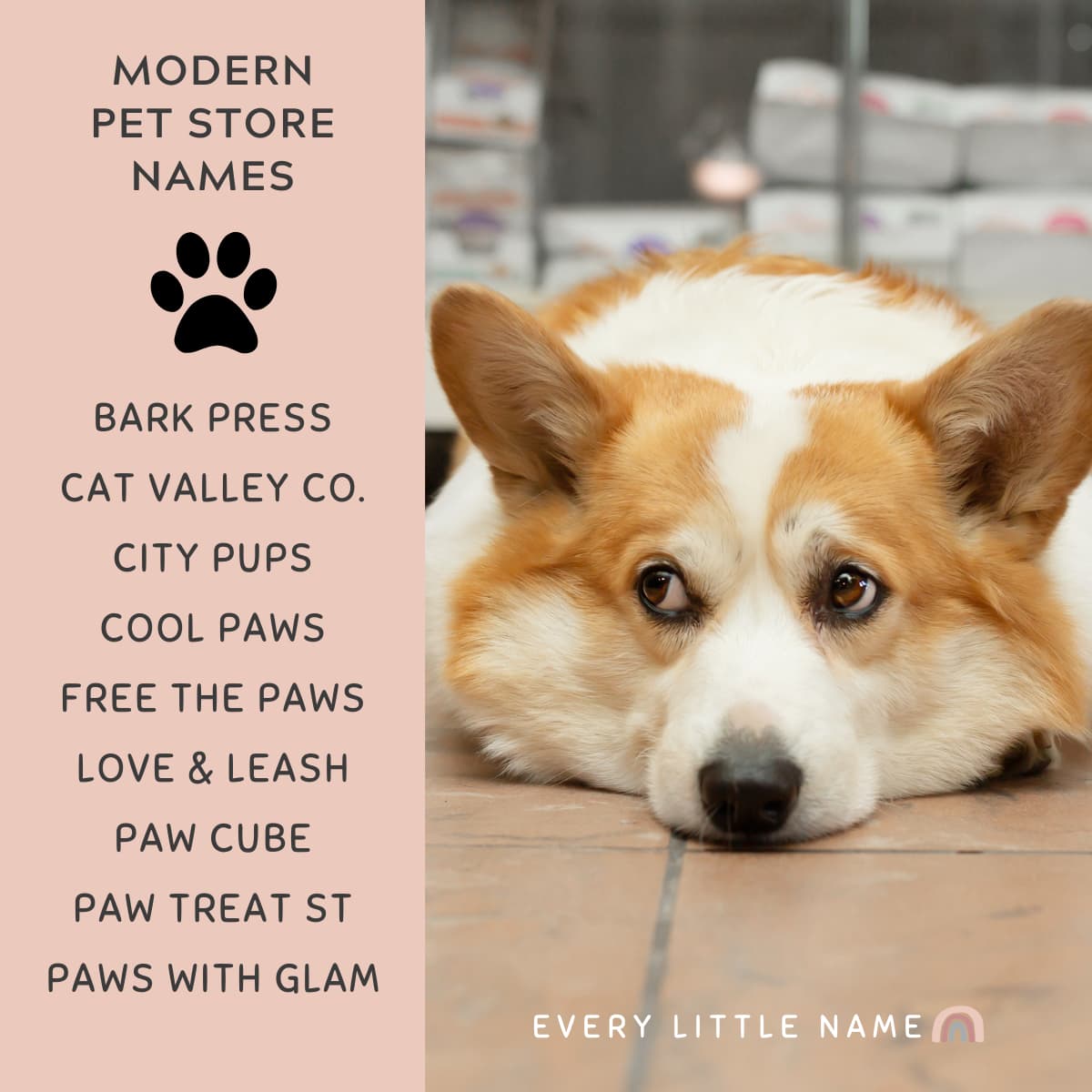 A modern pet shop name can give your new business a more contemporary feel. It can appeal to younger pet owners and help your shop stand out.
The following are examples of modern pet store names.
1. Anchored Pets
2. Animal Pack
3. Bark Press
4. Barking Bites
5. Barking Depot
6. Barking Dogs
7. Cat Valley Co.
8. City Paws
9. City Pups
10. Cool Paws
11. Earth Pets
12. Free The Paws
13. Green Paws
14. Healthy Pet Shop
15. Little Lion
16. Love & Leash
17. Modern Pets
18. Nala's Paws
19. Paw Central
20. Paw Co.
21. Paw Cube
22. Paw Pros
23. Paw Spa
24. Paw Supply
25. Paw Treat Street
26. Paws & Barks
27. Paws Unleashed
28. Paws with Glam
29. Pet Central
30. Pet Depot
31. Pets Unlimited
32. Puppy Life
33. Purr & Bark
34. Simply Pets
35. Sit & Stay
36. Sugar Paws
37. The Daily Barker
38. The Hip Paw
39. Trendy Tails
40. Urban Pet
41. Urban Paws
Tips on naming your new pet shop
Here are some tips to help you come up with the perfect name for your new pet supply business:
1. Search online for existing pet store businesses. It will help you avoid potential trademark issues and give you some ideas.
2. Use a play on words. Choose a phrase or pun pet owners can relate to and incorporate it into your shop name.
3. Brainstorm with friends and family. They may have creative ideas you wouldn't have considered otherwise.
Now that you've read through the pet store name ideas, what did you decide to name your pet shop?
Related: Best Betta Fish Names