If you like reptiles, lizards can make great pets. They are can be very entertaining to watch. Read the best lizard names for your new reptile friend.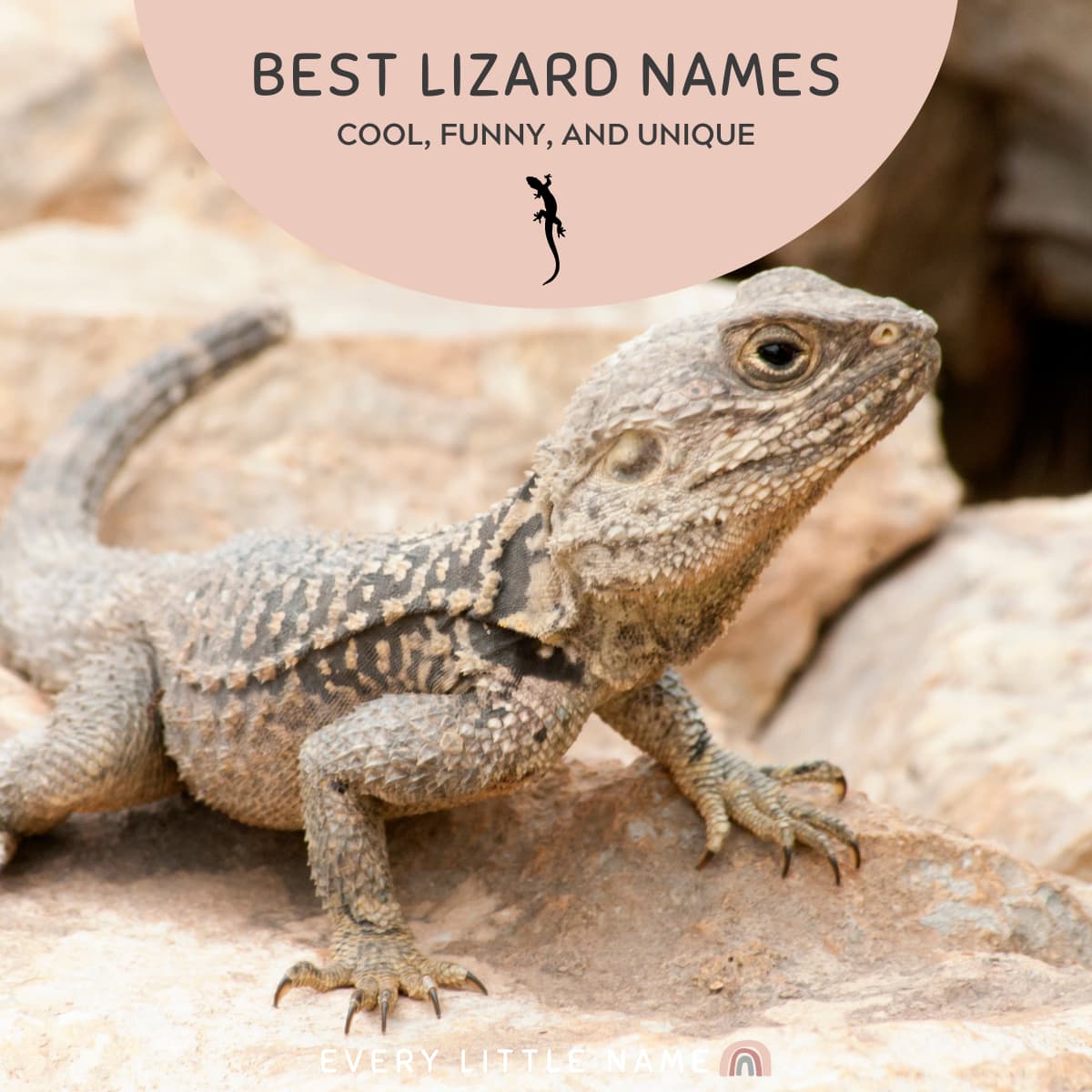 Lizards come in all shapes and sizes and can make great pets. They can be peaceful and develop strong relationships with humans.
Lizards also have unique colors, behaviors, and characteristics. Some lizards, such as the chameleon, can change color at will.
Popular lizard pets include bearded dragons, geckos, and skinks.
Once you commit to a pet lizard, you'll need a name for your new reptilian friend. Get inspired with the best lizard names that are cute, funny, and cool.
Related: Popular Turtle Names
Table of Contents
Top lizard names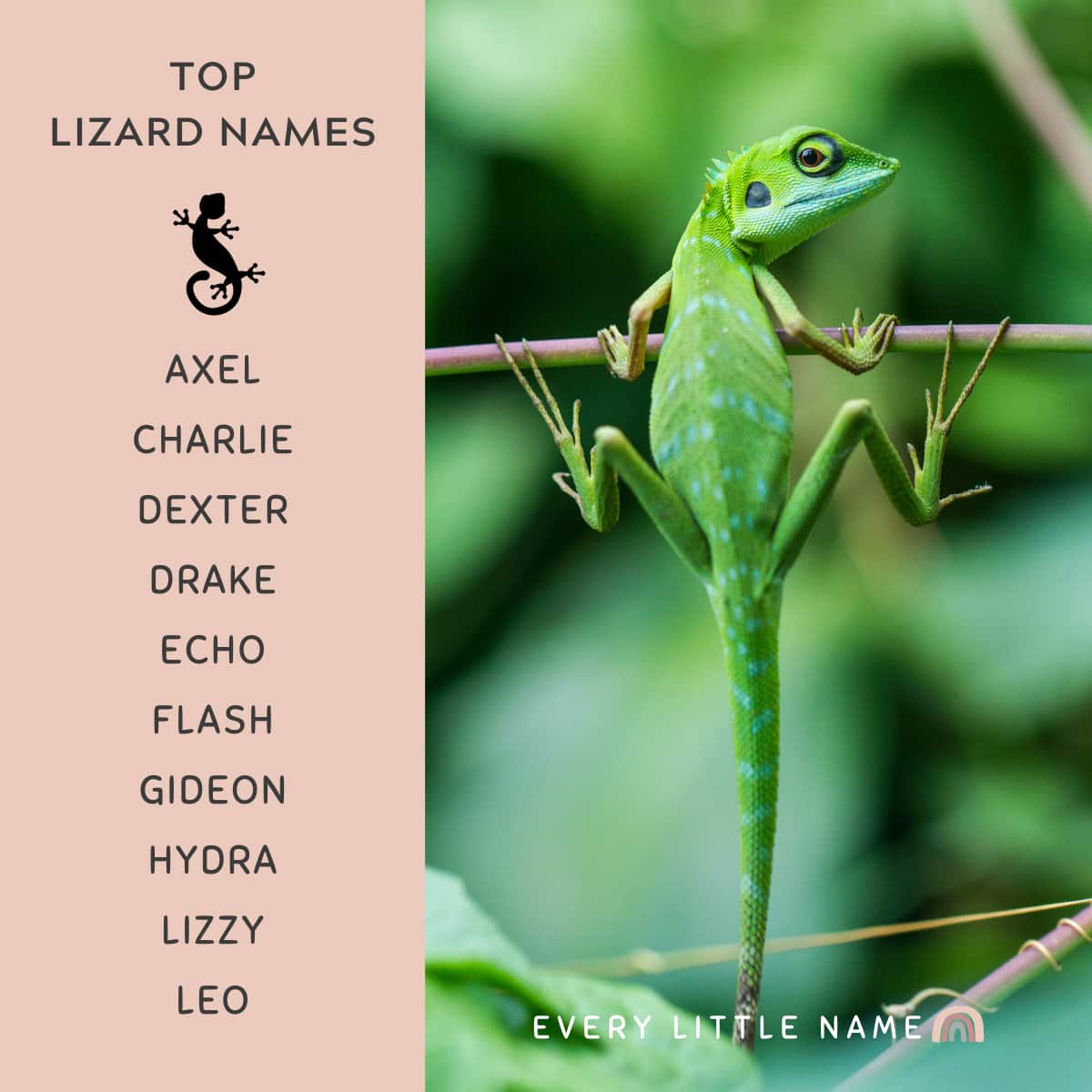 The following are the most popular lizard names.
Axel: An Icelandic name meaning "father of peace."
Basil: A cute name for a green lizard, just like the herb.
Camille: A name with Latin and Spanish origins meaning "free-born" and "noble."
Camo: The name of a Scottish river. It means "keeper of the keys."
Cecil: A gender-neutral name of Latin origin meaning "blind."
Charlie: A gender-neutral name of English origin meaning "free man."
Charmander: A Pokémon species that are small and lizard-like.
Claws: Most lizards have toes ending in stout claws.
Delta: In math terminology, the delta symbol represents positive change.
Dexter: A gender-neutral name of Latin origin meaning "right-handed."
Dino: An Italian name meaning "little sword."
Draco: The Greco-Latin word for dragon or serpent.
Drago: Derived from the name Drake, meaning "dragon."
Drake: A British name meaning "dragon." a cool name for a pet lizard.
Echo: A Latin name meaning "reflected sound."
Elliot: A gender-neutral Hebrew name meaning "the Lord is my God."
Felix: A name of Latin origin meaning "happy" and fortunate."
Flash: A English word that means "bright light."
Freckles: A fitting name if your lizard has small markings.
Geico: In honor of Geico's famous gecko mascot.
Gideon: A male name of Hebrew origin meaning "great destroyer."
Gila: A Hebrew name meaning "joy."
Gulliver: A boy's name of Irish origin meaning "glutton."
Herbert: A German name meaning "army" or "warrior."
Hydra: A girl name of Greek origin meaning "water serpent."
Iggy: A British name meaning "fiery one."
Jade: A British name meaning "precious stone."
Jiro: A Japanese name meaning "second son."
Junebug: Refers to someone born in June. If you got your lizard in June, this would be a fun option.
Khaleesi: A tribute to the fictional character in Game of Thrones.
Leap: If you have a leaping gecko, this might be the perfect name.
Leo: Inspired by the lizard named Leo in the comedy Leo the Lizard.
Littlefoot: If your lizard has smaller legs in comparison to typical lizards, this might be the perfect name for it.
Lizzy: Inspired by the children's TV show Lizzy the Lizard.
Loki: A Norse name meaning "airy."
Merlin: A Welsh name meaning "sea fortress."
Norbert: An English name meaning "shining from the North."
Smaug: Inspired by the dragon and main character in the novel The Hobbit.
Spike: An English name meaning "long, heavy nail," a great option for a quick lizard.
Spook: If your lizard is known to give others a scare, Spook may be a fitting option.
Spyro: A Greek name meaning "basket used to carry seeds."
Related: Best Spider Names
Famous lizard names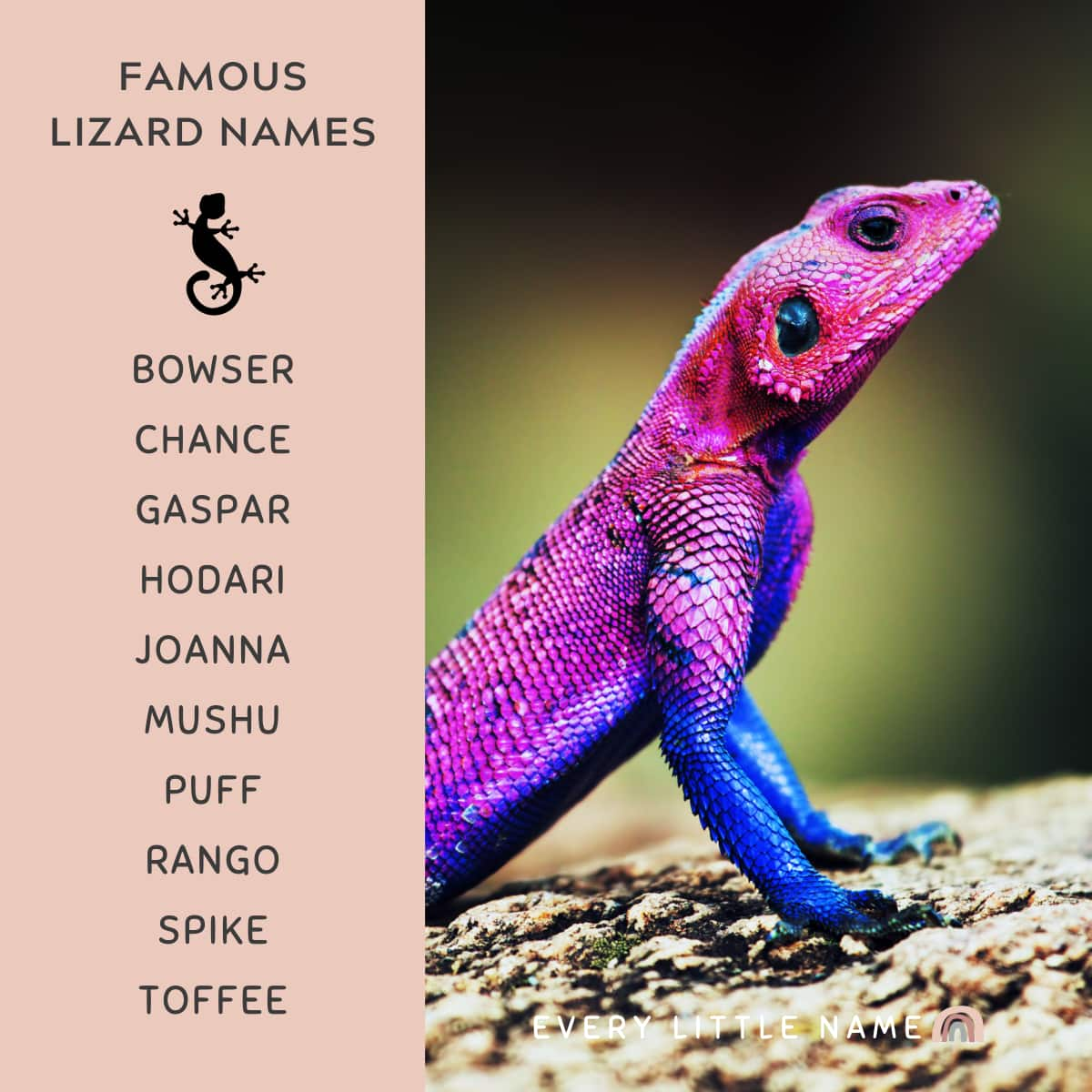 Choose a name inspired by books, movies, and tv shows. The following are famous lizard names.
1. Bad Bill (Rango)
2. Basilisk (Harry Potter)
3. Bill the Lizard (Alice's Adventures in Wonderland)
4. Bowser (Nintendo game series)
5. Camille (Darkwing Duck)
6. Chance (Golden Knights Mascot)
7. Draco (Harry Potter)
8. Dragaunus (The Mighty Ducks)
9. Gaspar (Brandy and Mr. Whiskers)
10. Geico (Geico Insurance)
11. Goanna (FernGully: The Last Rainforest)
12. Hodari (The Lion Guard)
13. Joanna (The Rescuers Down Under)
14. Jub-Jub (The Simpsons)
15. Kenge (The Lion Guard)
16. King Rool (Donkey Kong)
17. Liz (The Magic School Bus)
18. Master Viper (Kung Fu Panda)
19. Mr. Jones (Toy Story of Terror)
20. Mushu (Mulan)
21. Pascal (Tangled)
22. Puff (Puff the Magic Dragon)
23. Randall (Monsters Ico)
24. Rango (Rango)
25. Reptar (Rugrats)
26. Rex (Toy Story)
27. Sal Manders (The Lion King)
28. Shupavu (The Lion Guard)
29. Spike (My Little Pony)
30. Spyro (Video game series)
31. Sugar Ray (Chip 'n Dale Rescue Rangers)
32. Toffee (Star vs. The Forces of Evil)
33. Toothless (How to Train Your Dragon)
34. Uncle Deadly (The Muppets)
35. Wally (Hanna Barbera)
36. Yoshi (Mario Bros.)
Cool lizard names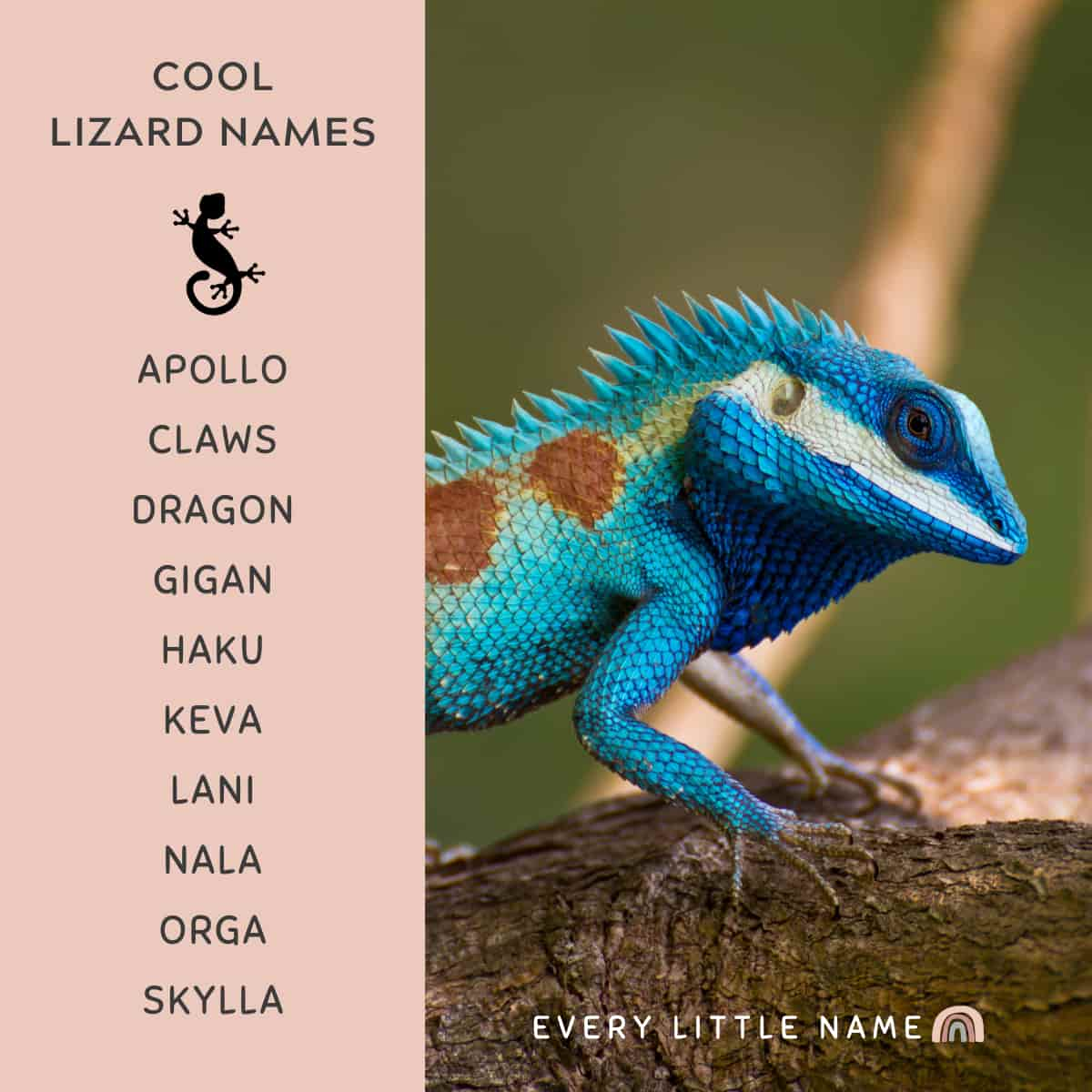 1. Aiden
2. Anguirus
3. Apollo
4. Baragon
5. Biolannte
6. Cameron
7. Claws
8. Coachella
9. Dexter
10. Dragon
11. Dragonbait
12. Falcor
13. Ghidora
14. Gigan
15. Godzilla
16. Haku
17. Jabberwock
18. Kahlua
19. Kehlani
20. Khaleesi
21. Keva
22. Kira
23. Kora
24. Lani
25. Layla
26. Liz
27. Lila
28. Lilo
29. Medusa
30. Morla
31. Myrtle
32. Mushu
33. Nala
34. Natsu
35. Nessie
36. Noella
37. Orga
38. Penny
39. Pixie
40. Precious
41. Raptor
42. Razor
43. Reba
44. Rosalie
45. Scratch
46. Syclla
47. Shenron
48. Skylla
49. Sobek
50. Sopha
51. Spyro
52. Stella
53. Tabatha
54. Thalia
55. Tiberius
56. Uma
57. Varan
58. Vera
59. Viola
60. Viserion
61. Wanda
62. Xena
63. Xerxes
64. Zara
65. Zilla
Funny lizard names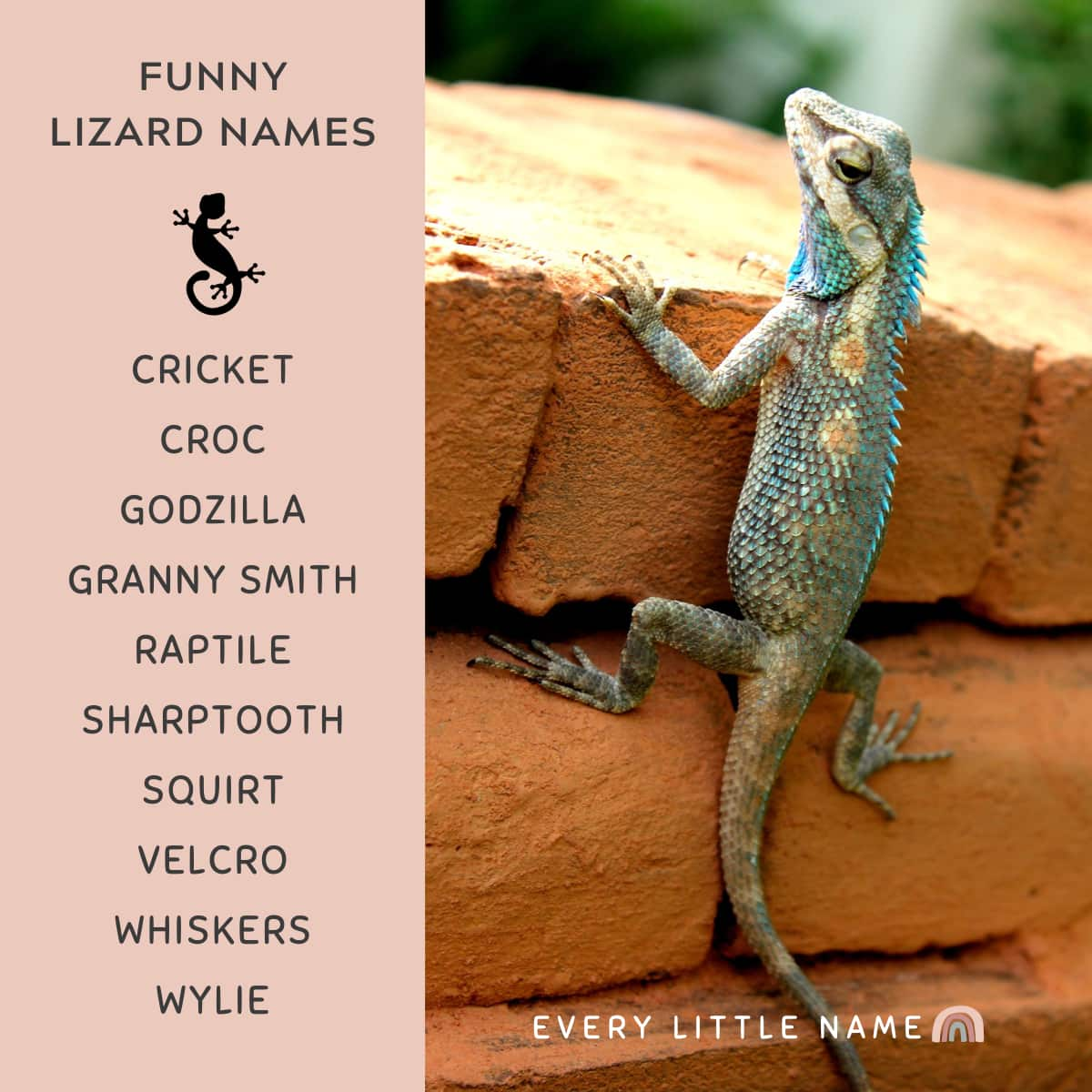 1. Cricket
2. Croc
3. Godzilla
4. Granny Smith
5. Hydra
6. Jurassic
7. Lizard Lemon
8. Raptile
9. Raptor
10. Sharptooth
11. Speedy
12. Squirt
13. Stormfly
14. Stubble
15. Twinkle Toes
16. Velcro
17. Whiskers
18. Wylie
Cute lizard names
1. Amigo
2. Angel
3. Baby
4. Bam Bam
5. Bean
6. Bii
7. Bud
8. Cammy
9. Chilly
10. Cleo
11. Cuddles
12. Dottie
13. Freckles
14. Honeybun
15. Iggy
16. Jo Jo
17. Karma
18. Kiwi
19. Knuckles
20. Leap
21. Littlefoot
22. Lucky
23. Nessie
24. Olaf
25. Peanut
26. Peaches
27. Pebbles
28. Pickle
29. Pip
30. Pixie
31. Pooh Bear
32. Poppy
33. Rascal
34. Remi
35. Rex
36. Rolo
37. Sandy
38. Scamp
39. Scooter
40. Skittles
41. Smudge
42. Spot
43. Sugar
44. Tiny
45. Yoga
46. Yoshi
Male lizard names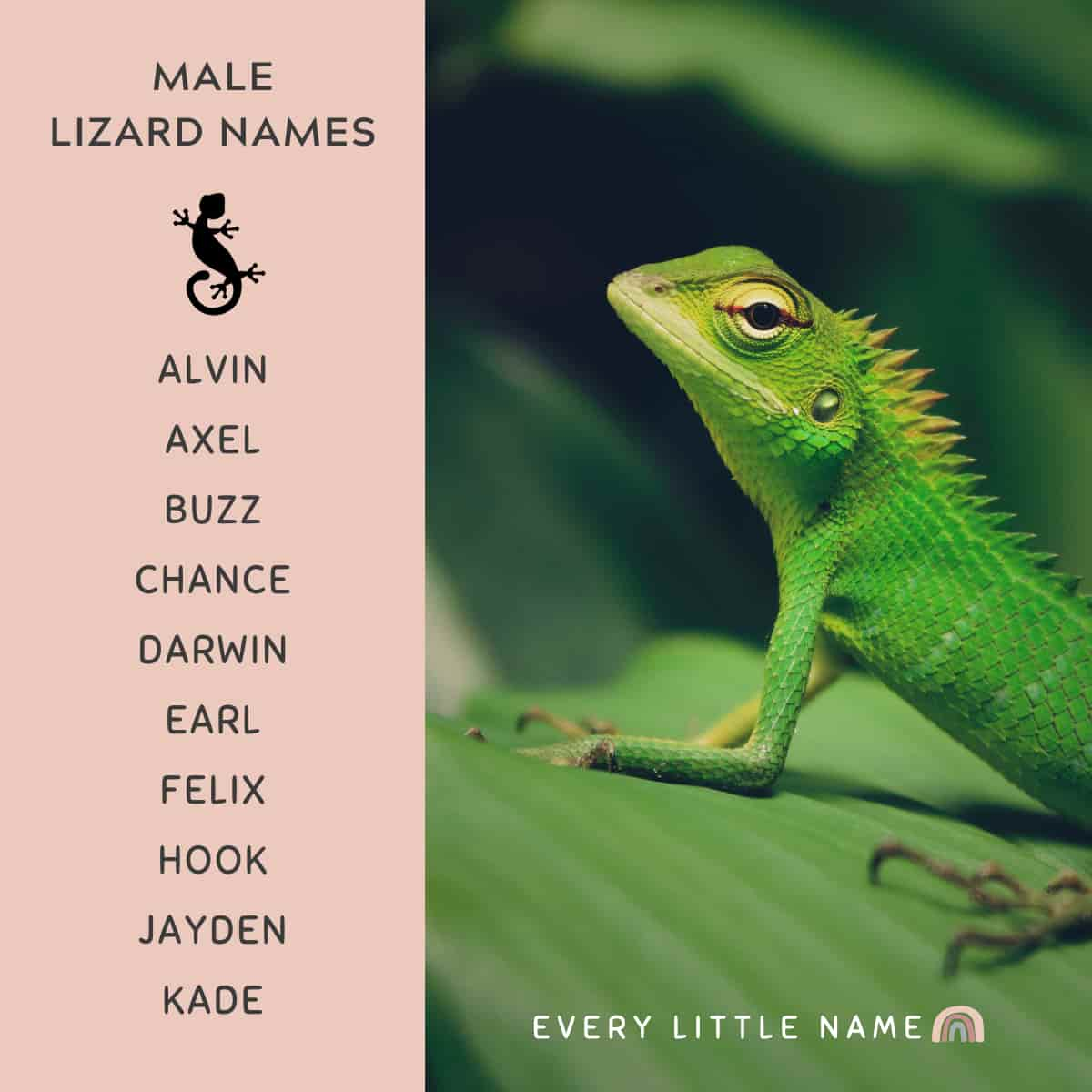 1. Abe
2. Aiden
3. Alvin
4. Amos
5. Arnie
6. August
7. Axel
8. Baja
9. Barney
10. Basil
11. Bernie
12. Bodhi
13. Buzz
14. Cal
15. Cameron
16. Chance
17. Chuck
18. Clint
19. Clyde
20. Darwin
21. Dexter
22. Dino
23. Draco
24. Dune
25. Earl
26. Eddy
27. Elio
28. Elliot
29. Enzo
30. Eugene
31. Fabio
32. Felix
33. Fernando
34. Gideon
35. Haru
36. Helios
37. Hook
38. Houdini
39. Iggy
40. Igor
41. Jayden
42. Jax
43. Joshua
44. Kade
45. Kobe
46. Laurel
47. Lee
48. Lenny
49. Leon
50. Leonardo
51. Mantis
52. Mojave
53. Monty
54. Monzo
55. Neo
56. Newton
57. Nicholas
58. Nigel
59. Nile
60. Noah
61. Oli
62. Orion
63. Ozzy
64. Pascal
65. Pine
66. Randall
67. Randy
68. Reggie
69. Reno
70. River
71. Rocky
72. Russ
73. Sal
74. Silas
75. Sirius
76. Slider
77. Spike
78. Sylvester
79. Tax
80. Tiberius
81. Tim
82. Ugo
83. Uri
84. Vergil
85. Vlad
86. Wally
87. Wes
88. Woody
89. Xabder
90. Yoda
91. Yoshi
92. Yuri
93. Zane
94. Ziggy
95. Zuko
Female lizard names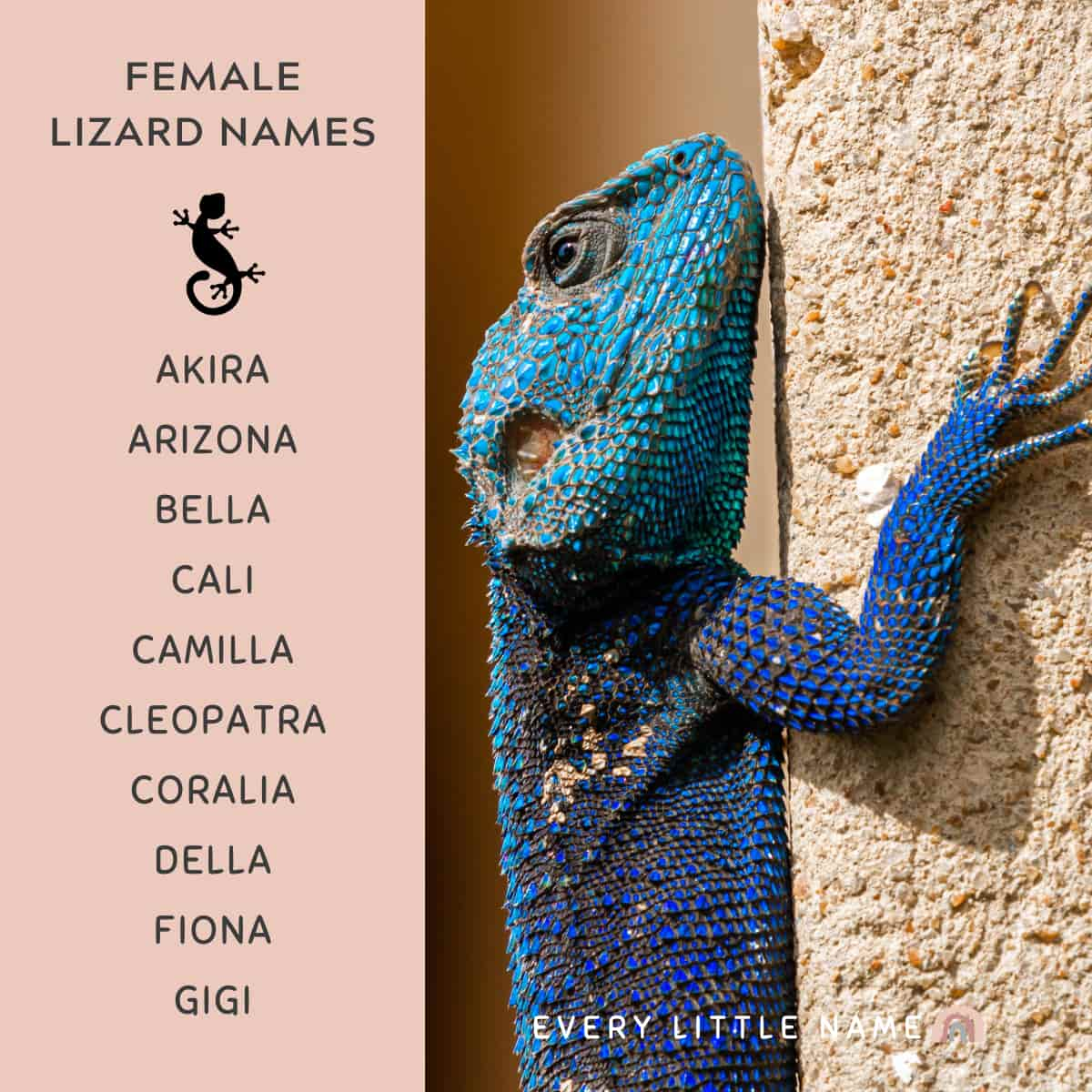 1. Abbie
2. Acacia
3. Adia
4. Akira
5. Amity
6. Angel
7. Arizona
8. Aurora
9. Bella
10. Bonnie
11. Cali
12. Camilla
13. Cleo
14. Cleopatra
15. Coco
16. Coralia
17. Dana
18. Daphne
19. Delia
20. Della
21. Elora
22. Emerald
23. Fergie
24. Fiona
25. Gigi
26. Grace
27. Hallie
28. Honey
29. Hydra
30. Iris
31. Isa
32. Isabela
33. Ivy
34. Izzy
35. Jade
36. Jen
37. Joanna
38. June
39. Juniper
40. Kaa
41. Kahlua
42. Kiwi
43. Lima
44. Liz
45. Lizzie
46. Lori
47. Medusa
48. Myrtle
49. Nessie
50. Olive
51. Pebbles
52. Penny
53. Pixie
54. Princess
55. Riva
56. Rosie
57. Sahara
58. Sephira
59. Sierra
60. Skylla
61. Solana
62. Suki
63. Summer
64. Tesni
65. Verde
66. Zilla
Related: Best Snake Names