Hermit crabs can make great family pets and are easy to look after. Read the best hermit crab names that are cute, funny, and creative.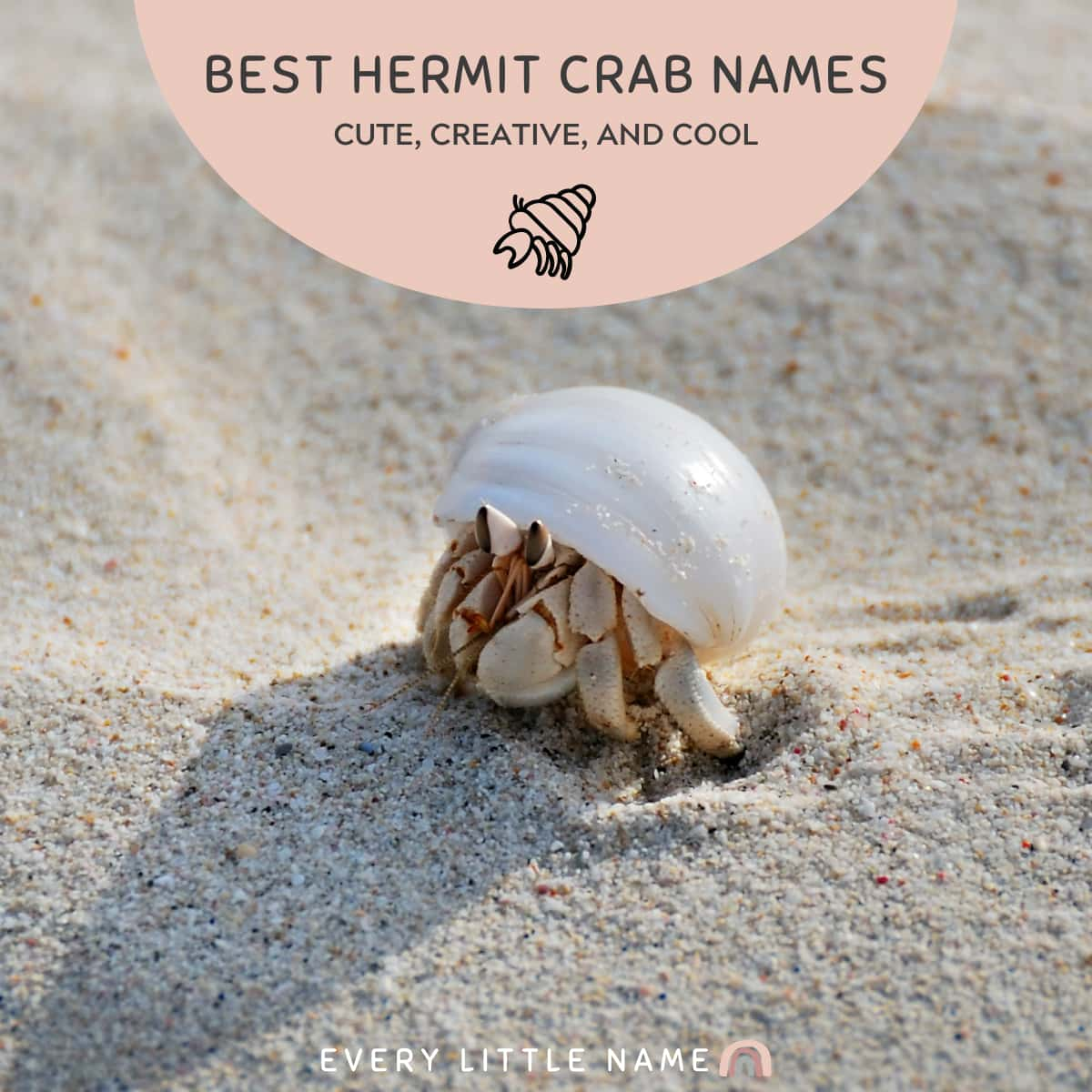 While there are over 800 species of hermit crabs, most are ocean dwellers. A dozen species, called land hermit crabs, are kept as pets.
Hermit crabs are social creatures and prefer to live in large groups. They can also make rewarding pets for those who are willing to put in the effort to care for them.
Below are hundreds of adorable hermit crab names to help you find the perfect name for your new friend.
Table of Contents
Popular hermit crab names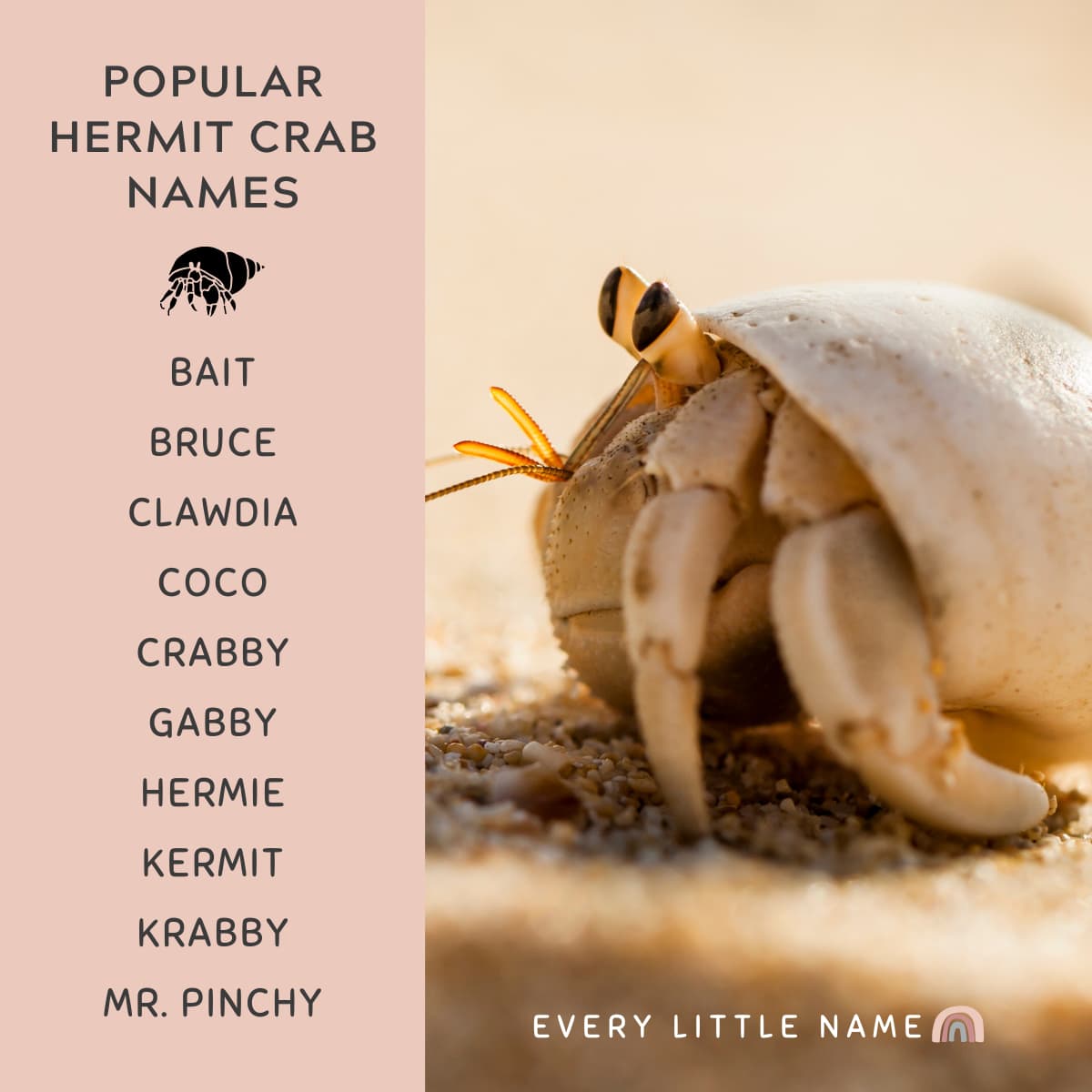 Check out the most popular hermit crab names to help you get started.
Abby: A Hebrew name meaning "a father's joy"
Bait: Get an easy chuckle with this pun referring to hermit crabs being used as fishing bait.
Bob: An easy-going name for a laid-back hermit crab.
Bruce: A French name meaning "from the brushwood thicket."
Clawdia: Puns for the common name Claudia makes for a funny hermit crab name.
Claws: A funny name for an animal that's known for its claws.
Coco: A girl's name of French origin, translating "cocoa."
Crabby: A simple, memorable, and relatable name.
Edward Scissorhands: Inspired by the movie Edward Scissorhands about an artificial man who has scissors for hands.
Gabby: Short for Gabrielle, a French name meaning "God is my strength."
Henry: A German name meaning "house ruler," fitting for a new pet.
Hermie: An Old German name meaning "soldier."
Hermosa: A Spanish name meaning "beautiful."
Kermit: A Scottish name and a tribute to Kermit the Frog, the muppet character from the TV series Sesame Street.
Kirby: A gender-neutral English name meaning "church settlement."
Krabby: A cute pun name for a hermit crab that keeps to itself.
Leggy: Crabs have 10 legs, making this a fitting option.
Molly: An Irish name meaning "star of the sea."
Mr. Pinchy: A cute name for a hermit crab that's quick to pinch.
Pincer: A funny name referring to a metal tool with blunt concave jaws.
Sebastian: Based on the character of the crab in The Little Mermaid.
Seashell: A fitting name for a hermit crab with a beautiful shell.
Sandy: A cute name meaning "man's defender" in Greek mythology.
Shelly: A cute name for your new friend's shell.
Shell-by: A pun name for Shelby, perfect for a hermit crab that prefers to comforts of its shell.
Shell-don: Known for their shells, this is a distinguished and fun name.
Snappy: Inspired by the hermit crab character in Disney's animated series, Snappy the Hermit Crab
Cute hermit crab names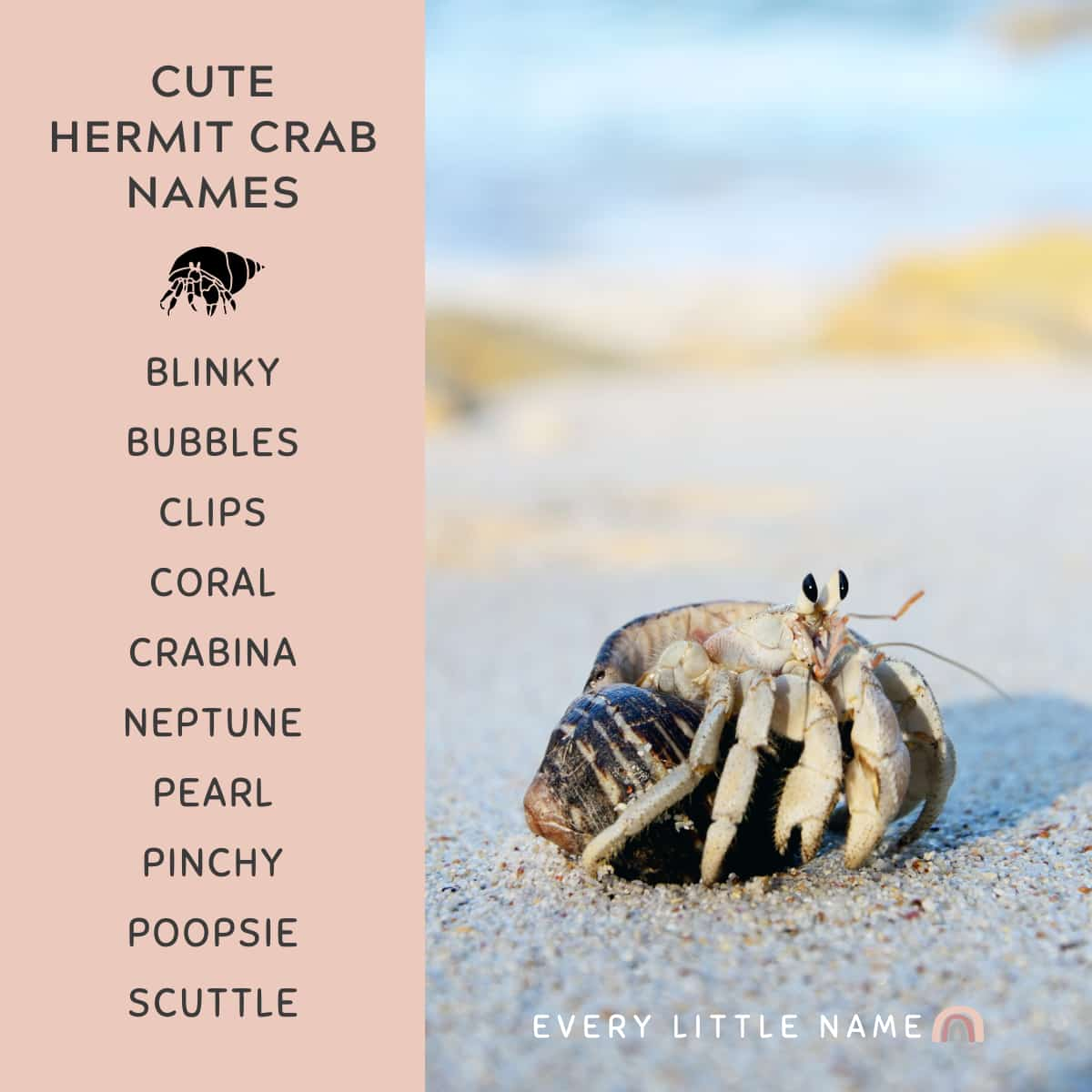 The following are adorable names that make it easier to form a bond with your new pet.
1. Blinky
2. Bubbles
3. Caribbean
4. Clips
5. Coral
6. Crabina
7. Crappy
8. Jabby
9. Little Creep
10. Mouthful
11. Neptune
12. Pearl
13. Pinchy
14. Poopsie
15. Recluse
16. Salty
17. Sand
18. Scuttle
19. Seabiscuit
20. Shelly
21. Squeezy
22. Squirt
23. Stabby
24. Sushi
25. Wave
Cool hermit crab names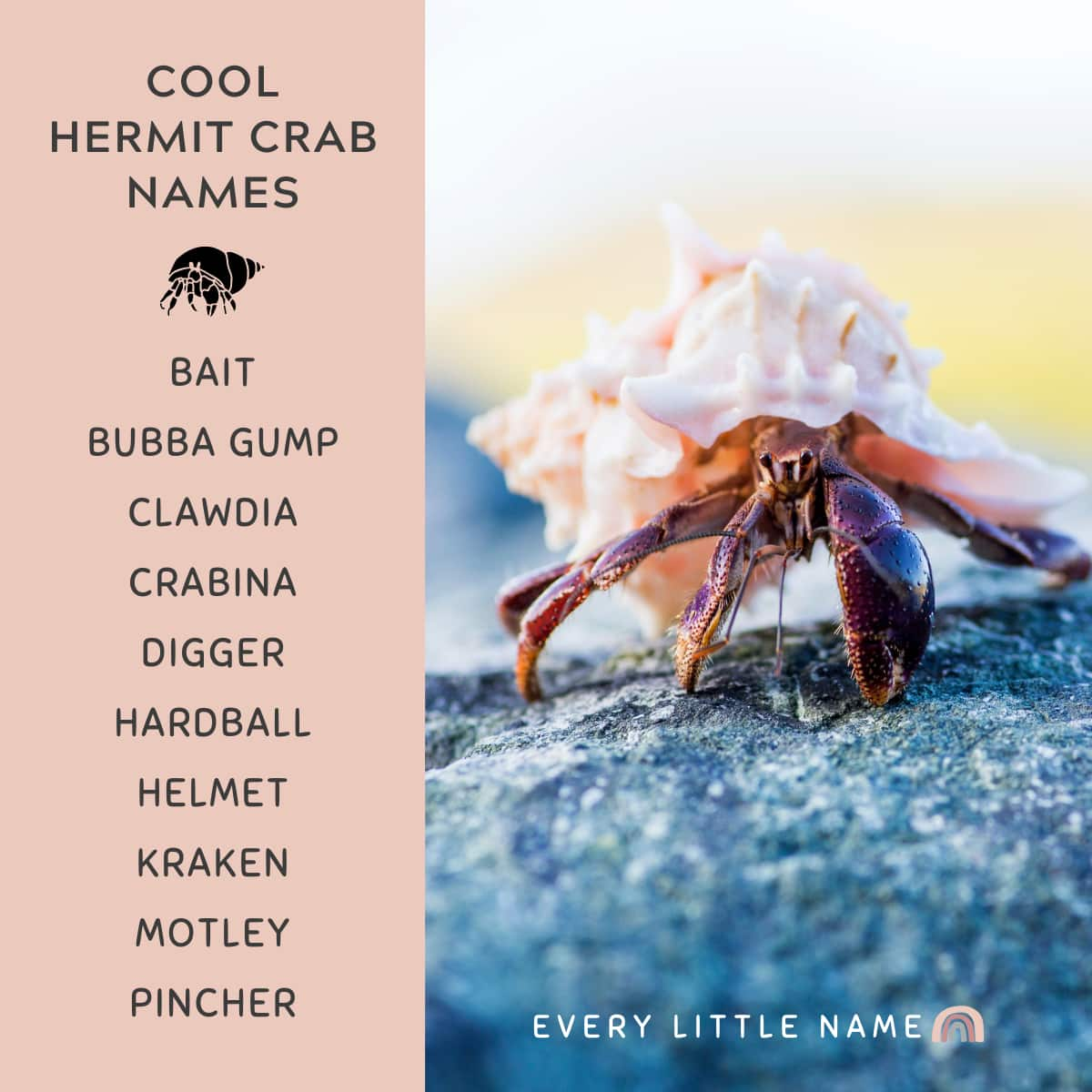 Giving your hermit crab a cool and badass name can make it feel like part of your family.
1. Bait
2. Bubba Gump
3. Captain Hook
4. Clawdia
5. Clipper
6. Crabina
7. Crabmeister
8. Digger
9. Hardball
10. Hardy
11. Helmet
12. Hermit
13. Kraken
14. Krusty
15. Motley
16. Packer
17. Pincher
18. Prickle
19. Scrab
20. Shelly
21. Sideways
22. Skittle
23. Snip
24. Spike
25. Stoney
26. Ziggy
Funny hermit crab names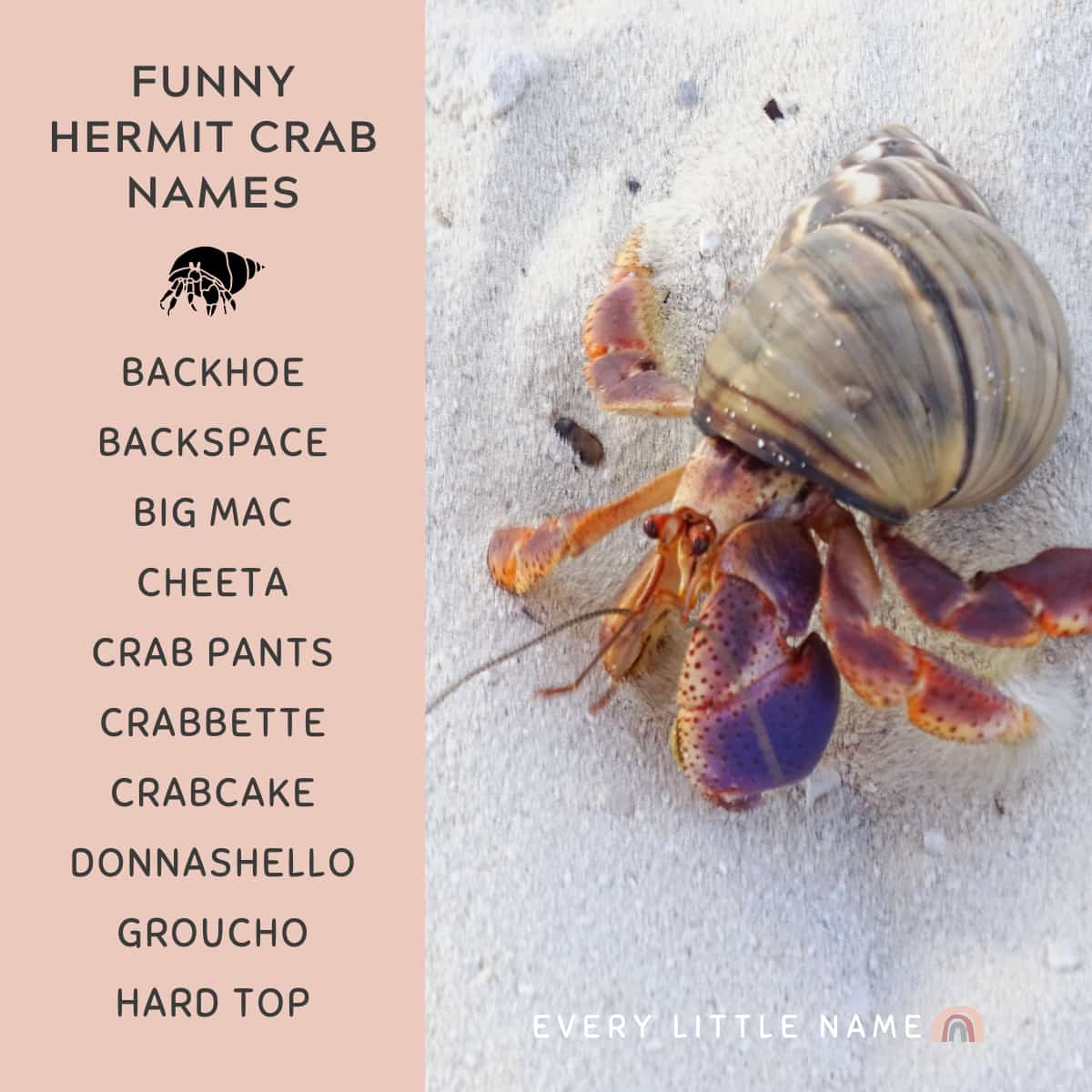 Choose a funny name for your hermit crab that's sure to make your friends and family smile.
1. Backhoe
2. Backspace
3. Bait
4. Big Mac
5. Cantankerous
6. Cheeta
7. Claws McGraw
8. Crab Pants
9. Crabby Patty
10. Crabbette
11. Crabcake
12. Crusty
13. DaPinch
14. Donnashello
15. Doorstop
16. Groucho
17. Grumpy
18. Hard Top
19. Hermoine
20. Hidester
21. Houdini
22. Lenny Krabitz
23. Leonardo DaPinchy
24. Mr. Krabs
25. Peeves
26. Sir Pinchy
27. Snappy
Female hermit crab names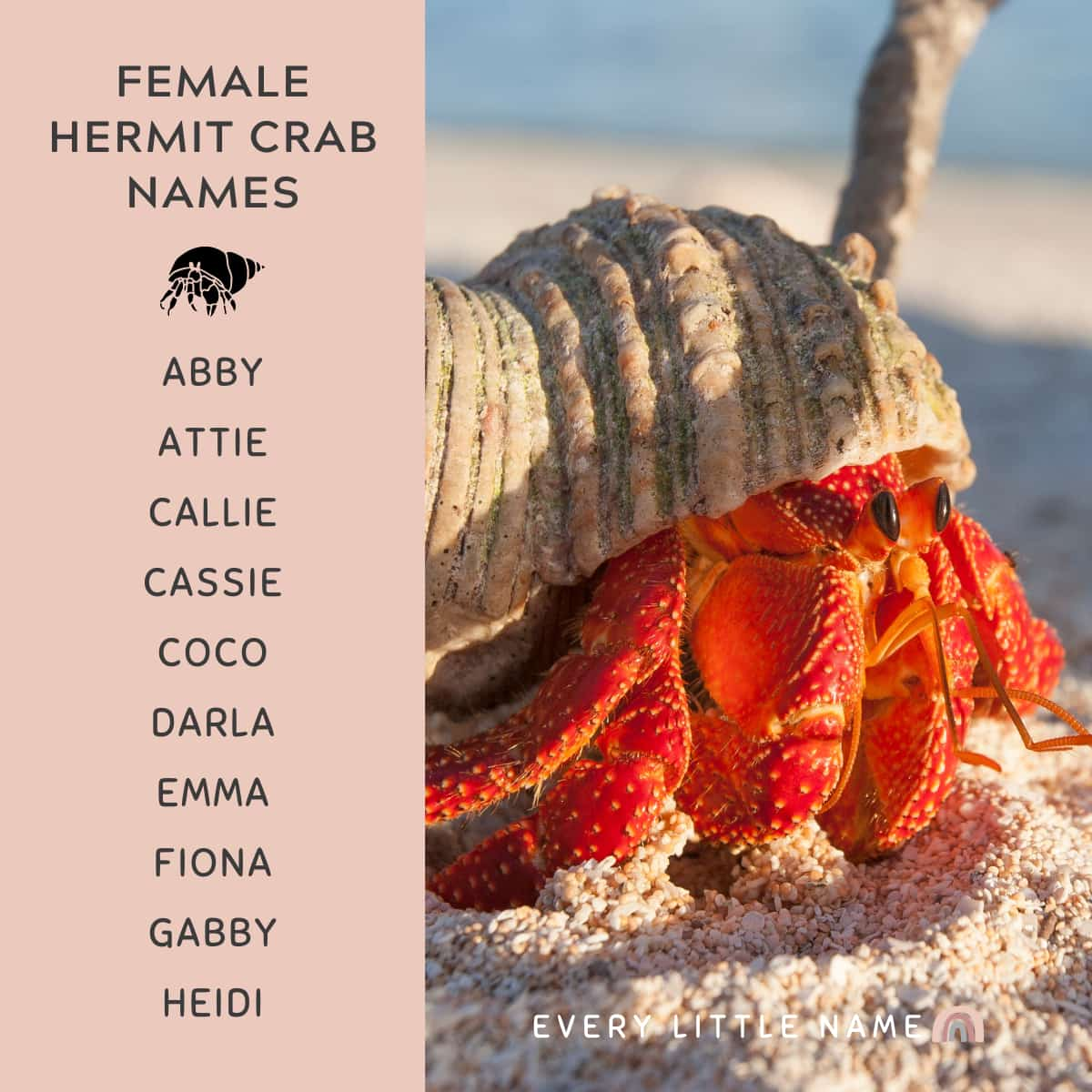 The following are the best female hermit crab names.
1. Abby
2. Angelica
3. Arabella
4. Beatrice
5. Attie
6. Callie
7. Carolina
8. Cassie
9. Claudia
10. Coco
11. Constance
12. Darla
13. Dory
14. Emma
15. Fiona
16. Gabby
17. Gilly
18. Heidi
19. Jade
20. Kiwi
21. Marina
22. Molly
23. Sandy
24. Scarlet
25. Shelly
26. Starla
27. Sunny
28. Teeny Weeny
29. Terra
30. Zoe
Male hermit crab names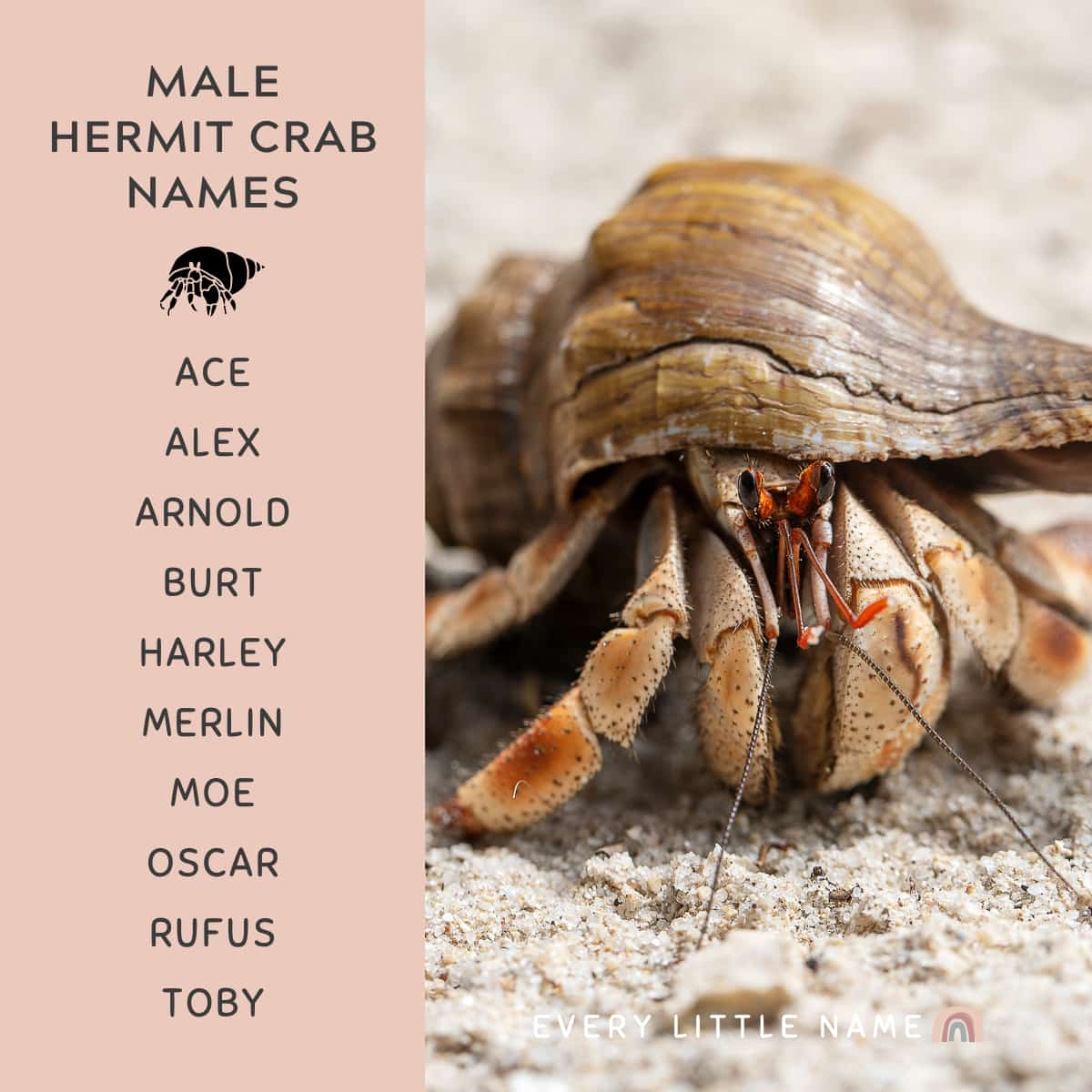 The following are the best male hermit crab names.
1. Ace
2. Alex
3. Apollo
4. Arnold
5. Buddy
6. Burt
7. Buster
8. Dante
9. Duke
10. Harley
11. Homer
12. Jacques
13. Lincoln
14. Merlin
15. Melvin
16. Miles
17. Moe
18. Murphy
19. Nigel
20. Oliver
21. Orwell
22. Oscar
23. Pierre
24. Rufus
25. Sebastian
26. Theo
27. Toby
28. Tony
29. Wade
30. William
Related: Best Betta Fish Names